The wife of the BSF jawan, who took to social media to air grievances on the quality of food being served to soldiers, today told Delhi High Court that she is satisfied about her husbands well-being after meeting him.
The submission regarding the meeting of the couple was made before a bench of justices G S Sistani and Vinod Goel, who had directed the government to allow her to meet and stay with him for two days at the base where he is posted presently.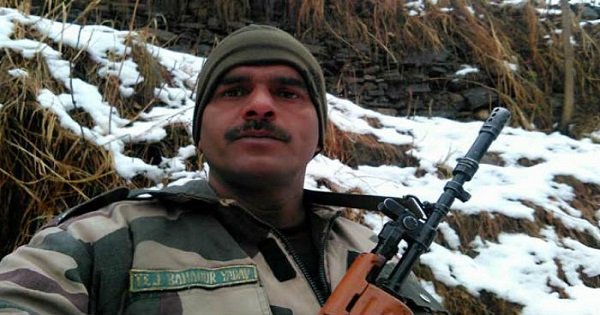 In pursuance to the courts order the woman, Sharmila Devi, had visited her husband and on returning informed the court through her counsel that she does not want to press further her plea to find her husband.
Advocate Gaurang Kanth, appearing for the Centre and the force, also informed the court that BSF jawan Tej Bahadur Yadav has a new mobile phone and there is no restriction on him from talking to his family members.
He said the jawan was not under any illegal confinement at any point of time, rather he was shifted to another battalion, 88th Bn HQRS at Kalibari, Samba in Jammu.
Taking note of it, the bench disposed of the petition and remarked, "It has come to an end. If you (government) go by the formalities, things will never end. Look the wife met her husband and now she herself does not want to press the issue further."
Habeas Corpus plea of BSF jawan Tej B Yadav's wife disposed off by Delhi HC as she had already met him in Jammu in acc with judicial orders

— ANI (@ANI_news) February 15, 2017
Earlier direction were given after the jawan's wife moved the court by way of a habeas corpus plea, alleging that her husband is untraceable and the family has been unable to contact him.
The charge was denied by the counsel for the Centre and BSF, who had said that the family can meet him and even they are in touch over phone.
Rubbishing the governments submission, the bench had said if the wife has an apprehension that her husband is under threat, she and their son be allowed to meet the soldier.
The bench had further directed the authorities concerned to make all possible arrangements for the wife to meet her husband and that there should be no difficulties while she visits the place.
BSF jawan Tej Bahadur Yadav had on January 9 posted a video on Facebook which showed a meal box comprising a watery soup-like dal, which he said had only turmeric and salt and a burnt chapatti.
Yadav had alleged in the video that this is what jawans were served at mealtime on duty at places, including along the Line of Control (LoC) with Pakistan, and that jawans often went to bed on empty stomach.