Hundreds of Bahujan Samaj Party (BSP) workers on Thursday staged a protest before the Ambedkar statue in Hazratganj area in Lucknow, demanding the arrest of former Uttar Pradesh BJP vice-president Dayashankar Singh for making derogatory remarks against their party chief Mayawati.
BSP workers from the districts have been asked to reach the State capital to lodge a strong protest against the remarks made by Mr. Singh, the party said. Hundreds of party workers started arriving from districts.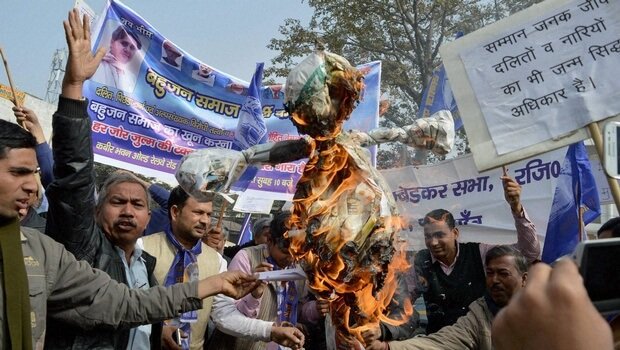 Raising slogans and burning effigies, the BSP workers converged near the Ambedkar statue in Hazratganj on the call of the party to stage a dharna against Mr. Singh, who has since been expelled by the BJP.
Traffic was thrown out of gear in the city as BSP workers, raising slogans and carrying placards, thronged the area.
During the dharna, a BSP worker suffered minor injuries while trying to set an effigy ablaze. The shirt of the injured worker caught fire. But, he, along with others, promptly pulled it out and escaped with minor burns.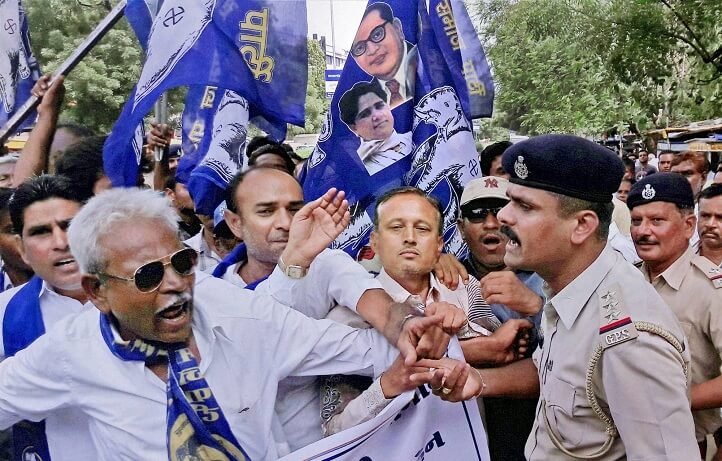 Mr. Singh had sparked an outrage by his derogatory comments against the BSP chief. Mr. Singh targeted Ms. Mayawati on Tuesday, saying "if someone gives her Rs. 1 crore, she will give him the ticket, but after an hour, if another person offers her Rs. 2 crore, she will give it to him. Later in the evening, if someone else approaches her with Rs. 3 crore, she will give the ticket to him." 
There was all-round condemnation of Mr. Singh's remarks. MPs, including Leader of the Opposition in the Rajya Sabha Ghulam Nabi Azad, the DMK's Kanimozhi, the TMC's Derek O'Brien, the Congress' Kumari Selja and Renuka Chowdhury, T.K. Rangarajan of the CPI(M) and Satish Chandra Mishra of the BSP and demands were made for severe action against him.
Reacting to the protests, senior BJP leader and Union Minister Venkaiah Naidu said the issue is over and the BJP has already taken action against him.