The once-in-four-years event, February 29, saw Indians scrambling to watch both the #Oscars and #Budget2016. While the Academy Award had people waking up in the early hours of the day to make sure actor Leonardo DiCaprio finally won an Oscar and actor Priyanka Chopra held one in her hands, the Union Budget 2016 saw an influx of interest with apparel, cars and cigarettes becoming costlier.
And there's no better reflection of how Indians were on the web this Monday than with this gif from Google Trends: 
Replay the #Oscars in one gif #dataviz https://t.co/bw1FqjGmA9 pic.twitter.com/lvYHI4NAmV

— GoogleTrends (@GoogleTrends) February 29, 2016

interest peaking after finance minister Arun Jaitley wrapped up his 1 hour 41 minutes budget speech at 12:46pm. Oscars was at the peak of its trend at 10:30 am in India, soon after the ceremony ended in the United States.
So, we took Google Trends help to break down the overflowing information:
Average search interest in the keyword "budget" being 16, compared to nine for the keyword "Oscars".
Interest in the Oscars, from India, increased 70% year-on-year in terms of searches on Google.
India made it to the top 10 countries engaged in Oscar-related searches. 
#Budget2016 reigned over Oscar-related trends, both in India and globally on Twitter at 3:43pm.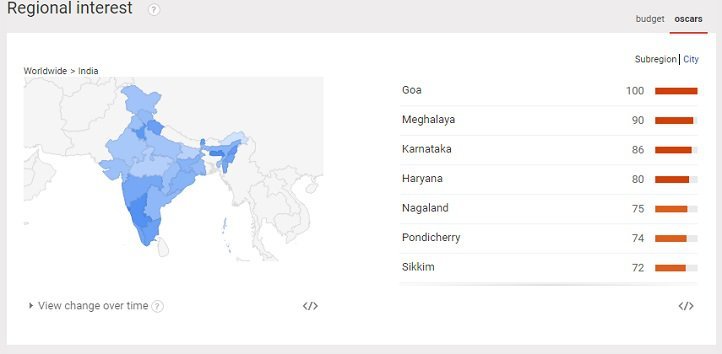 Top searched Oscar moments were:
Dearest PeeCee, who presented an award at the Oscars for the first time, also saw a lot of interest — was the second-most searched for actress, after Olivia Wilde, for her gorgeous Zuhair Murad strapless red carpet gown.