Anonymity is a vital aspect for most rape survivors in their fight for justice. Concealing their identity liberates them from the social stigma attached to it.
Unfortunately, the Bulandshahr rape victims have reportedly become a public spectacle of sorts, with every person in their locality aware of who they are and where they live, thanks to the politicians, who are making a beeline outside their house and also to the media, who have literally set-up camps near the affected family's residence, reports Hindustan Times.
Privacy of the family seems to be a non-issue in this case. As per the Hindustan Times report, the area surrounding the family's residence is packed and crawling with villagers and media personnel, who are doing everything possible just to get a glimpse of the women whose lives have been "ruined". 
The two rape victimes, a 13-year-old girl and her mother, were gangraped at gunpoint by dacoits after dragging them out of a car in Bulandshahr on NH-91 when they were travelling with their family from Noida to Shahjahanpur.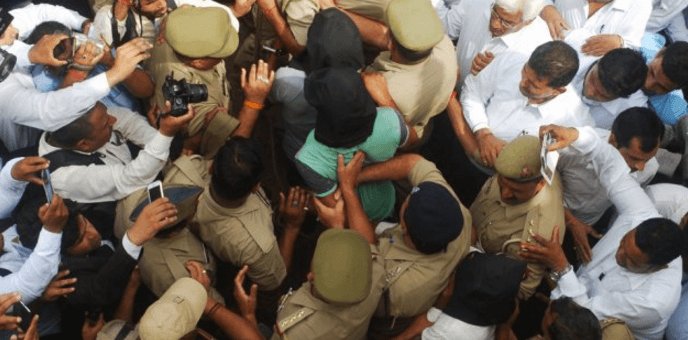 "Amid the circus, the girl's father stands with a blank face, clueless," adds the Hindustan Times report, describing how journalists are intentionally or unintentionally harassing the affected people who are already reeling under severe physical, emotional and psychological trauma. 
The father of the victim reportedly got frustrated with the media harassment and said, "My daughter was better till last night. With all the people visiting, she is now being asked to recall everything again. She has fallen sick again. She cannot stop crying. Please leave us alone. I wish we had never returned," he said with folded hands before breaking down, reports Hindustan Times.
The reporters reportedly displayed insensitivity here as well as they kept on recording the father breaking down and sent it immediately to the studio to air it.
Meanwhile, one of the villagers speaking to Hindustan Times said that the family should not have returned and quietly vacated their residence and moved to their village.
If there's a lesson politicians, media and society as a whole can learn from this report is how not to deal with rape victims. 
The family has threatened to commit suicide if the accused were not punished within three months. "We were looted, beaten up and we all know what they did to my daughter…I want my wife and daughter to punish them. If they are not punished within three months, then all three of us will commit suicide," said the minor victim's father.
(Feature image source: Twitter | @htTweets)