The deep green of their lungis makes for a striking contrast against the dull grey of the Jantar Mantar Road in central Delhi. But the scores of Tamil farmers, armed with alleged human skulls, are not camping there for the past ten days to cut a pretty picture. 
They have a resolve.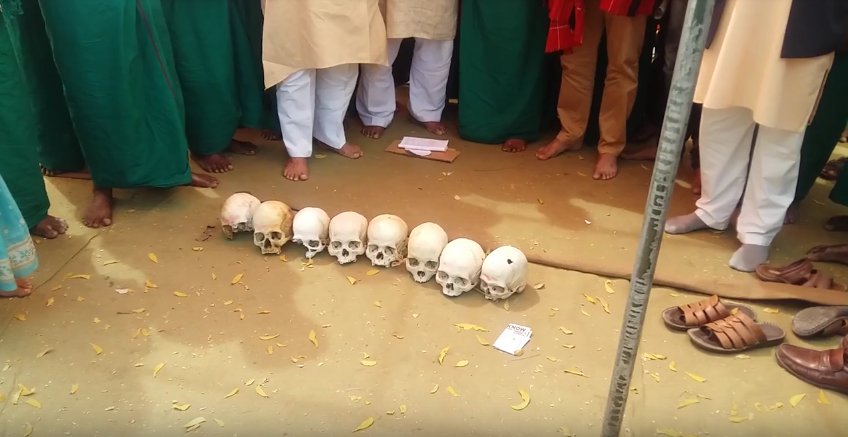 "Almost 400 farmers have died in Tamil Nadu in the last six months. We are dying of debt and there is no water and no relief from government. Even though everyone keeps telling us we are the 'backbone' of the economy, no one seems to care about us at all," P Ayakannu, the Tamilian farmer leading the independent farmers collective protest told ScoopWhoop News. 
Human skulls – a grim symbol
The farmers, conservative estimate puts their number to about 100, sit in front of a row of macabre, allegedly exhumed human skulls, lined neatly for all to see. They claim the skulls belong to fellow farmers who killed themselves due to severe debt.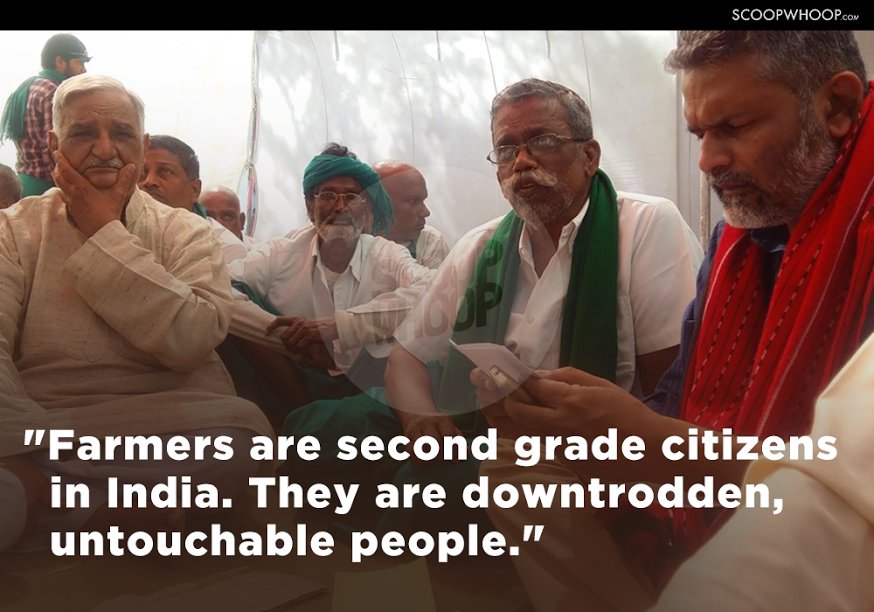 "These skulls were dug out of family graves. Sometimes the skulls don't burn completely. We have brought them as they serve as grim symbols and reminders of what we will end up as in a few days if the government does not write off our loans. " Ayakannu told ScoopWhoop News. 
What are they demanding?
Tamil Nadu has been experiencing one of the worst droughts in 140 years. The farmers have a number of demands from the centre: 
The farmers want the central government to write off all farmer loans taken from national banks. They claim that under Jayalalithaa, AIADMK government had written off cooperative loans and now the Centre needed to direct it to do the same with national bank loans. 
They want an increased sum of Rs 40,000 crores as drought relief package for the state of Tamil Nadu, owing to the severe drought conditions. 
The farmers are also demanding inter-linking of rivers so that they can get water from the Cauvery river, which has been drying up when it reaches Tamil Nadu. Agrarians claim that ground water in TN has been severely depleted and that the drying of the Palar river has led to sever hardships. 
They also want an increase on Maximum Selling Price (MSP) for agrarian produce, claiming that though the salaries of MLAs and production costs for harvesting produce such as sugarcane have gone up since the 1970s, the price got by farmers for selling their produce has remained the same.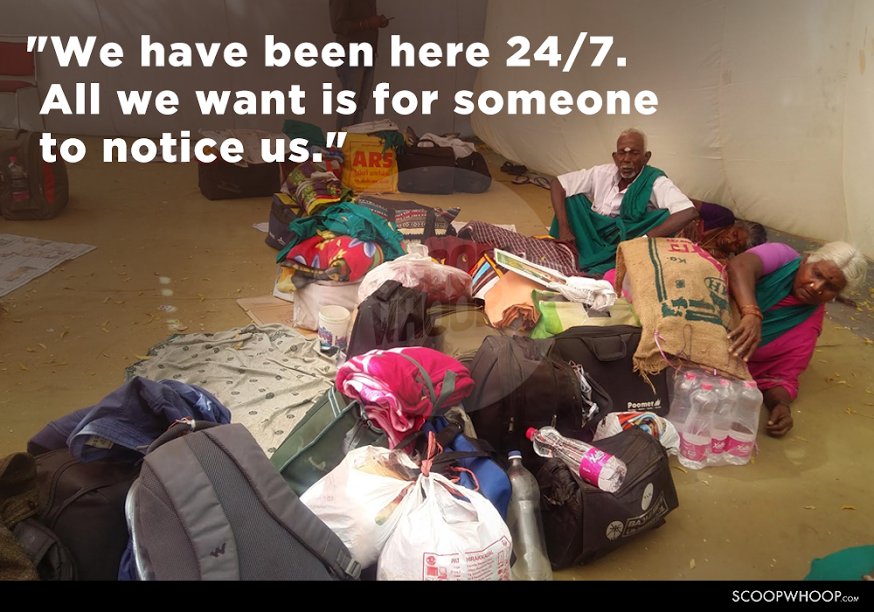 Ayakannu warns that if the government does not listen to their demands now, 4 lakh farmers will commit suicide this year instead of the 400 that already have. 
Government unresponsive? 
NK Shukla, Joint Secretary of All India Kisan Sabha (1936), one of the biggest farmers' organisations in the country, tells ScoopWhoop News:
"More than 3,50,000 farmers all over India have committed suicide in the last 15 years. The average is 52 suicides per day, which means 2 farmers are killing themselves every hour, even as we speak. Yet governments decide to help capitalists instead of farmers."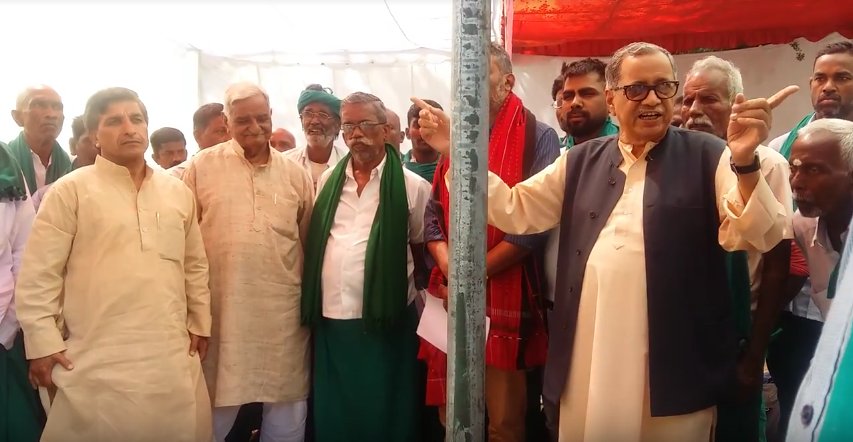 Shukla was referring to the government's decision to write-off loans to the tune of 1.4 lakh crores in the corporate sector in February last year. 
"PM Modi had promised in 2014 that if he comes to power, he will implement the Dr Swaminathan Commission report for farmers, and write off farmers' loans. But now, we realise that was another one of BJP's jumlas (empty promises)."
This is not the first time farmers have raised these issues. Farmers held rallies across the country last year to raise the issue of farmer debt and suicide. They had even protested in front of the Parliament in New Delhi and had given a memorandum to the government, asking them to act. 
"Do something, we said. The Supreme Court also asked the government to act, to help the farmers. But nothing has been done."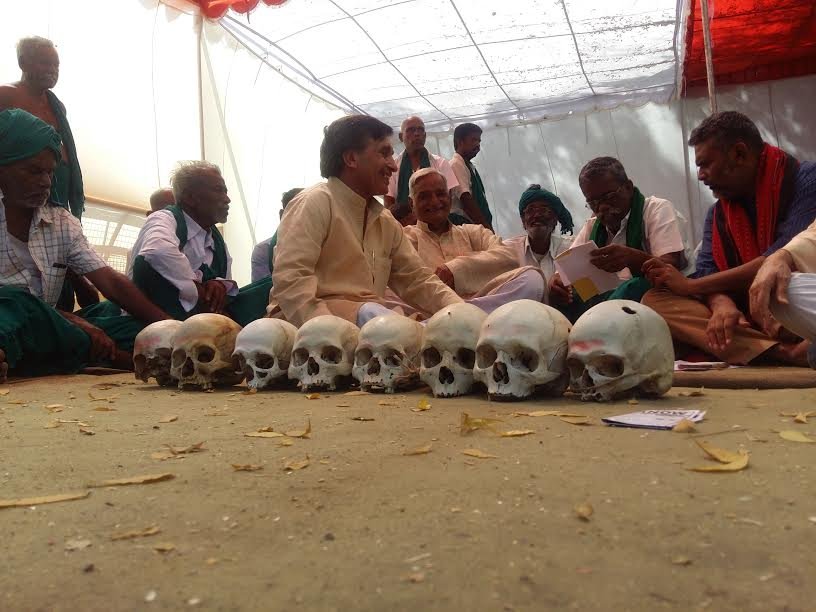 In January, the TN government had offered Rs 3 lakh as compensation to the families of 17 farmers who had killed themselves. The protesters claim this is precious little.  
According to P Ayakannu, states will only take up the issue of farmers once the Centre gives them concrete directions. However, he claims, this never happens.
"Farmers are second grade citizens in India. They are downtrodden, untouchable people. Politicians, they don't even want to see us, our contribution. They only come to us during elections to get votes. But after that, we are invisible to them." Ayakannu laments. 
Students volunteer 
The protest has gone on for ten days now. Where are the protesters staying? What are they eating? 
According to V Rajalukshmi, who has been present here since Day 1, many had been sleeping in Jantar Mantar itself. 
"We have been staying here 24/7. All we want is for someone to notice us." she laments sitting among piles of luggage. 
However, some farmers have also been staying with friends or relatives that they have in the city. 
"At first these people were really struggling with food and other provisions. But the local Tamil community in Delhi has come forward to help out the farmers here. Many families have opened up their homes to these farmers, accommodating as many as they can, " Shankar, a 26-year-old Tamilian reserach fellow with Kaivalya Education Foundation, currently pursuing the Gandhi Fellowship told ScoopWhoop News.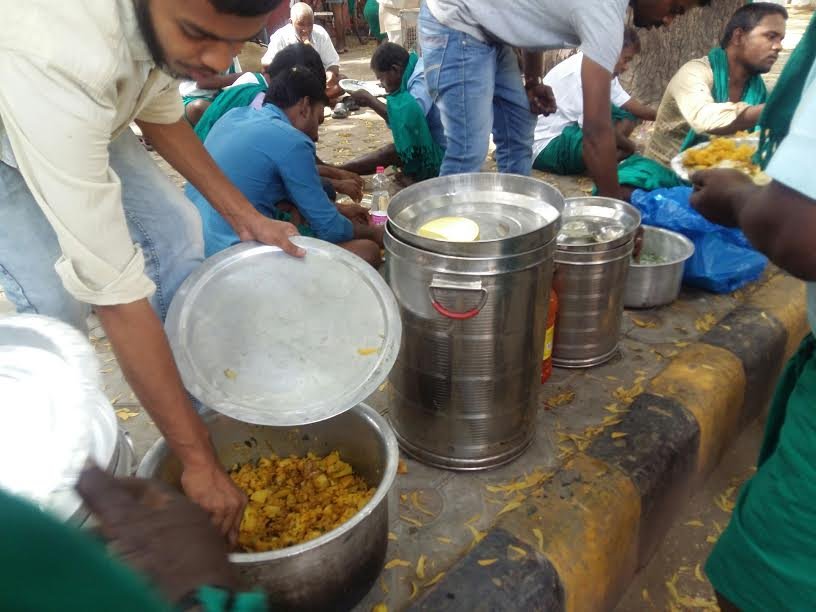 Shankar is a rural social activist, and had come to Jantar Mantar to support the protesters for a day. 
Vignesh, a 22-year-old graduation student from Shri Ram College of Commerce, told ScoopWhoop News that students, especially Tamil students, had come out in large numbers to volunteer for the campaign. 
"Students from Shri Ram, Ramjas and several other colleges have come forward to volunteer. We feel the farmers' struggle is our own. They are the ones growing our food. They need protection before anybody else." 
The students and volunteers from the Tamil community have organised  freshly-cooked meals, three times a day, to the protesters and bystanders alike. 
Has the protest been fruitful?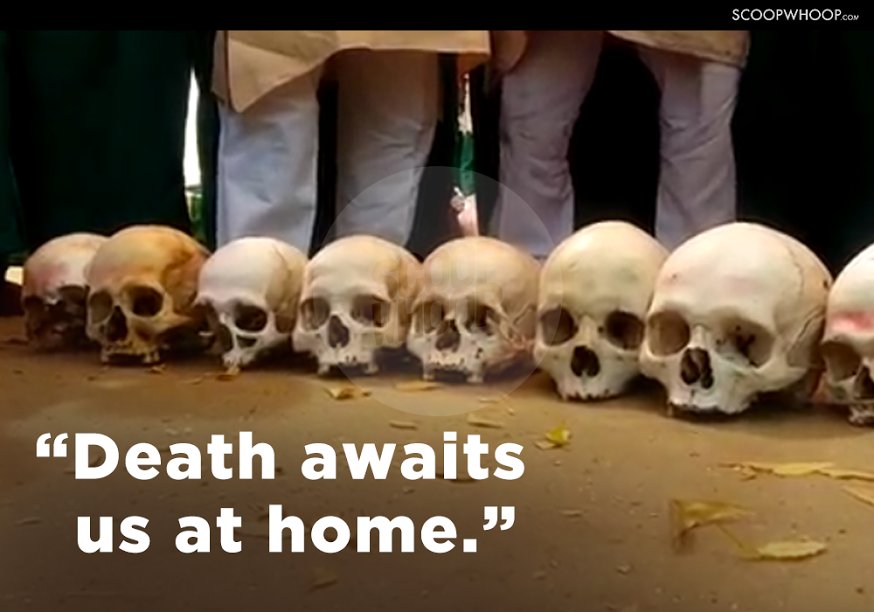 Recently, the protesters met with Finance Minister Arun Jaitley and Water Minister Uma Bharti. But according to the farmers, nothing has been fruitful yet. 
For now, the protesters are waiting for Arun Jaitley's response. The Finance Minister has promised the farmers' delegation that he will take up the issue with the Reserve Bank Of India. 
"We have a firm resolve. Death awaits us at home. We cannot go back so we are going to stay put as long as the government does not listen to us and give us reassurance in writing. They have to listen or farmers will perish by the hundreds," a teary-eyed elderly farmer told ScoopWhoop News in Jantar Mantar. 
(Feature Image Source: Rakhi Bose)