Fed up with Darren Lehmann's constant sledging during a tour of Australia, Harbhajan Singh once asked the current Australian head coach whether he was "pregnant" while pointing to his "huge stomach", the veteran off-spinner has recalled.
"Australians felt they were the biggest superstars, nobody can beat them, they always looked to dominate. But we were from a generation which was never docile. I come from Punjab and Punjabis by nature always speak their minds."
"I was batting and (Darren) Lehmann was continuously sledging me. He had a huge stomach and his slack string used to hang out like Shakti Kapoor's. I was so perturbed over his sledging that I pointed towards his abdomen and asked: 'Are you pregnant?' Lehmann told this to Shane Warne who burst out laughing. Warne asked me whether I said this…' Well, players shouldn't have such huge stomachs." 
"(Glenn) McGrath sledged me a lot. He felt who's this guy playing after I have dismissed top batsmen. I replied back. He used to sledge once, I replied thrice, he sledged twice, I replied five times. A time came when the Australians stopped sledging me."
On the infamous spat with Andrew Symonds, Harbhajan said: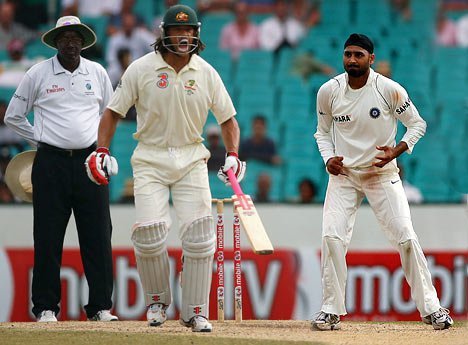 I didn't say monkey. It was their allegation. I only told him – 'teri maa ki…haath ki roti khaane ko bada dil kar raha hai'. He did not listen at all. Anyway, he did not know Hindi, and I don't know English.
Harbhajan said former Pakistan fast bowler Shoaib Akhtar was another player with whom he often had spat with though they were friends off the field.
Shoaib abused me a lot. He used to sit with us, ate with us. Since he was too close to us, maybe he used to take us for granted. He challenged me once to hit a six and when I hit a six, he was shocked. He then bowled two consecutive bouncers which I evaded. He then abused me and I replied back. But after the game, we sat together as if nothing happened.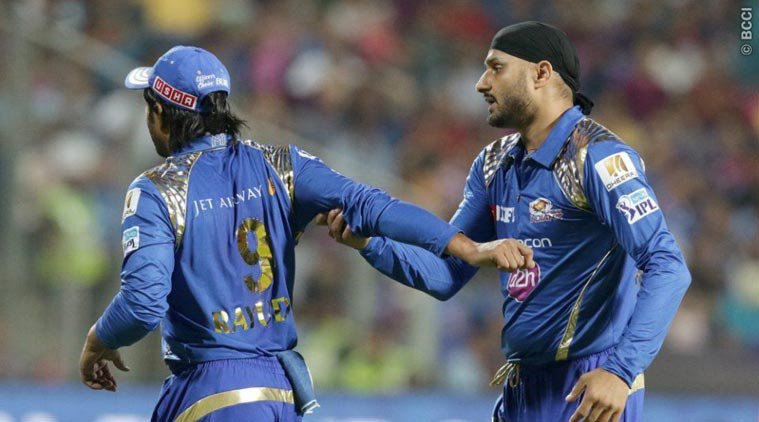 Harbhajan added:
"Shoaib once threatened me he would come to my room and beat me. I told him come, let's see who beats whom. I was really scared. He is a great hulk. He once bashed me and Yuvi (Yuvraj Singh) inside a room. Since he was heavy, it was difficult to catch him"
On the infamous IPL incident in which he slapped S Sreesanth, Harbhajan said: 
Talking about the current Indian side, Harbhajan said Test captain Virat Kohli's aggressive attitude on the field would take the team forward to achieve difficult heights.
"It's good to see the way Virat conducts himself. I feel this is a brilliant way to take forward Indian cricket. Going to play with right body language, fighting it out for India with a zeal to get the right result, we need such a spirit which Virat has, whether it's his own or he may have taken it from me. I feel it's a great sign for Indian cricket, to take India to difficult heights."
"In my opinion today India faces challenge from three big teams — South Africa, Australia and England. I feel as far as other teams are concerned, we can win seven out of 10 matches against them."
Asked how he felt playing against Pakistan, Harbhajan said: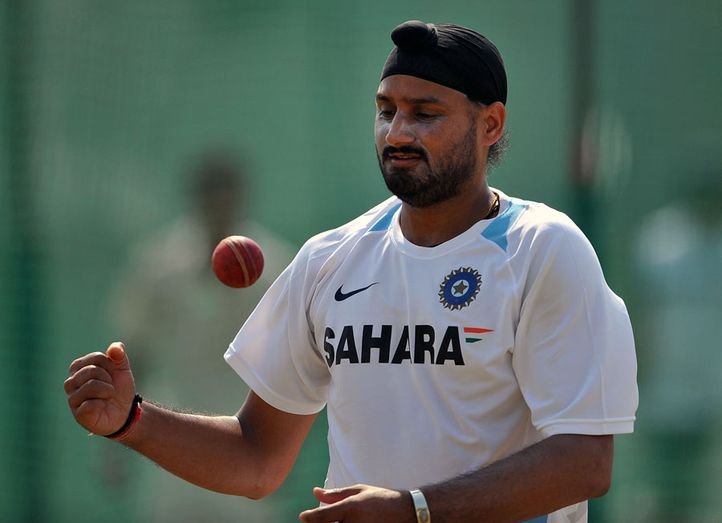 "As a player I feel great after defeating a big team. In those days the Pakistan team was great, it had players like Wasim Akram, Waqar Younus, Saqlain Mushtaq and Shoaib Akhtar.
For us that used to be a special game, a special moment. I feel media creates too much hype for India-Pakistan matches."
Harbhajan said he would be writing his autobiography soon and any producer was welcome to make a biopic based on his book.
Harbhajan also recounted an incident in which he, Yuvraj Singh and Zaheer Khan once tried to make fun with Sachin Tendulkar and threw him into a jacuzzi.
"Sachin Tendulkar Paaji has a great sense of humour. His one-liners are great, which normally one never hears."
On the new national coach Anil Kumble, Harbhajan said: 
"Anil bhai is a man I respect a lot. I played with him for many years. I learnt one thing from him — 'In life don't ever give up'. He was a cricketer with a serious bent of mind. He knows my mischievous nature. I don't think he had any problems with me ever."
With agency inputs