We all know that the Royal family members are filthy rich and can get their hands on almost anything in the world, but not everyone is passionate about their mode of transportation. Earlier, special horses were trained to pull a luxury coach and it was considered a display of royalty. But now cars have gained the privilege of supplying special and royal four-wheeled transportation to those with blue blood. In fact, some of the most extensive collections of lavish, unique automobiles around the world belong to heads of states, not celebrities or rock stars. 
Let us look at a few
1. Queen Elizabeth ll of United Kingdom – Bentley State Limousine
This custom-made Bentley Limousine is a special edition vehicle used by Her Majesty on special occasions. Besides being heavily armored, a few other special features of the car include a transparent rooftop, special monocoque chassis construction, increased cabin height that allows the Queen to stand upright and rear doors which open at an angle of 90 degrees which makes it easier for Her Majesty to face the crowd directly without hindrance.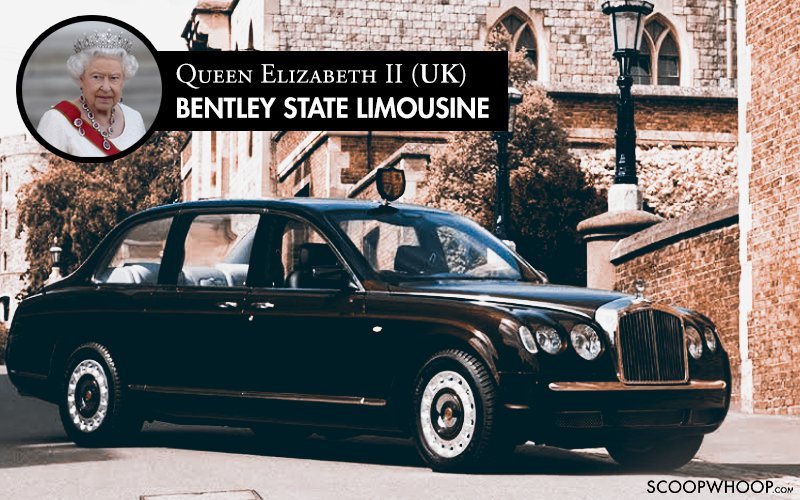 2. Prince Sheikh Sultan Bin Rashed al Nahyan of Abu Dhabi – Mercedes-Benz G55 AMG
This one-off Merc was built by the German tuning house A.R.T. specially for His Highness. They call it the AS55K Yaas Edition and the stock 5.5-liter V8 has been optimized to deliver an output of 620 HP, up from 507 HP. Furthermore, the carbon fiber bodied SUV is equipped with 22-inch alloys wrapped in high-performance tyres while the Prince also opted for 12 projector lamps including four xenon upper-beam headlights and eight fog lamps.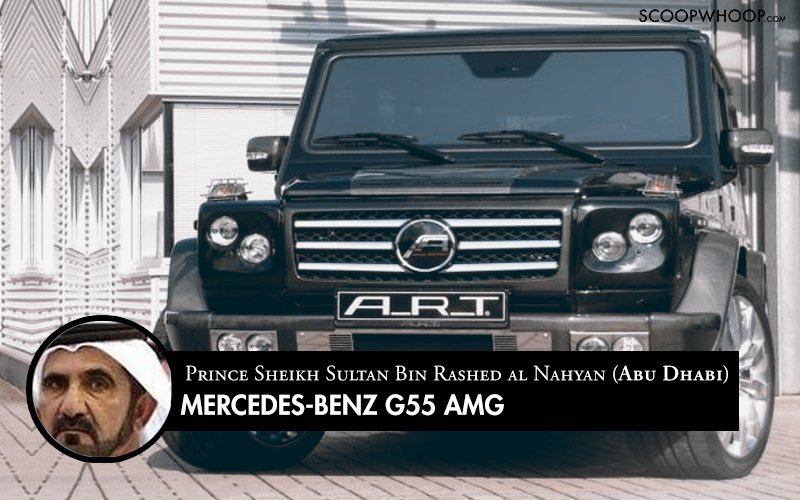 3. Maharaja Manoharsinhji of Rajkot – Rolls Royce (Star of India)
The unique feature of the "Star of India" is its body paint in orange. It is resistant to all weather conditions. This convertible was made in 1934 and was customized by the coach-builder's Thrupp & Maberly. It was auctioned off to the collector – Hans Gunther Zach.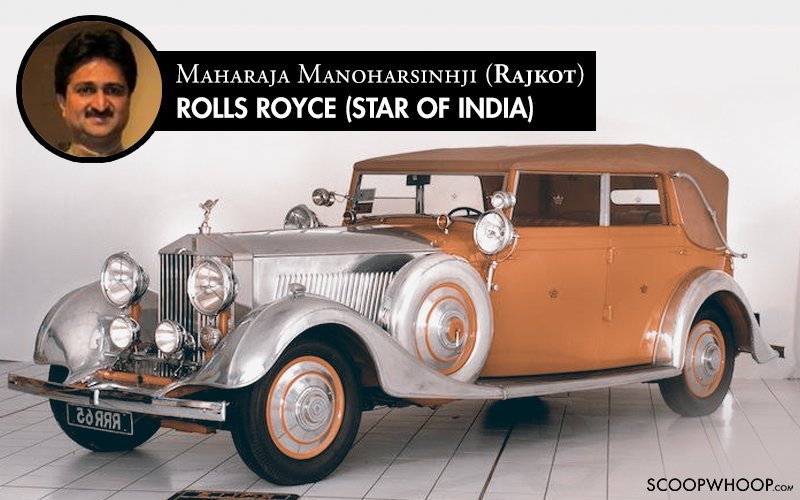 4. Prince Albert II of Monaco – Lexus LS 600h L Landaulet
This custom Lexus was ordered in time for Prince Albert's marriage. The special feature about the Lexus is its completely transparent roof. The car itself was designed by Carat Duchatelet, a firm which specializes in building armoured luxury cars.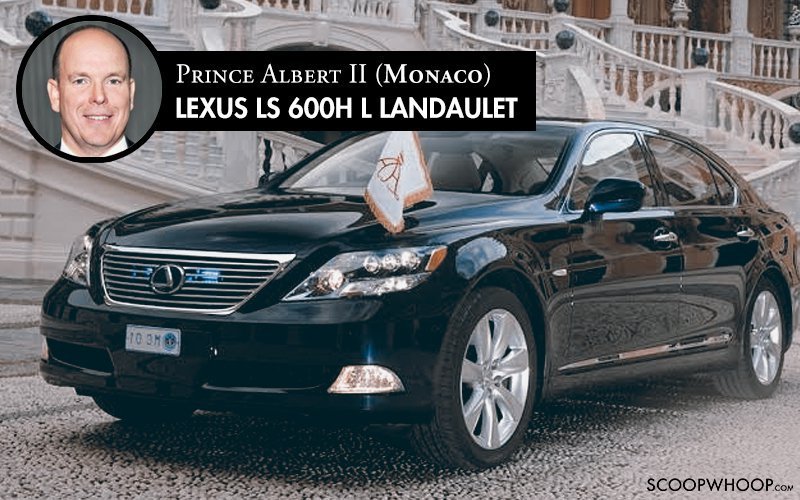 5. Royal Family of Qatar – Pagani Zonda Una
The Pagani Zonda Una has plenty of carbon-fibre bits and pieces that keep the car lightweight while its 690-horsepower 7.3L V12 engine bespeaks an owner who's never going to run short of light sweet crude for refining into fuel. The car wears the royal family's trademark turquoise body paint.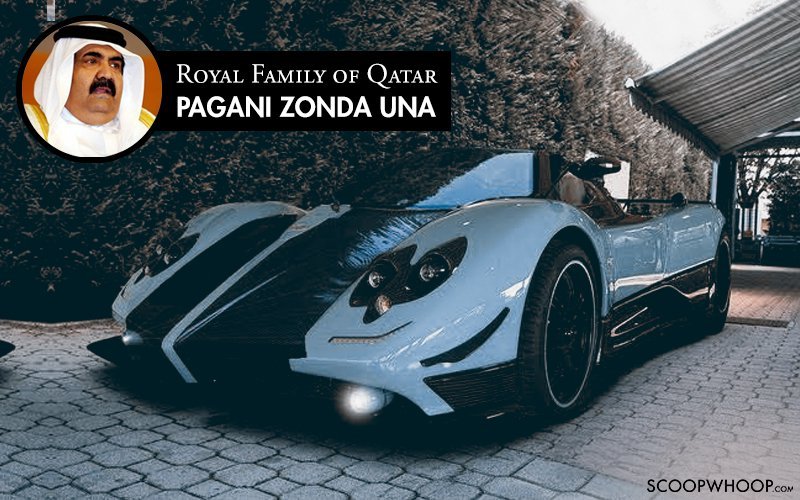 6. Prince Alwaleed Bin Talal Al Saud of Saudi Arabia – Rolls Royce Phantom
Not much to mention here since no Rolls Royce is the same and neither is this. The Phantom version of the car comes with a powerful 6.75 Liter V12 engine that generates 453 BHP of power. The car features include panels finished with oak woods, an LCD television set, air conditioning controls for both front and back seats, sensors for occupants, and storage for authentic French champagne.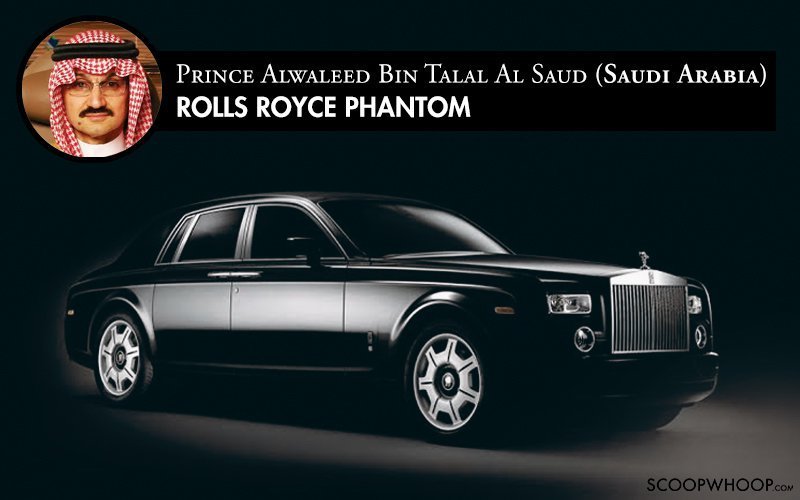 7. Prince Charles, United Kingdom – Aston Martin DB6 MKII Volante
This midnight-blue Aston Martin was driven by the Prince himself when he got married. The unique quality of the car is its engine which runs on an alcohol based fuel derived from the Royal grapes, from the Royal garden itself. Though, the car can only do a little more than 2 km/l.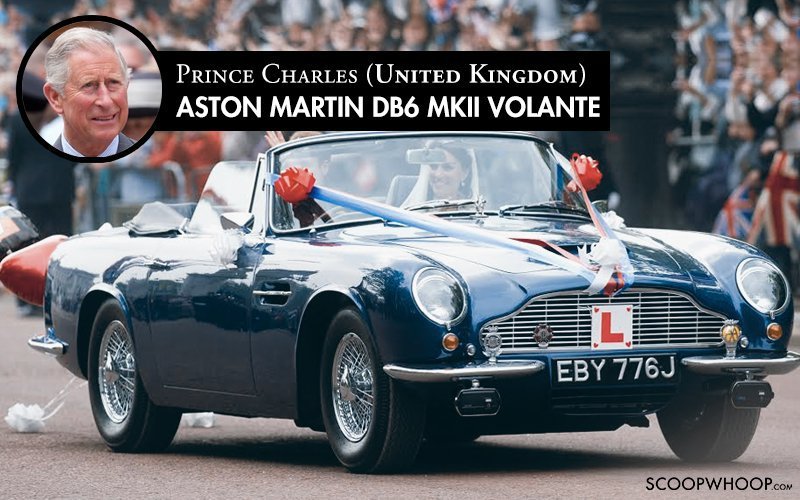 8. Sultan Hassanal Bolkiah of Brunei – Rolls Royce 
The 29th Sultan of Brunei is believed to have a private collection of around 500 Rolls Royce cars, the largest collection of its kind in the world. This particular one is a coupe, with a slanting rear for aerodynamics and scissor doors.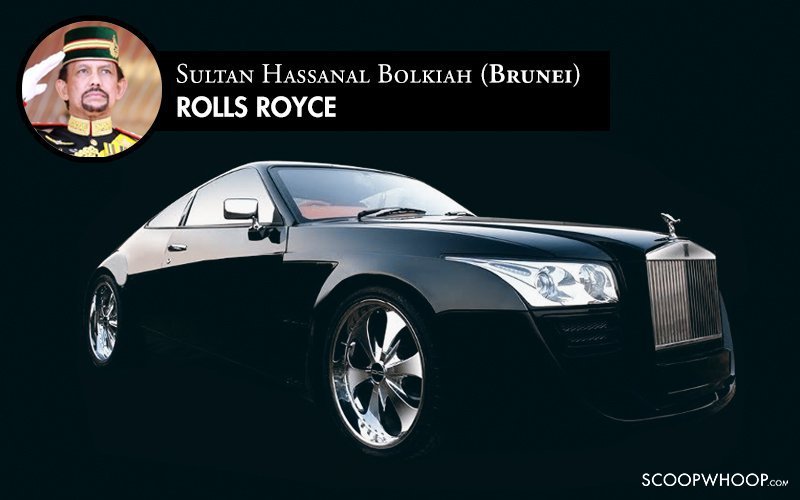 9. Royal Family of Thailand – Cadillac Limousine 
Royal Family of Thailand just ordered their second Cadillac DTS Limousine Special Edition, which was later also re-created for the US President. It contains "CEO Series" features, including 24-inches more than your average DTS in length as well as a 3-inch increase in height. Other design touches include air craft composite rear doors, a flat floor, and a lavish array of personalized amenities.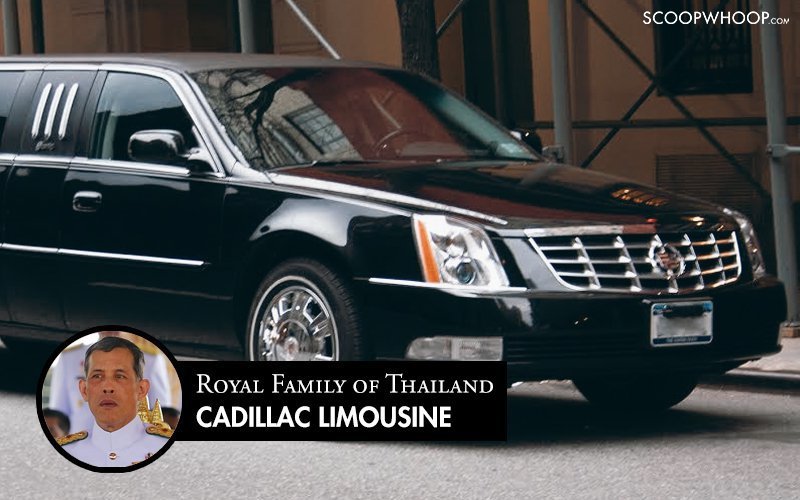 10. King Baudouin of Belgium – Mercedes Pullman 600
King Bauduin customised a Mercedes Benz by fitting it out with just about every piece of hybrid technology available. It is now one of the most fuel efficient cars on the planet.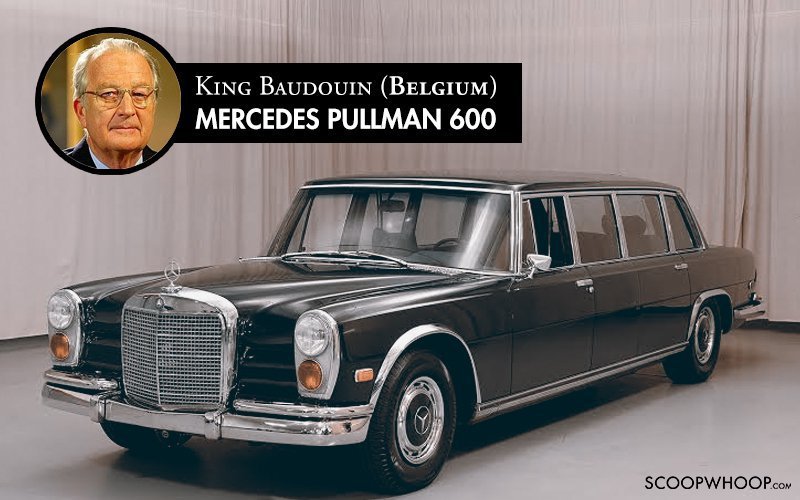 11. The Royal Family of Jordan – 1961 Mercedes-Benz 300 SL
This is just one of King Abdullah I's revered collection of impressive exotic cars. It possesses a 6-liter V8 engine, which was very rare for the time, and is capable of producing 380 HP with a top speed of 155 mph. Although the King himself has an array of some of the world's finest vehicles, this 300 SL remains as the Royal Family's official vehicle.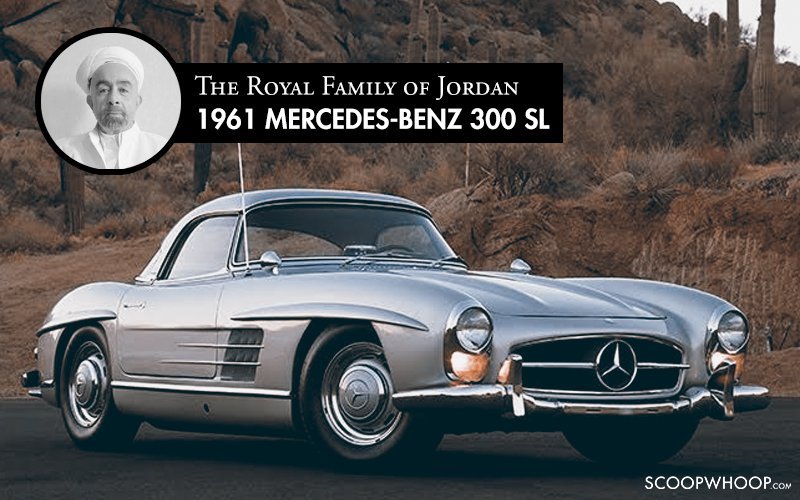 12. King Saad bin Abdullah bin Abdulaziz al Saud of Saudi Arabia – Luma CLR 730 RS
This customized version of the already heralded BMW M5 E60 is a shining example of primed performace with a 730 HP, 10-cylinder engine with bi-compression mechanism and wheels that boast special anodized rims. Designed to travel at high speeds, the body is completely made from carbon fiber, making it lightweight and suitable for the astounding speeds it is capable of.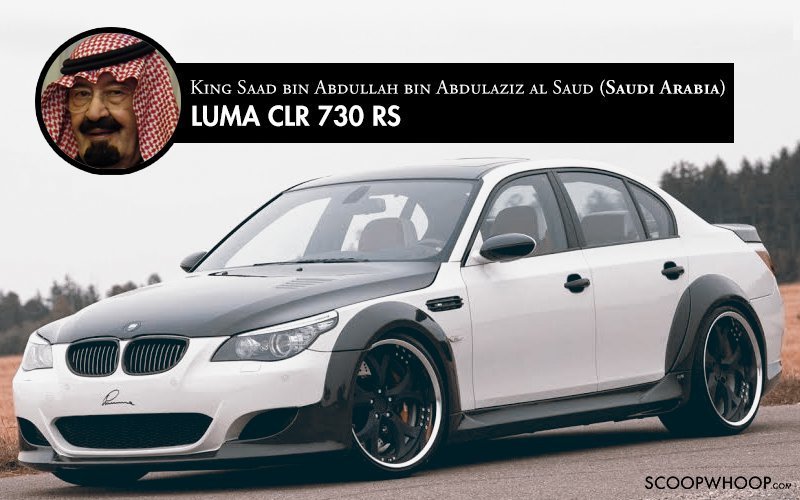 13. Royal Family of Japan – Toyota Limousine
The Japanese Royal Family chooses this custom-made Toyota Limousine as their official car. The limo possesses an array of eco-friendly features as well as the latest technology in energy-efficient engines. At 20 feet long and 6 feet wide, the classy car can fit up to 20 people. It boasts a 5-liter, V12 engine that is capable of producing more than 350 HP. Additionally, bulletproofing and special tires make it so that the car can still be driven in the event that the tires have been shot by bullets.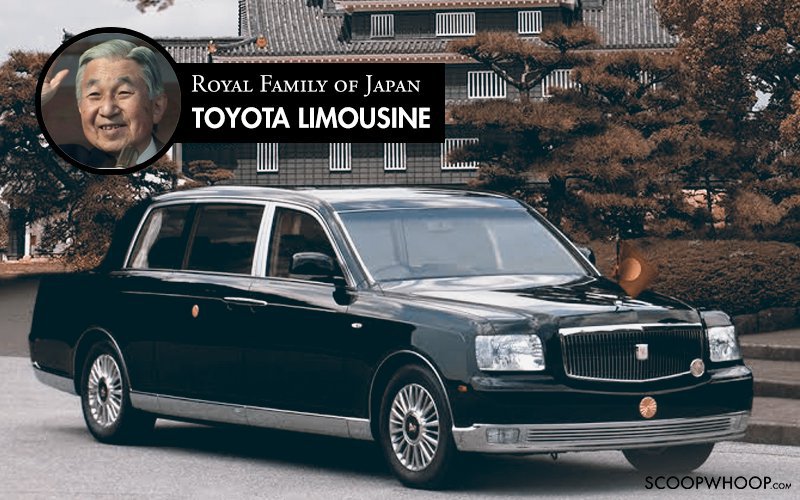 Money well spent!
Design credits – Suvojyoti Ray