On Friday night at 11.45 pm, a gang of cattle smugglers entered a farmer's house in Agra's Kotrekapura village. As they tried to run away with his buffalo, the farmer, Charan Singh, woke up and nabbed one of the thieves. But he was shot dead by other gang members.
The police later found out that the smugglers had come in a pick-up truck, armed with deadly weapons.
In mainstream media, the case was reported only by The Times of India with the headline 'Farmer killed by cattle smuggler in Agra'. However, you can read a more detailed report by Hindi newspaper Amar Ujala here.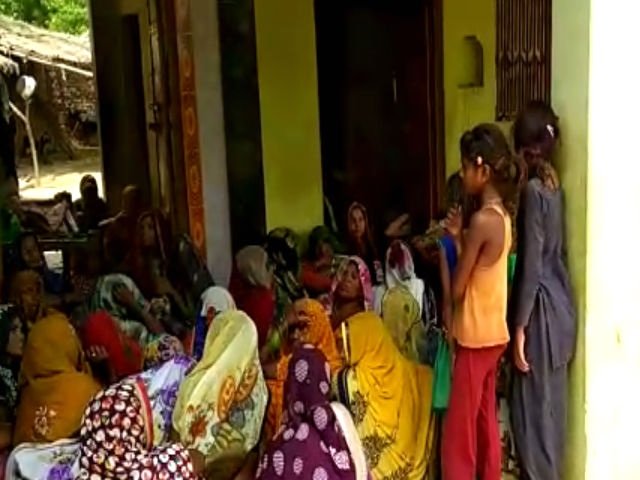 A day later, cattle smugglers hit the city again. They fired shots and stole a buffalo from Putpura Ujjawali village of Fatehabad. The case again went unreported by almost all media houses, except for The Times of India which clubbed it with the above-mentioned copy.
These aren't stray incidents but a continuation of a series of deadly attacks carried out by cattle smugglers on farmers across India. Gangs of smugglers enter villages at night, armed with guns and pistols, to kidnap cattle before fleeing away in trucks which they sell for slaughter. 
A report by Mail Today in September 2016 estimated that about 3,000 cows and oxen are being smuggled every day from villages of Haryana, Rajasthan, Maharashtra and states on the India-Bangladesh border. A Times of India report said smugglers are increasingly going after buffaloes. 
Explaining their modus operandi, a 2013 report in New York Times on the rising incidents of cattle theft in India said, "Typically, the rustlers creep into the city at night. When the criminals spot stray cattle and few onlookers they stop the truck, push out a ramp and use a rope to lead the cow to its doom. The thieves can usually fit about 10 cows on a truck, and each fetches Rs 5,000."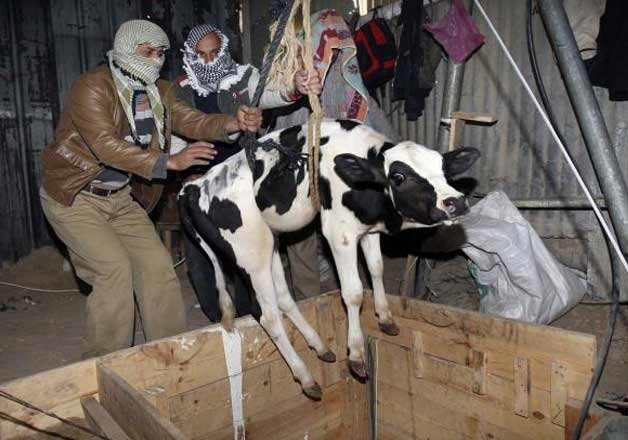 Cattle smugglers are brutal…
"[The smugglers] think little of ramming police cars and breaking through barricades. They have even pushed cows into the pathways of their pursuers, forcing horrified officers to swerve out of the way to avoid what for many is still a grievous sin," the NYT report further said. 
…And deadly
The smugglers don't let anyone stand in their way to make a quick buck, even if it means killing mercilessly. 
Here is a list of some of the many incidents from across India where they have ended up brutally killing villagers and even cops, or attempted to kill them, to evade being caught.
February 7, 2014: Cattle smugglers kill two villagers in Bareilly. Report says, "Residents alleged that this is not an isolated case as several unsuccessful attempts in the past have been thwarted by alert villagers who raised an alarm, forcing the gang to flee."
May 1, 2014: Cattle smugglers fire at villagers and police after being caught in Gurgaon's Baliawas. Later nabbed by police and identified as Aabid and Umar. 
June 24, 2014: Cattle smugglers fire at a farmer after he catches them stealing his cows in Shahjahanpur in UP.
February 20, 2015: Cattle smugglers kill two policemen, including a head constable in Mathura, UP, when the police tried to intercept a vehicle carrying cows near Azizpur village.
September 10, 2015: Cattle smugglers shot dead a sub-inspector, Manoj Mishra, in Bareilly's Faridpur.
October 10, 2015: Prashant Poojary, a Bajrang Dal member actively involved in preventing illegal cow slaughter and transportation, was killed by alleged cow smugglers in Mangaluru. Police later arrested a suspect Mohammad Imtiaz Gantalkatte in the case
January 9, 2016: Cattle smugglers kill a BSF constable in West Bengal
June 1, 2016: A 16-year-old girl was shot dead by cow thieves after she confronted them. The incident happened in Etah district of Agra
June 6, 2016: Two men kill a chowkidar Data Ram after suspecting him to be a police informer on cow slaughter incidents in Lucknow's Azamgarh district. The accused were later identified as Jakib and Itikar.
June 19, 2016: Cattle smugglers ran over and killed a Dalit man in Agra's Firozabad district when he tried to stop them from stealing his cattle.
August 5, 2016: Cattle smugglers drive a pick-up van over a 56-year-old constable named Triloki Tiwari in Jaunpur, UP.
October 22, 2016: Cattle smugglers opened fire at a dairy farmer in Panipat, Haryana after he catches them red-handed.
November 2, 2016: Cattle smugglers shot dead a woman after being caught stealing her buffaloes. The incident took place in Asrauli village of Dehat kotwali area of UP's Etah district.
June 25, 2017: Cattle smugglers tried to run over a vehicle at police "yet again" in Shajahanpur. One of the accused was identified as Ehsaan.
July 2, 2017: A farmer Charan Singh was shot dead by armed cattle thieves after he tried to save his buffalo from them. The incident took place in Kotrekapura village of Agra.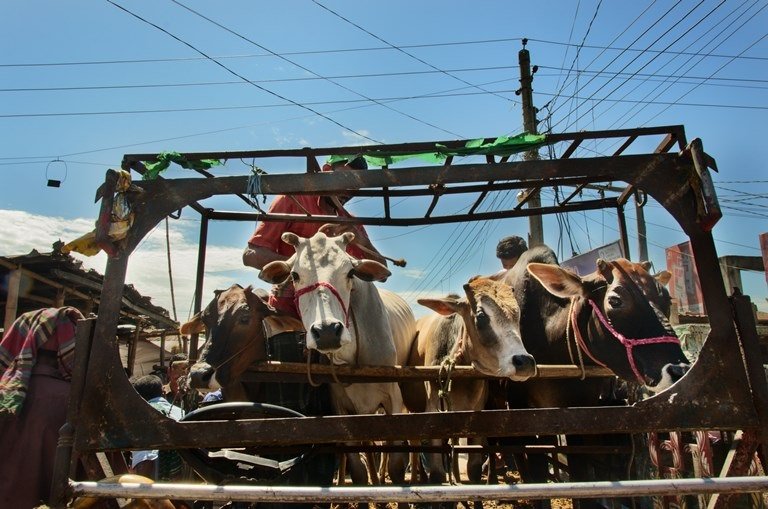 Phool Singh, a gau rakshak in Rajasthan's Ramgarh district for 17 years, told ScoopWhoop News that the trend of smugglers coming armed with pistols has increased over the past few years.   
Even as the country is campaigning against crimes committed by men in the name of cow protection, this is another issue that deserves attention. The menace doesn't find much space in mainstream media but is one that a civilised society must stand up against.