Arsenal were finally brushed aside 2-0 as Lionel Messi and Neymar combined in a rapid counter-attack to break the deadlock in the 71st minute in the Champions League last 16 first leg match.
Messi converted from the spot 12 minutes later to give Barcelona a solid 2-0 lead ahead of the second leg at the Camp Nou.
But even in loss, Arsenal provided a fantastic template for any team which wants to trouble the Catalans — playing with a certain verve going forward and almost scoring a few times themselves.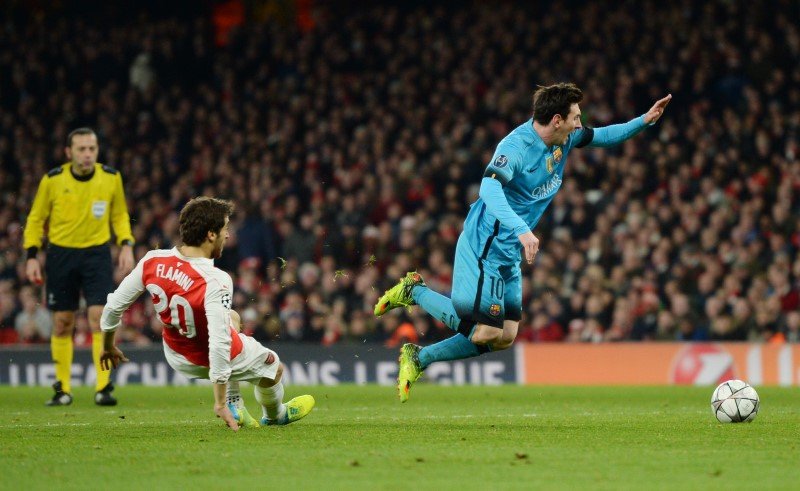 Here are three tactical approaches that Wenger's men executed to near-perfection – a system which, with slightly better players, could have really hit Barcelona:
Defend from the front: Arsenal attempted more take-ons and tackles in Barcelona's half than their own, a sign that Wenger had asked his front four of Mesut Ozil, Alex Oxlade-Chamberlain, Alexis Sanchez and Olivier Giroud to shut down Barca's defenders as quickly as possible, not allowing them the opportunity to pick out players in midfield. 
These four were also quick to track back with consistency – Giroud's sliding tackle on Messi inside the box and Sanchez's continuous scuffles with Dani Alves are a couple of examples of the way the team shaped – defenders inside the box to block the intricate passes, and midfield and attack combining to cut off the supply.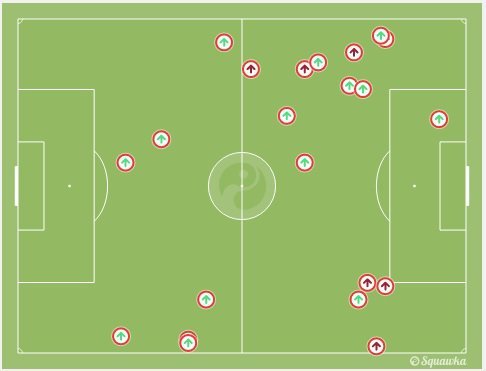 Aerial prowess: Giroud, Per Mertesacker, Nacho Monreal and Francis Coquelin are all taller than Javier Mascherano, Neymar, Messi and Ivan Rakitic. Arsenal made their height advantage count while defending and attacking.
The Gunners won 67 percent of the aerial duels, and Barcelona just 33 percent. Mertesacker, under criticism for most of the season by Arsenal fans, was excellent in the box apart from his poor first touch which eventually led to the penalty. Giroud (and later Danny Welbeck) were good in the opposing box, heading down for tap-ins, with the former even forcing a fine save from Andre ter Stegen.
Arsenal's marking was good on most occasions (Barcelona will eventually escape your clutches) and that allowed a lot of positivity going forward for the attackers.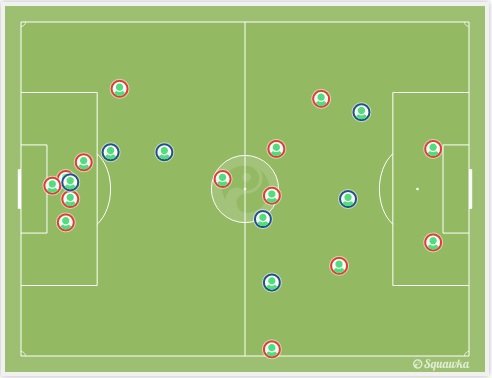 Attack with verve: There was nothing simple about the way Arsenal were attacking. With Coquelin and Aaron Ramsey filling in the huge gaps between defence and attack with forward surges during attacks, they had men and options forward and built some fine moves.
There were no instructions to keep it simple. Arsenal tried their tricks and flicks and early crosses. The shots which came clearly caused discomfort for Barcelona and some of the runs into the channels from Ozil were supreme. Arsenal were unlucky not to make most of their half chances. Chamberlain, Sanchez and Giroud all had goes from inside the box, forcing Barcelona to track back and not take anything for granted. They gave them a proper game.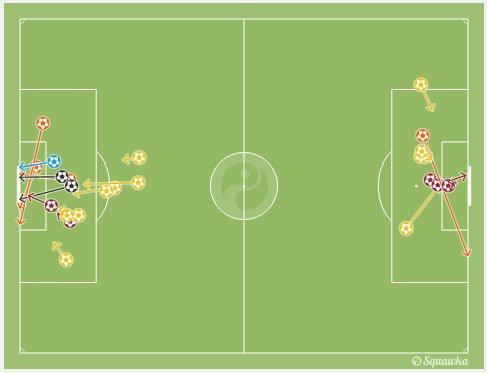 Featured image: Reuters