Violent clashes erupted in several areas of Kashmir Valley on Friday between police forces and protesters demonstrating against the killing of a young boy termed as a "militant" by the army. His family claims he "was tortured to death" in south Kashmir's Tral area last week. The police also foiled a proposed protest march to Tral called by Hurriyat chairman Syed Ali Shah Geelani on Monday.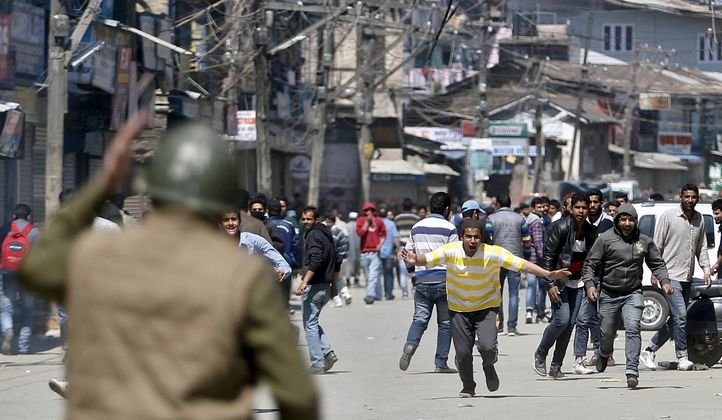 Police forces fired dozens of tear-smoke shells and rubber bullets at stone-pelting demonstrators who were shouting anti-India and pro-freedom slogans in Srinagar's old city. The protests erupted soon after the conclusion of Friday prayers at Srinagar's historic Jamia Masjid. Stone-pelting incidents were also reported from the slain youth's hometown of Tral.
Hurriyat leader Mirwaiz Umar Farooq led a procession against the killings in Tral and said it was "unfortunate" that the government had not given a clear statement on the issue, a report in The Hindu says.
According to officials at least 20 police personnel and five protesters were injured during the clashes, a Dailymail report reads.
In order to thwart any protest march, the police kept 85-year-old Hurriyat chairman Geelani and Shabir Shah under house arrest. The police also arrested another separatist and the recently released Muslim League chairman Masarat Alam for raising pro-Pakistani slogans and waving Pakistani flags during the home welcoming rally of Geelani on Monday April 13, in Srinagar.
"I want to assure the people of this nation that those involved in treason will not be spared," India's home minister Rajnath Singh told reporters on Friday when asked about the arrests.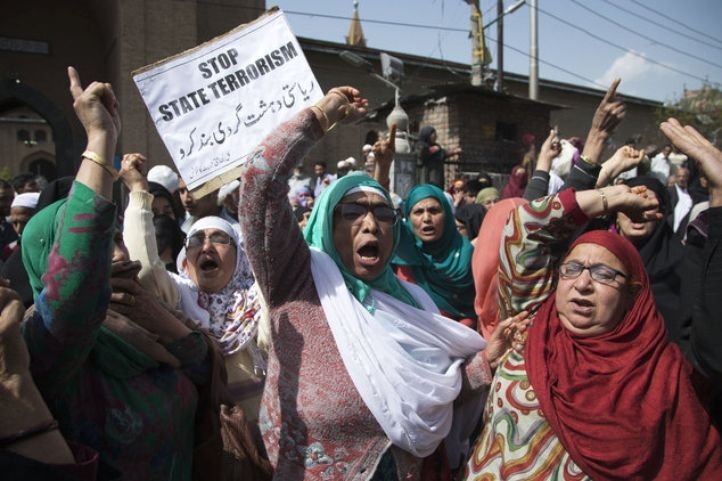 While calling for independence of Jammu and Kashmir from Indian rule, protesters also burned down Indian flags and shouted pro-Pakistan slogans.
Meanwhile, in a statement on Friday Geelani called for a general strike on Saturday to protest the Tral killings, arrest and detention of separatist leaders and what he called biased coverage by the Indian media of events in Kashmir.
According to the Dailymail report, Geelani objected to a biased coverage by the Indian media, especially the TV channels where calls were made for a strict government action against separatist leaders and their supporters.