A policeman was killed and over 100 people wounded on Saturday as Pakistani forces fired rubber bullets and lobbed tear gas in a bid to disperse an Islamist sit-in that has virtually paralysed the country's capital for weeks.
Smoke and tear gas filled the air as the roughly 8,500 elite police and paramilitary troops in riot gear were also seen throwing rocks and using slingshots in the ongoing bid to clear 2,000 or so hardline demonstrators which began soon after dawn.
AFP reporters at the site said more protesters were arriving, though it was difficult to tell how many. Trees had been cut down to block roads, and protesters were burning tyres.
Pakistan's media regulator barred local TV channels from broadcasting live images from the scene as violence intensified.
At least 110 injured people have been taken to the Pakistan Institute of Medical Sciences in Islamabad, a spokesman from the hospital told AFP, adding that 66 of them were members of the security forces.
An Islamabad police spokesman confirmed that a policeman was killed in the fighting after he was struck in the head by a rock. Television footage showed a police van and demonstrators' tents on fire.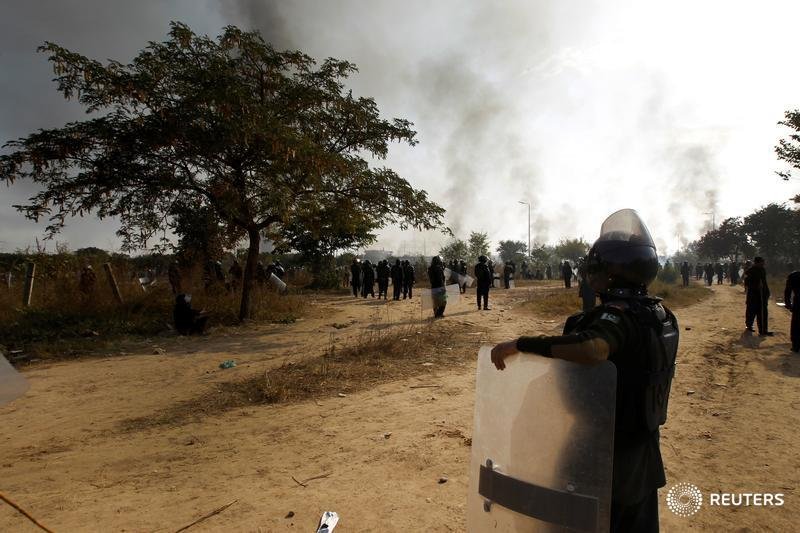 The sit-in by the little-known hardline group called Tehreek-i-Labaik Ya Rasool Allah Pakistan (TLYRAP) has blocked a main highway used by thousands of commuters since November 6, causing hours-long traffic snarls and enraging commuters.
The protesters are demanding that Pakistan's law minister Zahid Hamid resign over a hastily-abandoned amendment to the oath that election candidates must swear.
Demonstrators have linked it to blasphemy – a highly contentious issue in Muslim Pakistan -and claim the oath was softened to enable the participation of Ahmadis, a long-persecuted Islamic minority sect.
Local media reported that small protests – each with several dozen TLYRAP supporters – were breaking out in other cities, including Karachi and Lahore, as the Islamabad operation dragged on through Saturday.
An Islamabad police official had said before the violent clashes that the operation sought to avoid any loss of life on either side.
The sit-in has also cost the life of an eight-year-old child whose ambulance could not reach a hospital in time due to the blocked roads, a statement from Pakistan's Supreme Court confirmed this week.
Despite the protest's relatively small intial size, authorities have hesitated to act against it, citing fears of violence as the demonstrators have vowed to die for their cause.
But government inaction has drawn the fury of the courts as well as millions of residents in Islamabad and neighbouring Rawalpindi. The Supreme Court and the Islamabad High Court have issued blistering criticism and threatened to hold officials in contempt for their inaction.
Analysts and critics have accused the government of bungling its response to the protest, and allowing a minor issue to grow into a headline-grabbing and potentially dangerous situation.
It set an alarming precedent, that "anytime anyone is upset with the government, the capital may be choked and the government will bend its knees," warned Zeeshan Salahuddin of the Center for Research and Security Studies, a think tank in Islamabad.
(Feature image source: Reuters)