Jaipur's Hotel Hyatt Rabbani was sealed in March after an alleged group of cow vigilantes claimed that the hotel served beef and often dumped its remain in the nearby grounds, prompting the police to take an action against the hotel and its owners.
So when a debate on the issue of the hotel and targeting of establishments on the basis of rumours about beef was held at prime-time on CNN News 18, it wasn't really expected to be a heated affair. Except that the show's normally placid anchor Zakka Jacob lost his shit. 

In the limited clip that's been doing the rounds online, Jacob, who is no Arnab Goswami, starts by telling a member of an organisation called Hindu Hum that if the restaurant was serving beef they could shut it down and even burn it down. 
"Yeh kya banana republic hai?" he thunders in his loudest voice heard till date.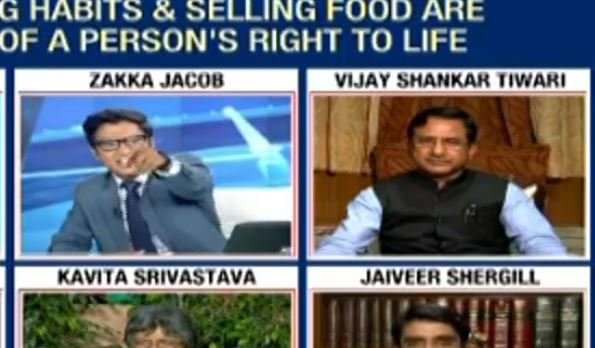 And because his panellist didn't get that he was seeing something unique, Jacob turned to him and told him to just shut down all restaurants. 
A VHP spokesperson Vijay Shankar Tiwari calmly tried to explain that a robber never admits to be being a robber and that the probe should be completed. But Jacob was having none of it and turned his ire to the VHP spokesperson telling him that he had already decided the restaurant owner was guilty.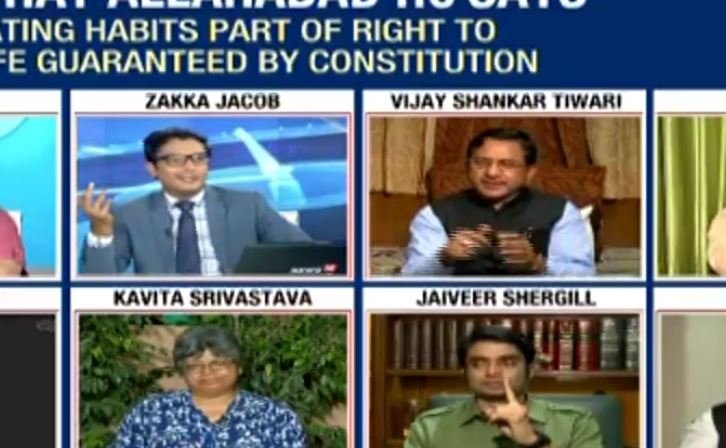 And then it all went to hell. 
Tiwari tried to play the Hindi card telling the anchor of the English news channel but again Jacob was in no mood to back down. 
"Don't teach me the law!," he thundered, saying that the law of the land presumed all innocent until proven guilty. 
"What nonsense!" Tripathi responded. 
"Get off my show! Get out," Jacob said, freaking out his fellow panellists so much that even the Hindu Hum spokesperson was a lot calmer suddenly. 
Here's the full clip: