Composer and musicologist Shail Vyas today wrote to Prime Minister Narendra Modi seeking help for the successful completion of a project on "Music in Ancient India".
Founded in 2011, 'Songs of Mystery', attempts to discover and recreate music and musical instruments from Indus Valley Civilization, Vedic, Ramayana, Mahabharata and later times in India.
H'ble Sir, this crucial project on Ancient Indian music needs your help. dwnld pdf https://t.co/Y1fr9yBESA@narendramodi @PMOIndia pic.twitter.com/wztkotJahq

— Songs of Mystery (@songsofmystery) June 27, 2017
"This ambitious mission to recreate the incredible journey of Indian music cannot succeed without your help. It is my humble and hopeful request to you to kindly give an appointment for just 12 minutes out of your very busy schedule", Vyas wrote in a letter. 
"I understand the seriousness of my request very well but it is extremely important for the successful completion of the project. Your active involvement will take it to new heights for which, not only me but Indian music will forever be grateful to you," he further wrote. 
The project in its first phase has already completed prototypes of 10 instruments like the Nandi Veena and Kumbha Tarangini from the Indus Saraswati Civilization.
It has also identified more than 30 ancient instruments from different time periods with help of experts on archaeology, music and history who have come on board.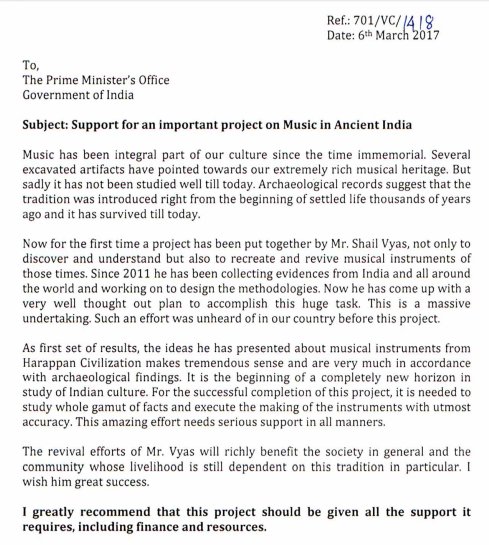 The organisers also posted a video along with the PDF of the letter sent to the PM on Twitter.
Experts on board include R S Bisht, Joint Director General (Retd.), Archaeological Survey of India, B R Mani, Director General, National Museum, and senior arranger and composer Kersi Lord, among others, who have also written individual letters to the PM offering recommendation for the project.
(Feature image source: Twitter)