Days before the election results of five states were to be announced on March 11, Congress president Sonia Gandhi flew abroad for medical treatment. 
Before leaving India, Sonia reportedly spoke to senior Congress leaders and informed them of her plan of returning on March 22. She told them that in her absence, party vice-president Rahul Gandhi will take decisions on her behalf.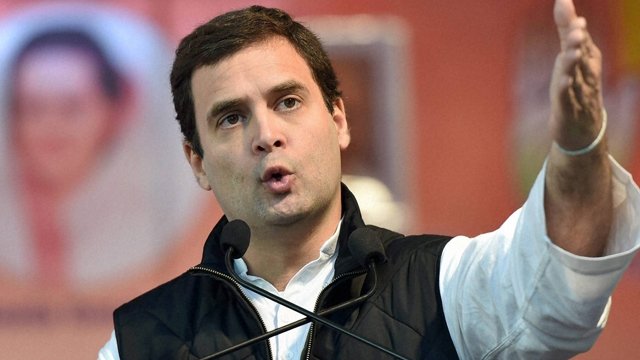 Sonia has reasons to regret her decision now. While her trip abroad may have been unavoidable and Rahul the obvious second-in-command given his designation in the party, the Congress supremo will return home more than a little disappointed. 
The 46-year-old has evidently failed as a leader when he was needed most. He simply could not make most of the people's mandate in the two states of Goa and Manipur where the Congress emerged as the single largest party.
He failed to act in time in Goa
This is how BJP did it in Goa: With 13 seats (in a 40-member assembly), Nitin Gadkari, the BJP leader in-charge of Goa and union minister flew to Goa immediately after the results. By Sunday evening, he had signed independent legislators to raise the count of MLAs to 21.
When the potential allies offered the condition of making Manohar Parrikar as chief minister, the defense minister promptly met the Goa governor with letters of support. Parrikar had resigned as union minister by Monday.
This is what Congress did: The party, which won four more seats than the BJP, was painfully slow and showed confusion on the ground. All it needed was four more MLAs to form government but could not decide on its chief ministerial nominee on Sunday in a secret ballot. When the local  Goa Forward Party set the condition that Goa Congress chief Luizinho Faleiro be the CM for its support, the leadership wasted time in holding talks.
Now, the party's Goa wing are blaming the top leadership for the debacle. Goa MLA Jennifer Monserrate blamed the Congress' "Delhi leaders" for the delay in decision-making. Senior leader and Curtorim legislator Aleixo Reginaldo Lourenco said, "Why should we blame someone for forming the government, when we failed in our responsibility?"
He failed to act in time in Manipur
This is how BJP did it in Manipur: Within 48 hours of results, the BJP – which won 21 seats against Congress's 28 – named former journalist and minister Nongthombam Biren Singh as its CM candidate. BJP also promptly met governor Nejma Heptullah to stake claim to form the next government with the support of 32 MLAs in the 60-member assembly. 
This is what Congress did: When asked to resign, the incumbent chief minister from Congress Okram Ibobi Singh claimed support of National People's Party, which dubbed the letter of support as "fake", killing the Congress's chances apart from humiliating it. The Congress was also slow in gaining allies. As per this report, by the time AICC general secretary in-charge C P Joshi and senior leaders Ramesh Chennithala and Oscar Fernandes reached Imphal, the BJP already had a Congress and TMC MLA on its side.
Rahul's criticism now serves little purpose
Rahul emerged on the scene only on Tuesday after the Supreme Court refused to stay Manohar Parrikar's swearing-in ceremony in Goa and ordered a floor test for the BJP to prove majority in the state assembly. He attacked the BJP for polarising voters and using money power to form the government. 
But his criticism may mean nothing because, as legal experts point out, the BJP is only displaying a deft strategy and is constitutionally right in the event of a hung verdict. This is simple electoral politics, practiced in India for decades and something that the Congress has no moral grounds to balk at.
Let's face it: The Congress leader has just not shown the acumen and energy needed for politics. At a time when his aggressive campaigning has failed to show any result in Uttar Pradesh, Rahul has only made it worse for himself and the party by not taking charge of the post-poll affairs.
 There can't be a bigger testimony to this than what state Congress leaders are themselves saying: that the Delhi leadership failed them.