Tackling price rise has always been a tough task for the successive governments in India. But the opposition never misses a chance to remind the government of its inability to find a solution to the issue.
In an attempt to draw the attention of Narendra Modi government towards price rise, Congress party workers from Gorakhpur have launched a campaign by selling onions at Rs 5 per kg.
And these are called as Rahul Gandhi Pyaaz, with the taglines, 'Aapka dhyan kidhar hai, Rahul Gandhi pyaaz idhar hai' and ' Rahul pyaaz 5 rupee kilo, Modi pyaaz 40 rupee kilo kyon.'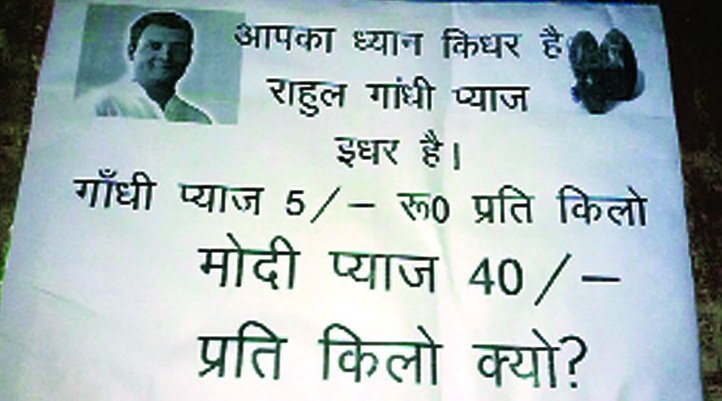 Stalls were put up at the Golghar market of Gorakhpur by Congress party workers and about 500 kgs of onion were sold to nearly 100 people at the rate of five rupees.
"The Modi government has benefited only rich businessmen, not the poor and middle-class sections," said Congress district general secretary Anwar Hussain.
But this is not the first time that these Congress workers have used strategy of subsidy to remind the government of the price rise, last year during the Lok Sabha elections, the Gorakhpur unit of Congress had introduced 'Rahul milk', which was sold to people for free.
There were also products sold under the name 'Rahul herbal tea' campaign post 2014 polls.