A landmark climate change deal was clinched with the approval of India, China and the US, after days of tough negotiations here with the legally-binding pact seeking to limit global warming to "well below" 2 degrees Celsius and committing $100 billion a year from 2020 to help developing nations on Saturday.
The target of well below 2 degrees Celsius and even more ambitious 1.5 degrees Celsius was originally expected not to be to the liking of developing countries like India and China who are major emitters on account of industrialisation but Environment Minister Prakash Javadekar was effusive in his welcome of the 31-page document.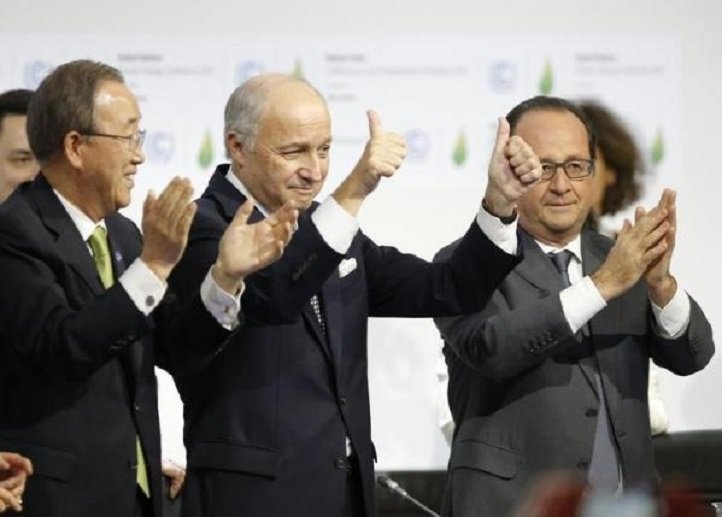 From L-R, United Nations Secretary-General Ban Ki-moon, French Foreign Affairs Minister Laurent Fabius, President-designate of COP21, and French President Francois Hollande applaud during the final plenary session at the World Climate Change Conference 2015 (COP21) at Le Bourget, near Paris, France, December 12, 2015.
Amidst cheers and applause from delegates from 195 countries, the draft of the "historic" deal was presented by French Foreign Minister Laurent Fabius and French President Francois Hollande appealed to the gathering to approve the accord.
After 13 days of hectic negotiations, 196 countries adopted the "historic" agreement to curb green house gases, an accord which leaders called "differentiated, fair, sustainable, dynamic, balanced and legally binding".
The French Foreign Minister banged the gavel to announce that the Paris agreement has been adopted, marking consensus among the ministers, who stood for several minutes to clap and shout their joy. "I see the room, I see the reaction is positive, I hear no objection. The Paris climate accord is adopted," Fabius declared.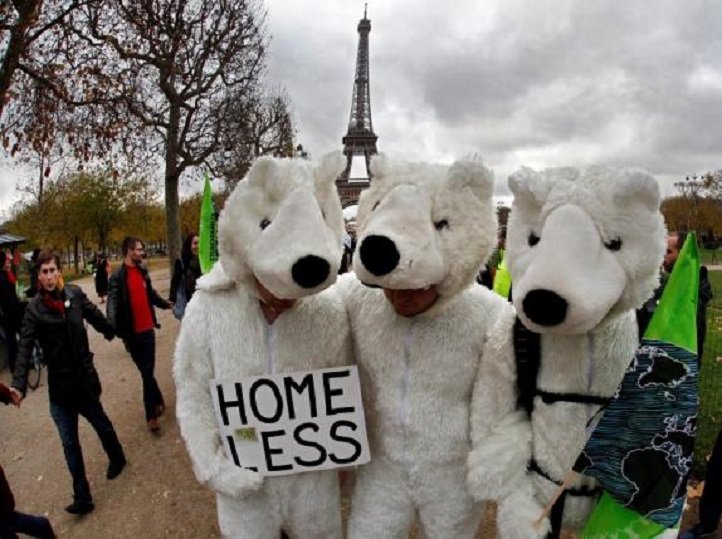 Three environmentalists wear polar bear costumes as they take part in a demonstration near the Eiffel Tower in Paris, France, as COP21 continues near the French capital in Le Bourget.
Fabius has claimed that the agreement which is 31 pages long acknowledges the notion of "climate justice" and takes into account the countries' differentiated responsibilities and their respective capabilities in the light of different national circumstances. French Foreign Minister Laurent Fabius thanks all the countries and his team for the efforts.
The deal, to take effect from 2020, ends decades-long rows between rich and poor nations over how to carry out what will be a multi-trillion dollar effort to cap global warming and deal with consequences already occurring.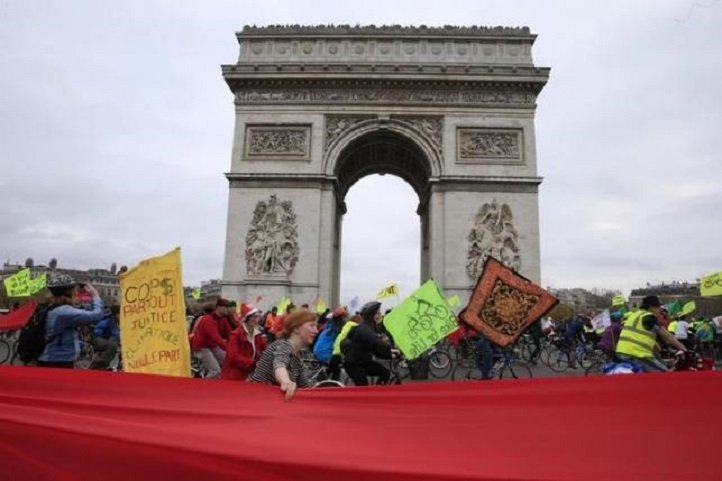 Environmentalists demonstrate near the Arc de Triomphe in Paris, France, as the World Climate Change Conference 2015 (COP21) continues at Le Bourget.
Major features of the text outlined by French Foreign Minister and CoP21 president Laurent Fabius are:
It takes into account the differentiation and responsibility of developing countries, and their respective capacities in light of national circumstances
Confirms the key objective of containing mean global temperature rise well below 2 degrees Celsius and to endeavour to limit it to 1.5 degrees
There will be five-yearly national contributions on actions taken to address climate change
There is provision for adaptation to climate change. Cooperation on loss and damage suffered by countries on a long term basis to provide necessary means to all countries for durable development.
Provision of 100 billion per year as a floor by 2020 to help developing nations.
A new figure to be defined for the period between now and 2020
Collective stocktaking every five years of national actions and consideration of steps if efforts are insufficient for the objective set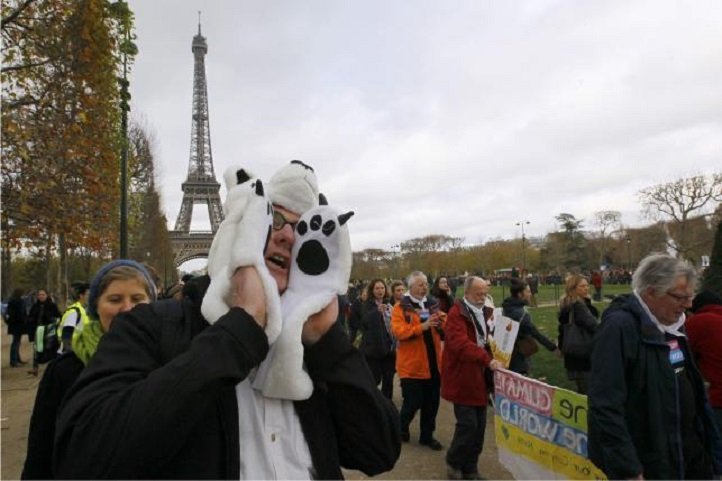 A man wears a polar bear costume as he participates with environmentalists in a human chain protest demonstration near the Eiffel Tower in Paris.
Here's the Draft Paris Agreement .
(All images sourced from Reuters)