Last week when a crocodile showed up on Goa's Morjim beach, morning walker Nilesh Bagkar posted photos on Facebook about the unusual presence. Francisco Braganca, the President of Travel and Tourism Association of Goa (TTAG), on Sunday, July 19, blamed the national media for 'blowing the story out of proportion'. According to him that could be the handiwork of a rival tourism destination as that beach is very popular among the tourists.
Mrng walk # saw crocodile on morjim beach for the first time… Friends plzzz be careful !

Posted by Nilesh Bagkar on Tuesday, July 14, 2015
"A rival destination is attempting to create an issue with regards to the safety of Goa beaches. The national media seems to have blown the story out of proportion. They (media) ought to have heard the other side of the story before attempting to put fear in the tourists," said Francisco Braganca, president of TTAG , which is one of the oldest associations of the tourism industry in Goa.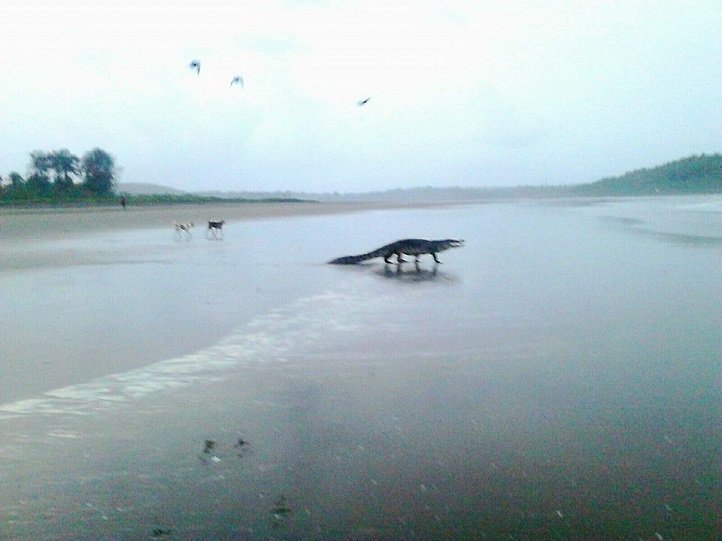 The spy crocodile planted by rival destination Goa haters. | Source: Nilesh Bagkar
However, the news, which according to Braganca was 'blown of out proportion' was confirmed by the Deputy conservator of Forest DNF Carvalo. Since one of the pictures had presence of two dogs far away from the crocodile it was also suspected that the crocodile might have been chased till the sea, since they are usually found in marshy areas.
The three million tourists Goa draws every year faced slight tension due to the confirmed rare crocodile sighting.
"Crocodiles live in marshy lands in the interiors. During monsoons, river water close to the sea loses salinity. It is possible the crocodile lost its way through the river and got closer to the beach," was one of the non controversial statement Braganca had reportedly said to NDTV in his statement.
While the blame game is on, we are wondering what happened to the poor crocodile, who unwittingly became a talking point across social media. We hope it is alive and has found the marsh of its choice.
Read more:
Feature image source: Nilesh Bagkar