Prime Minister Narendra Modi recently sent out a strong message to counter criticism of his silence on the mob killing in Dadri of a Muslim man for allegedly eating and storing beef. But people seem to have learnt no lesson from the gruesome incident.
The PM's message has fallen on deaf ears and is mostly being ignored by the activists of his own party, Bharatiya Janata Party (BJP). The latest episode which took place inside a temple compound in Shahdara in east Delhi is a glaring example.
NDTV reported that a heavy police contingent in the temple appeared to simply watch as dozens of young men milled around, raising pro-Hindu slogans.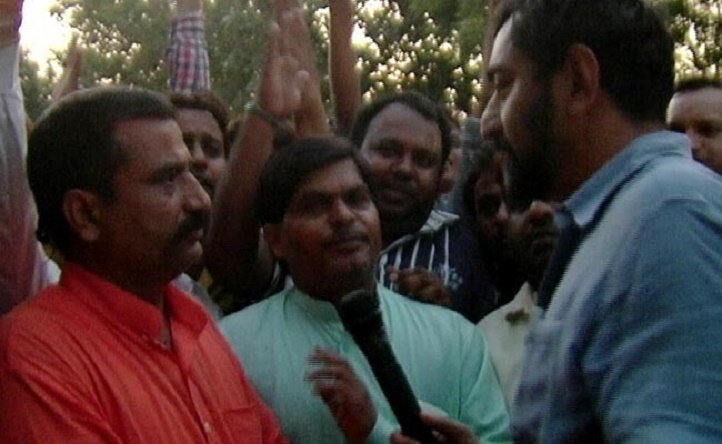 One man among them showed a WhatsApp video of what had brought them to the temple; two trucks had been stopped, they claimed, and these were 'carrying bulls for slaughter'.
"We were led to the leaders of the mob," said Sarvendra Mishra, who belongs to BJP's Delhi cow protection unit, Gau Raksha Dal. Next to him was Satish Kumar of the Haryana-wing of the outfit.
Kumar said after he entered Delhi on Thursday evening and spotted the two trucks carrying cattle and forced them to pull over. He claimed the bulls were being taken from Punjab to slaughterhouses in Uttar Pradesh. "We cannot believe this is happening brazenly in Delhi," Mishra said.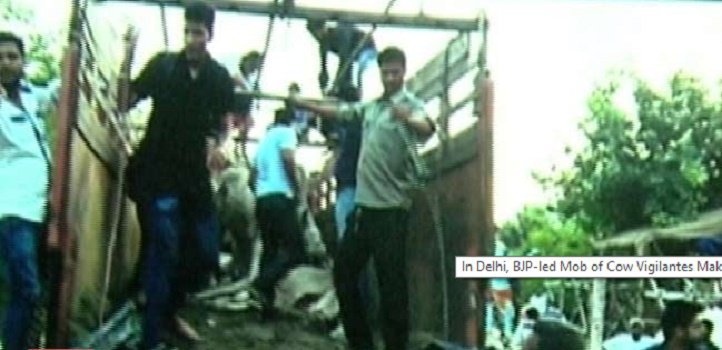 When they were asked whether they weren't taking law into their own hands, both men – and the gathered crowd — loudly protested. "We only stopped the trucks and called the police," they said and claimed the bulls were being taken from Punjab to slaughterhouses in Uttar Pradesh.
This scene exposes the deadly potential of cattle vigilantism and the attitude of such people toward the repeated government warnings.
Even in the presence of BJP members and the police, Kumar made an open threat. "Listen to me. Whoever takes away our mother cow to slaughter them and hurt our sentiments, then the people who believe in our culture, people of India will not tolerate it. If need be, we will kill them also."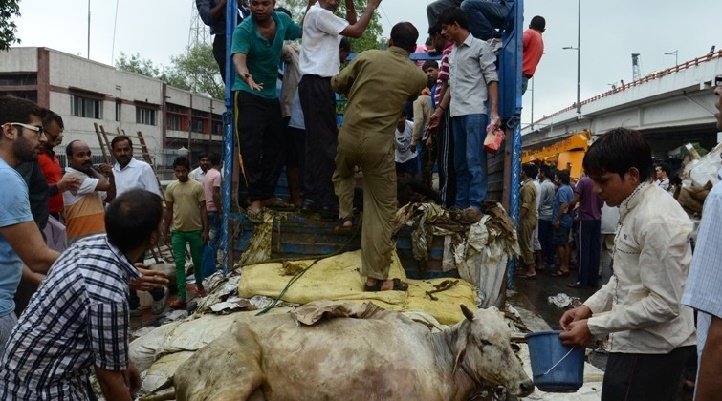 Veenu Bansal, Deputy Commissioner of Police, North East Delhi, has said that there was no proof of any wrongdoing yet. "We will have to check their documents and see on what basis they were transporting the cattle. Then we can see if it was legal," he said.
Bansal admitted there is a possibility that it could lead to communal tension.
Both Kumar and Mishra looked confused when the mediamen asked them to explain the crime that they had detected. Mishra said that the bulls were being transported in poor condition, which, he said, was a potential violation of animal cruelty laws, while Kumar insisted that they were being taken for slaughter.
As proof, he waved at the bulls and said, "Look at their condition… Cattle in this condition can only be meant for killing."
Such shoot-and-scoot vigilantism without a ny clear proof can only lead to sectarian tension.