The lynching of a man in Dadri on suspicion of beef consumption has shocked the nation. But the attitude of fanatics in the area shows that the situation might not improve easily.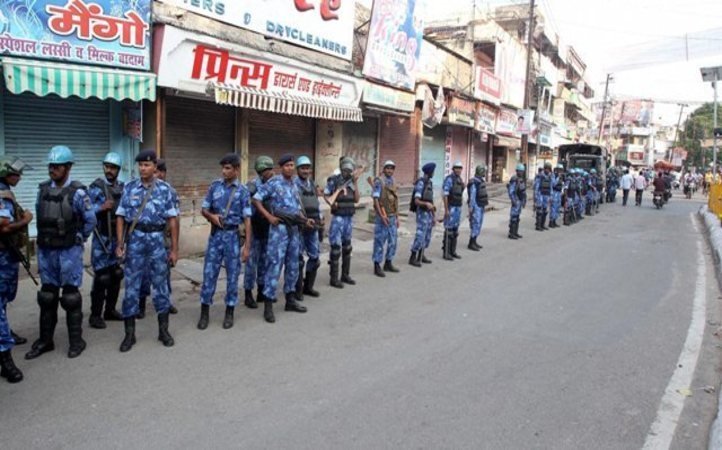 Representational image | Source: PTI
Tension has only increased following the horrific incident. Although six of the 10 accused have been nabbed, four are still on the run, with Dadri seeing high media presence along with visits by politicians on a daily basis.
As the political blame-games and fiery speeches continue, here is a timeline of how a country's nightmare has been taking shape.
September 28, 2015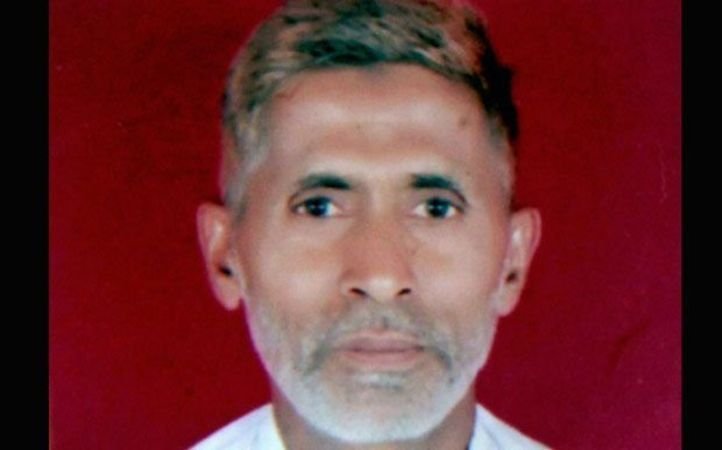 Mohammad Akhlaq | Source: PTI
An Angry mob in Bisara village of Dadri in UP lynches 50-year-old Mohammad Akhlaq to death and seriously injures his son Danish, 22, after announcements accusing them of eating beef on Bakr Eid and storing it were made on the local temple's announcement system.
September 29, 2015
The village was gripped by communal tensions when Akhlaq's relatives are not allowed to participate in the funeral. This is followed by heavy police and RAF presence. Mohammad Akhlaq's mother claims they never had beef.
Following the actions of the mob, one local BJP leader, Srichand Sharma, threatens to hold a Mahapanchayat in Bisara village, saying, "This was not a communal riot. The Hindu community worships cows. Whose blood won't boil if they see cow slaughter?"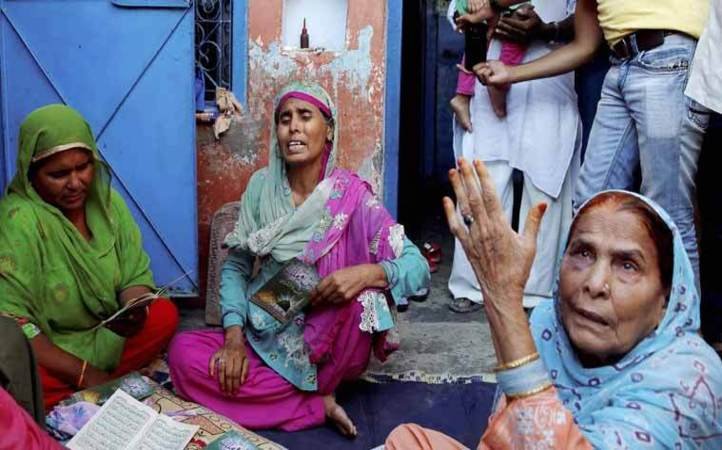 Akhlaq's family | Source: PTI
Another Nawab Singh Nagar of the BJP blames the victim's family. He says, "If cow slaughter and its consumption is proven, they (the victim and his family) are definitely at fault."
The police arrests the temple priest and his assistant in connection with the announcement and questions them for more leads. The duo reveals that 10 people were involved — including relatives of a district BJP worker Sanjay Rana and his son Vishal.
The accused:
Vishal Rana, 20, the son of BJP leader Sanjay Rana; Vivek Kumar, 22; Sachin Kumar, 20; Shri Om, 20; Hari Om, 23; Saurabh Singh, 21; Gaurav Singh, 22; Shivam, 19; Sandeep, 18; Rupendra, 23.
September 30, 2015
Mohammad Akhlaq's son, Corporal Mohammad Sartaj, of the Indian Air Force appeals for peace and decides to take his family away from Dadri for their safety.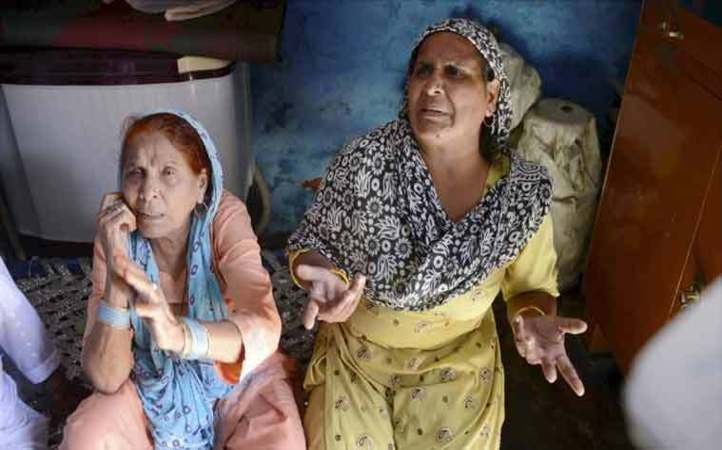 Akhlaq's family | Source: PTI
UP Chief Minister Akhilesh Yadav announces a compensation of Rs 10 lakh for Akhlaq's family along with police protection.
October 1, 2015
The police arrests six people of the 10 named in the FIR. This number later goes up to eight. The arrests are followed by angry protests. Mobs vandalise shops and burn down vehicles.
October 2, 2015
BJP's Union Minister, Mahesh Sharma, who is also the elected representative from the area, visits Akhlaq's family and his son in hospital.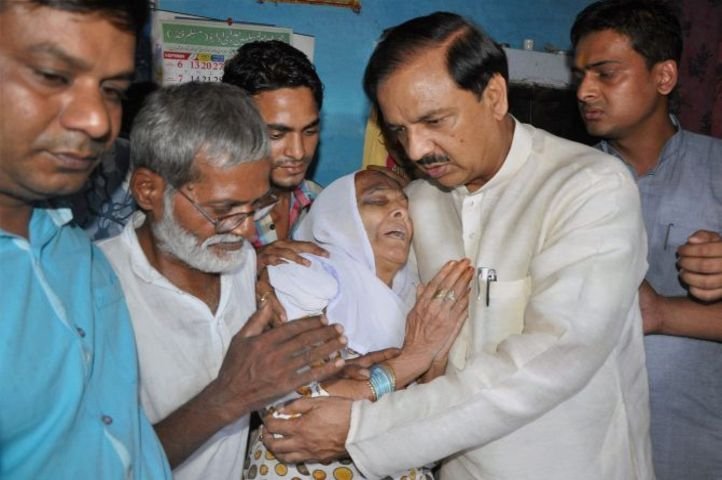 Mahesh Sharma with the victim's family | Source: PTI
He sparks controversy by saying, "The incident was just an accident and was not planned."
AIMIM chief Asaduddin Owaisi also visits Akhlaq's family and calls the incident a black spot on democracy. He says, "You cannot barge into anybody's house and assault every member of the family."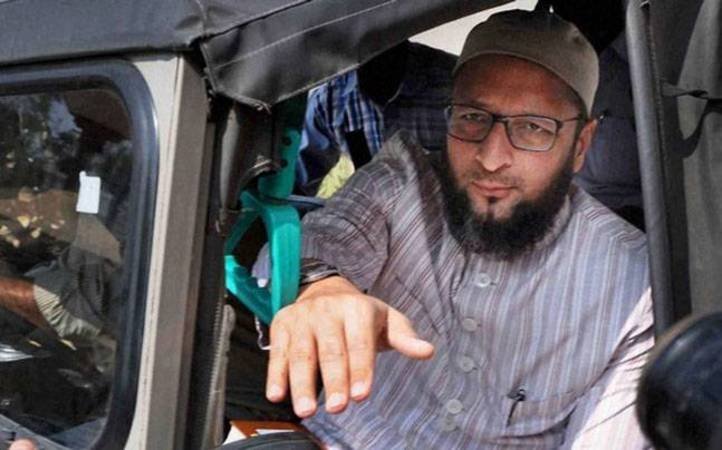 Asaduddin Owaisi | Source: PTI
Taking on Sharma's comments he says, "It was not an accident. This was a pre-planned murder."
October 3, 2015
A group of women were reported to have driven out media personnel and other visitors from the village. Media vehicles are vandalised by locals, followed by stone pelting on journalists.
Aam Aadmi Party Chief Arvind Kejriwal visits Akhlaq's family. He was initially barred from entering Bisara as violence erupted in the area but was later allowed to meet the family.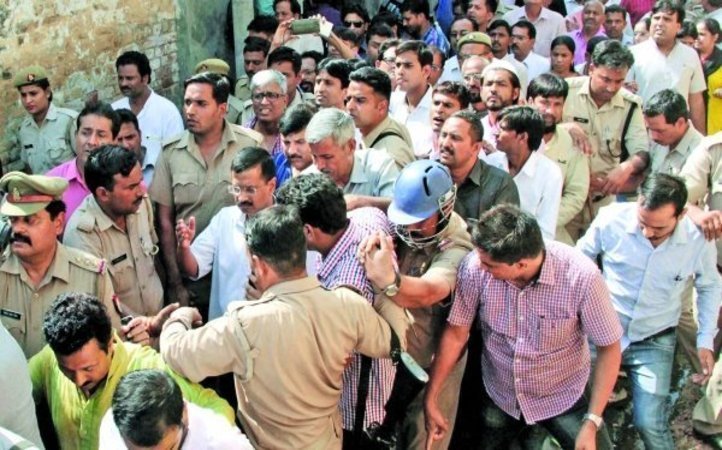 Kejriwal in Dadri | Source: PTI
Kejriwal says, "Who benefited from this? Not the Hindus. Not the Muslims. Only political parties and political leaders benefited from this incident."
Following Arvind Kejriwal, Congress vice president Rahul Gandhi also visits Akhlaq's kin on Saturday amid tensions in the area. He assured support to the victims.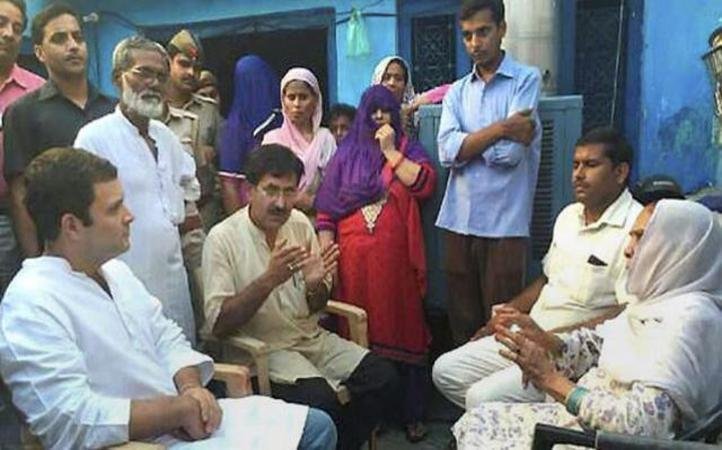 Rahul Gandhi in Dadri | Source: PTI
Gandhi later tweets saying, "It is very sad to see the trust and harmony, built over decades, destroyed by the politics of hate. Was touched by the desire of people in Bisara to maintain harmony."
It is very sad to see the trust and harmony built over decades, destroyed by the politics of hate

— Office of RG (@OfficeOfRG) October 3, 2015
The Indian Air Force Chief Arup Raha condemned the incident and offered to move Akhlaq's family to an Air Force area for their safety.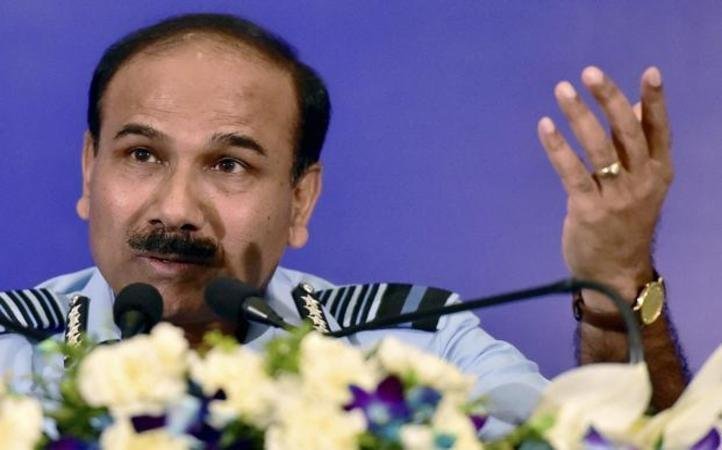 IAF chief Arup Raha | Source: PTI
Raha described the lynching as an,"Unfortunate incident or accident I would say. It is unfortunate that a serving Air Force personnel's family has been affected resulting in death in the family. We are already in touch."
October 4, 2015
Preferring to stay away from the group of politicians going to Bisara, CM Akhilesh Yadav prefers to meet Akhlaq's family in the state capital of Lucknow. He assures the family about action against the accused and raises the compensation to Rs 30 lakh.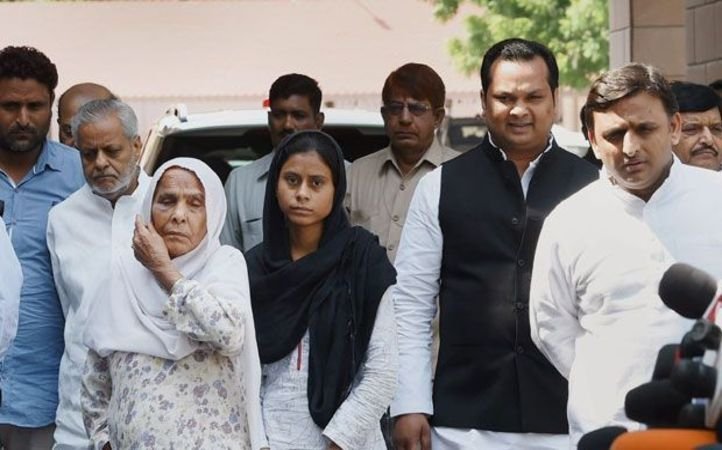 Akhlaq's family with Akhilesh Yadav in Lucknow | Source: PTI
He says, "Since SP government came to power there are some forces trying to create one or the other atmosphere."
October 5, 2015
BJP MLA Sangeet Som, known for his inflamatory speeches during Muzaffarnagar riots in 2013, holds a meeting in Dadri and warns of a backlash "if innocent boys were framed".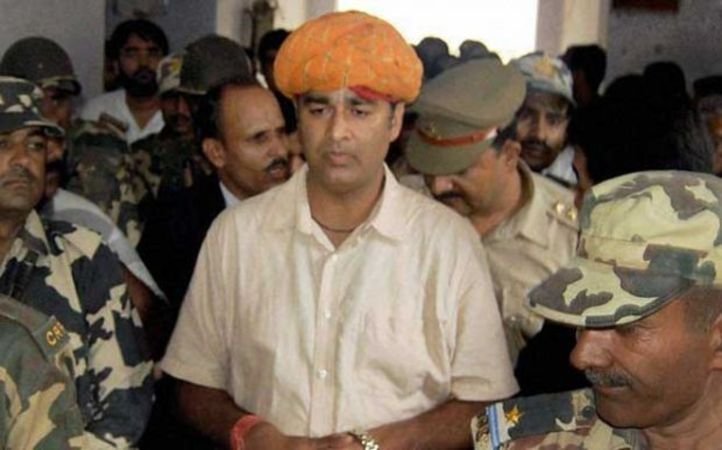 Sangeet Som | Source: PTI
Som said, "Like they had taken the accused in Muzaffarnagar riots in a plane, they have taken those who have slaughtered cow in a plane. Even when a person is killed, they have different set of rules. Sanjay Rahul Yadav was shot in the incident, but is anyone aware. Did the government help him."
Uttar Pradesh Minister Azam Khan alleged that the lynching was a planned conspiracy backed by the BJP. He called for action against Mahesh Sharma and also said that the incident will be taken to the UN.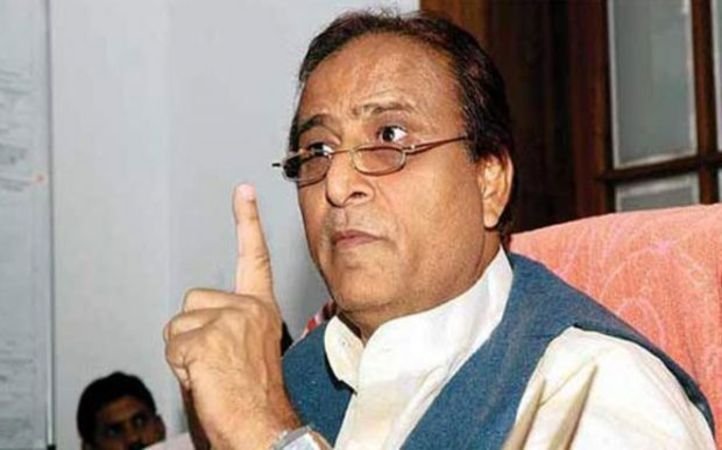 Khan says, "We are officially appealing to the UN general-secretary to give us time."
Despite calls from all quarters and rising criticism in the case, Prime Minister Narendra Modi has preferred to maintain his silence. Meanwhile Dadri remains on the boil, as reports of a journalist being also surface.
While authorities are trying to contain the situation in Dadri, visits from politicians have been making matters worse.
Read more: