Days after the horrific Dadri lynching episode over a beef consumption rumour, Uttar Pradesh's Mainpuri district witnessed tension on Friday, October 9, after another rumour of a cow slaughter. The incident happened in Karhal area where the violence resulted in police vehicles and shops getting burnt leaving seven policemen injured.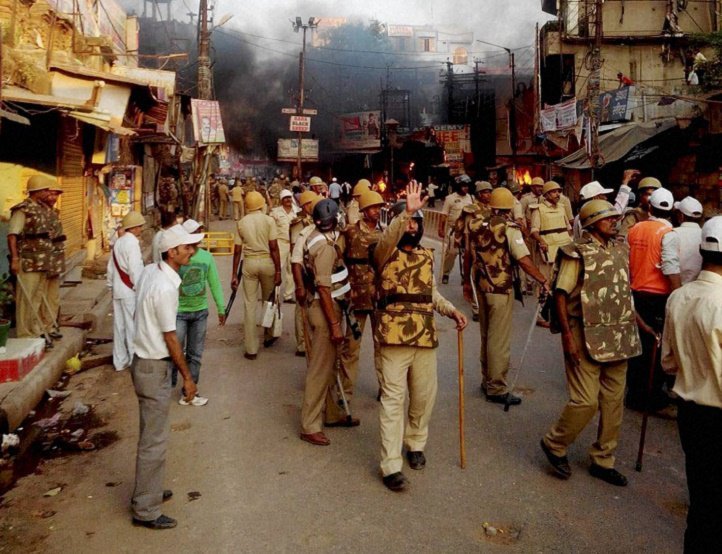 Police in action after villagers vandalised properties and resorted to arson in Mainpuri district
It all started after some miscreants spread rumours of cow slaughter in the area with a clear intention to provoke communal tension. District Magistrate Chandrapal Singh said, "A rumour was spread here that a cow has been slaughtered. But when we did a post-mortem of the cow yesterday, it came to the fore that the cow had been dead for sometime. The people who usually remove bodies of animals had taken away the cow and were removing its skin. That is how the rumour started about the cow being slaughtered."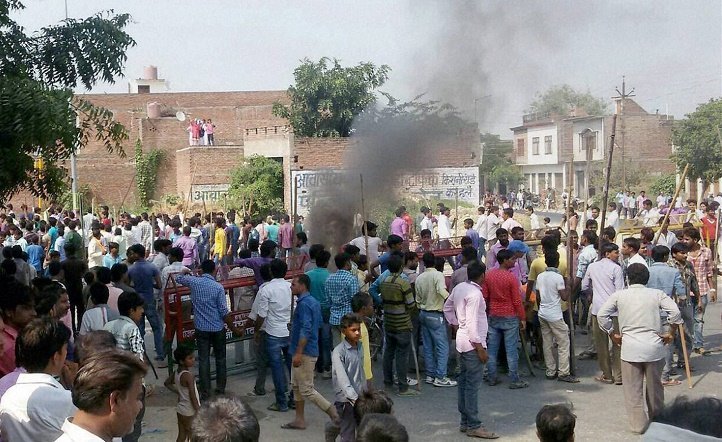 Villagers vandalise properties and resort to arson
However, the violence had already spread in the Nagaria village which resulted in agitators clashing with the police and damaging several vehicles and shops. The authorities maintain that police reached the spot and arrested those removing the skin of the dead cow. "Those who were taking out the skin were arrested as well as those who incited the violence on the streets. Twenty-one people, including two who were removing skin of the dead cow, have been arrested," he said. Singh said that an FIR has been lodged against 29 named persons and 250 unidentified people for violence.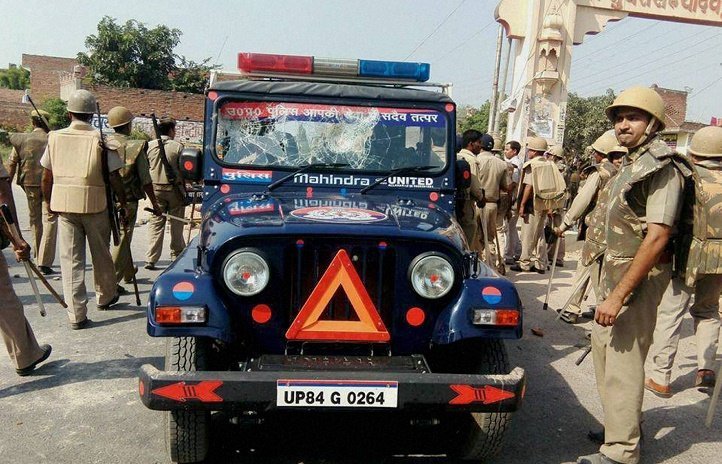 Police on guard after villagers vandalised properties and resorted to arson
Mainpuri has always been a traditional bastion of the ruling Samajwadi Party as its supremo Mulayam Singh Yadav has been a four time MP from the same place. Not to mention, the incumbent MP Tej Pratap Singh Yadav is his grandson. When leaders are not able to safeguard even their own constituencies, it is hard to imagine the plight of the whole state.
Read more:
(With inputs from PTI)
(All images sourced from PTI)