The Food and Drugs Administration (FDA) in Maharashtra raided the offices of e-commerce portal Snapdeal.com for allegedly selling prescription drugs like Ascoril cough syrup, Vigora tablets and other medicines, reports The Times of India .
The agency conducted raids at Snapdeal's offices in Goregaon, north-west Mumbai after receiving a confidential information that revealed the company has delivered such products to a number of addresses.
Though right after the raid, Snapdeal stated that they have delisted those drugs from their website.
"These are prescription drugs and cannot be sold in unlicensed premises. These drugs are only supposed to be sold under the supervision of registered pharmacists and only when prescribed by a registered medical practitioner. They cannot be sold like regular commodities," FDA commissioner Harshadeep Kamble told TOI.
"We will also be checking Flipkart and Amazon for such violation," he added.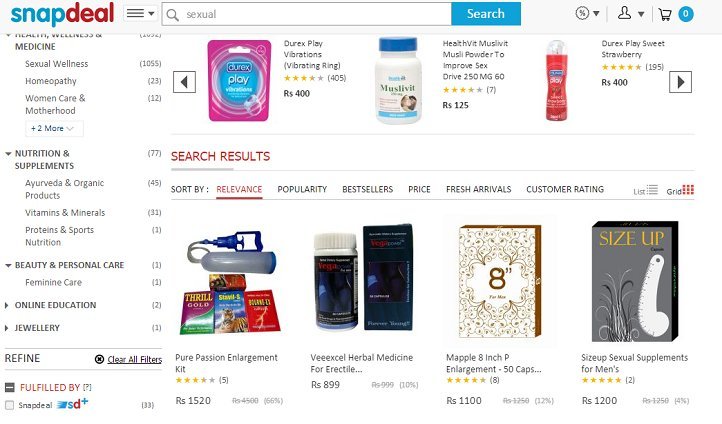 Source: Snapdeal.com
Before the raids, FDA conducted a thorough investigation on the received information about how such products being showcased on the website and being sold. While the agency stated Snapdeal is acting like doctors or pharmacies and encouraging self medication, Snapdeal denied the liabilities and blamed the sellers of those prescription drugs.
"Though we periodically educate sellers on engaging in fair and safe sales on the platform and consequences of selling inappropriate products, at times sellers end up listing such products," Snapdeal spokesperson said.
"Upon being notified of any such products, we delist the products and take appropriate action against such seller. In this case, upon receiving the notice, we have delisted the products and provided all information to the FDA team," added he.
As per the Drugs & Cosmetics Act , 1940 Sec. 18 (C), rule 65, only a licensed retailer can sell these drugs to somebody that too with the doctor's nod.
"In the same manner, I have also ordered FDA officials to visit the offices of other online retailers to find out whether such activities are being undertaken by them," Harshadeep Kamble further said.
The FDA has also asked Snapdeal to provide all the details related to the people involved, medical stores, agreements done with them, invoices, payment methods etc.
It's Amazon, Flipkart's turn next.