Yes. You read that right. Google thinks Christopher Nolan directed Ghajini . You have probably opened another tab in your computer to check if it is true. Well guess what? That is not the only mistake made by Google. Judging by the number of bloopers we have enlisted, it looks like the popular search engine gets really confused between the works of a director, producer, actor and choreographer.
Scroll down and check out more bloopers made by Google:
1. Farah Khan is the director of Kuch Kuch Hota Hai !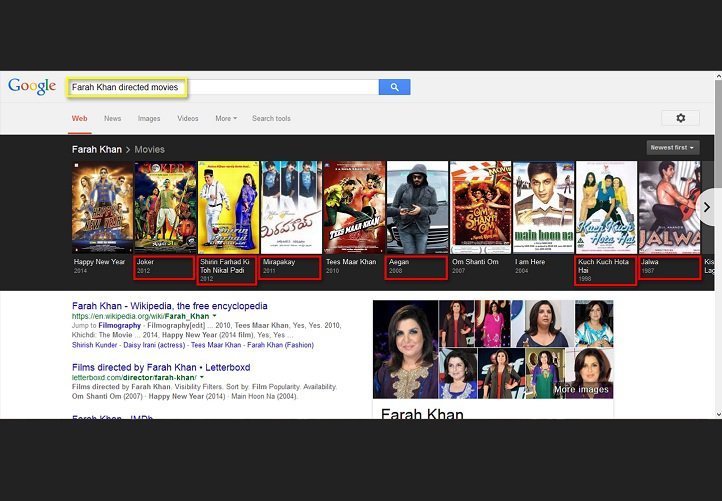 Joker, Jalwa, Aegan, Mirapakay, Shirin Farhad Ki Toh Nikal Padi and obviously Kuch Kuch Hota Hai, were not directed by Farah Khan
Shahrukh Khan, Kajol, and Karan Johar will probably die of laughter now if they Google it. Do you know what was Farah Khan's role in the film? Remember the Neelam Show in Kuch Kuch Hota Hai ? Then you will probably remember this part of the movie? With this tiny appearance of Farah, Google confused her to be the director.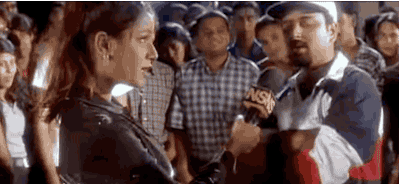 2. Google loves messing up Aparna Sen's details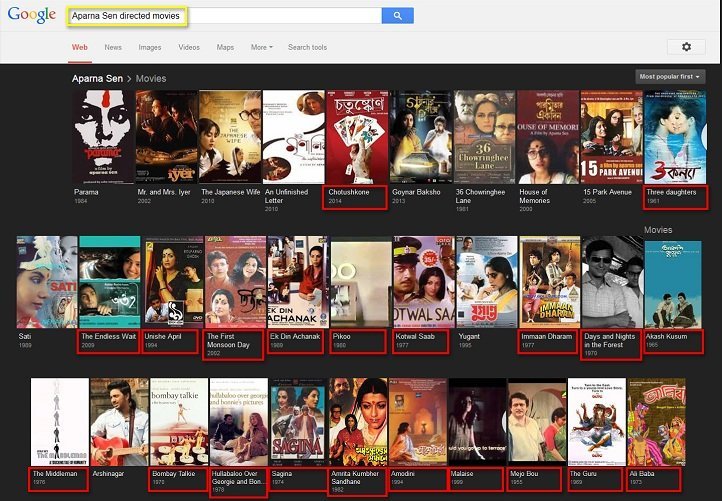 So many red marks! It's like looking at my math papers in school
We decided to do a random search for Aparna Sen-directed movies. Out of the search only nine of them turned out to be correct. Also, do you see the 10th film in the first row from the left? ( Teen Kanya that has been renamed as Three Daughters in English ). That film has the correct name, correct year but wrong poster and wrong director. Teen Kanya was a film directed by Satyajit Ray, in 1961. That was Sen's first film as an actor. The poster Google has used belongs to another film that was released in 2012, carrying the same name but not the same story and it definitely did not have Sen.
3. Anurag Kashyap 'directed' Happy New Year !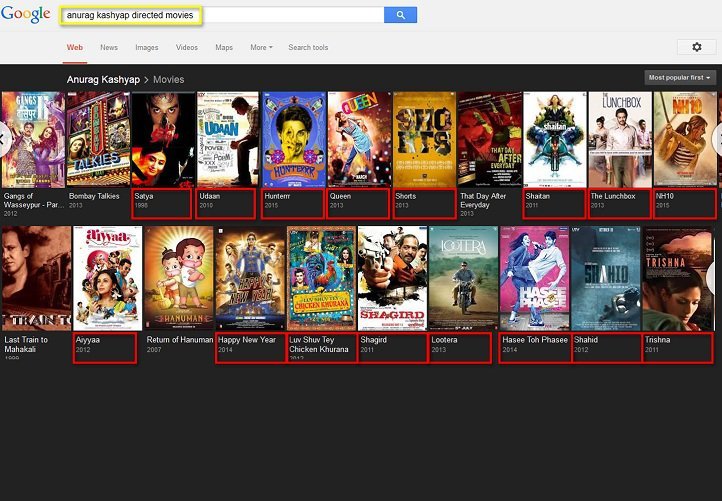 Anurag Kashyap was the producer of Shaitan not the director
I would have almost been convinced with the list given out by Google had I not scrolled further and seen Hasee Toh Phasee , Aiyyaa , The Lunchbox and Happy New Year in the list of Anurag Kashyap-directed movies.
4. Do not underestimate Vikas Bahl when you Google him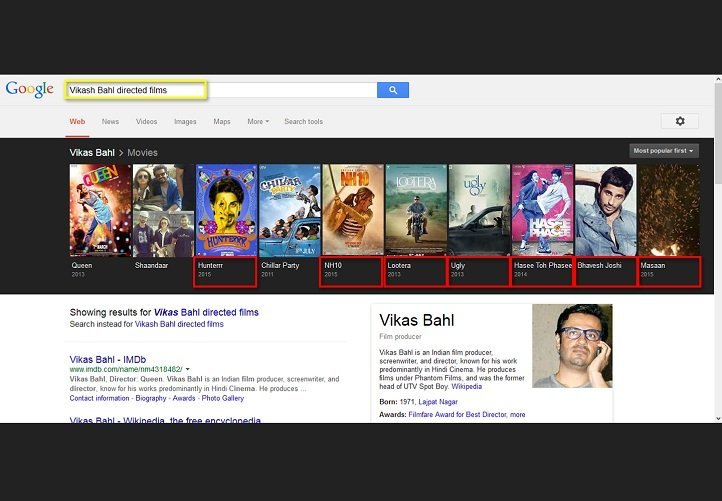 Ugly and Vikas Bahl?
Remember Queen which was released in 2014 and Chillar Party which was released in 2011? Those are the only two films which were directed by Vikas Bahl. So out of the list Google gives you, only two of them happen to be correct. Also, he made another short film Going Home featuring Alia Bhatt which was released on YouTube. Google decided not to list it.
5. Did Satyajit Ray rise from the dead to film his books?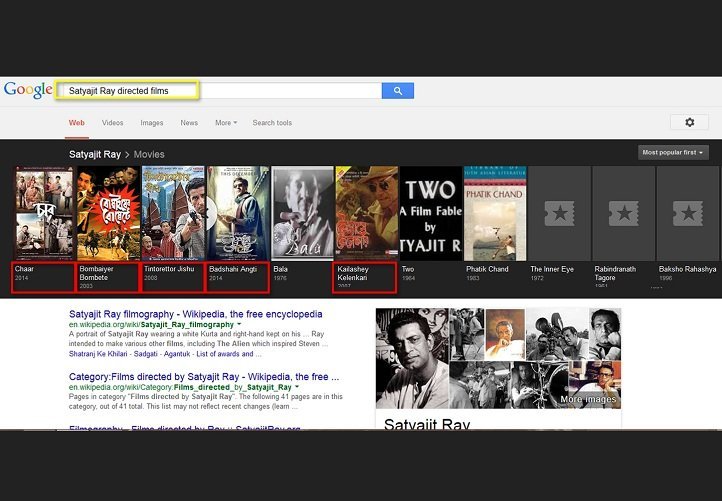 Confused between father and son ?
The 60's and 70's were known to be the Golden Age of Indian Cinema. One of the reason is because of the films made by Satyajit Ray. On April 23, 1992, Ray breathed his last. His son, Sandip Ray followed his father's footsteps. Sandip Ray's films are mostly based on the books written by his father. The last few listings of Google, namely, Chaar, Bombaiyer Bombete, Badshahi Angti, Kailashey Kelenkari , which were released in the 21st century were films directed by Sandip Ray, not his father. But Google, which has a mind of its own, refuses to acknowledge the fact.
6. Lesser mistakes made with Srijit Mukherji: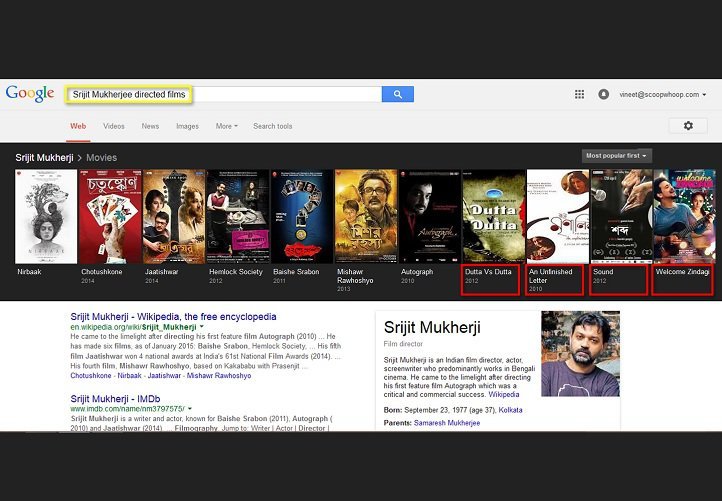 Srijit Mukherji acted in the 3 red-marked films and wrote the story of the last one which hasn't released yet
Srijit Mukherji. I personally call him the next 'Ray' of hope for the Indian Cinema. It was a bit of a relief to see only four mistakes in his section. Phew!
7. Last but not least! Nolan directed Ghajini !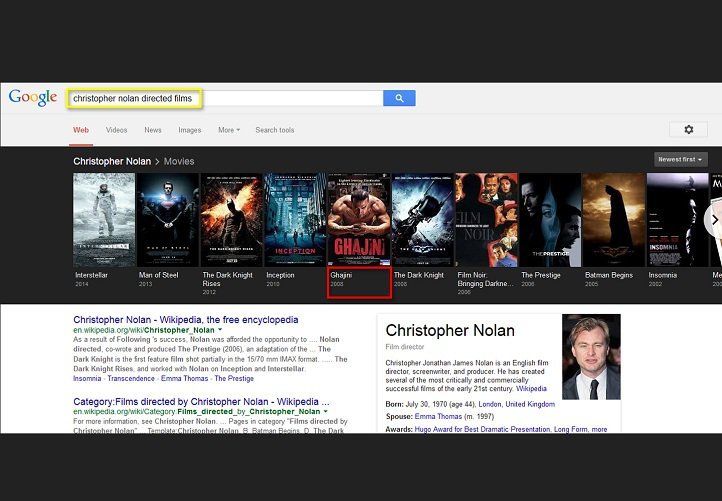 You either die a good director or you live long enough to see yourself coming under the wrong list
So Google, I think you got confused between the plot of Ghajini and Memento . You see, Ghajini was a Bollywood film directed by A.R. Murugadoss. Well, the storyline was mostly taken from Christopher Nolan's Memento .
Looks like we gotta start Binging it. They got the search right.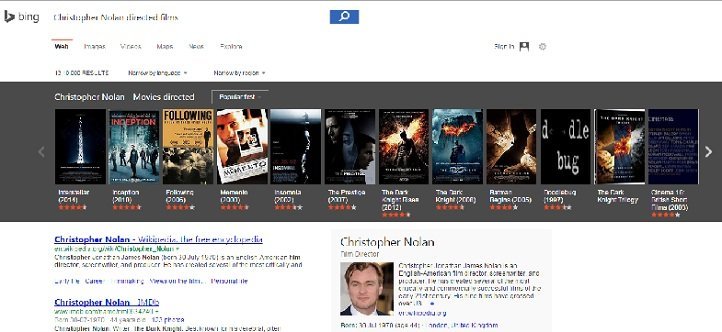 Bing has finely listed the directed films of Christopher Nolan only.
What is the next thing that we might see? Rohit Shetty as director of The Dark Knight Triology.
Mr Page, do you mind keeping a track of non-American directors? Please!