At least 120 passengers were killed and more than 200 injured, nearly half of them grievously, in the worst train accident in recent years when 14 coaches of the Indore-Patna Express derailed in Kanpur rural area on Sunday due to suspected rail fracture.
The disaster took place just a little after 0300 hrs when the passengers were jolted out of their sleep as the Patna-bound train jumped the tracks, badly damaging four ordinary sleeper coaches in which hundreds were trapped.
Of the four coaches, the S1 and S2 had telescoped into each other and most of the casualties were feared to have been in these two compartments.
S3 and S4 coaches also suffered severe damage while an AC III tier coach was also affected but casualties in it were not heavy.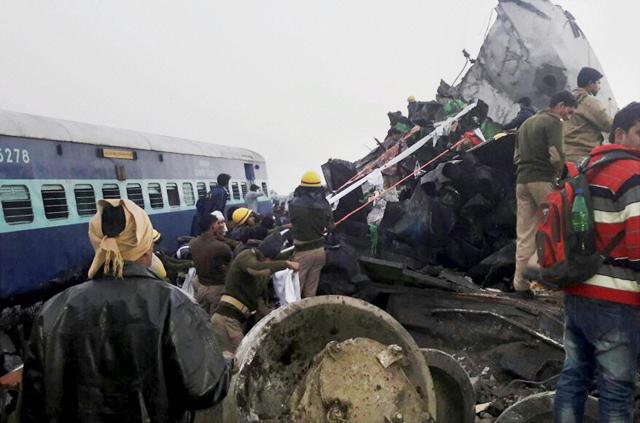 As railway personnel assisted by those of army, NDRF and state police carried out the search and rescue operation, the number of casualties kept on increasing by the hour. By evening, 110 bodies were recovered and taken to Mati mortuary in Kanpur rural.
The death toll is over 115, UP DGP Javeed Ahmad said.
Among the dead, 43 have been identified, of which 20 are from Uttar Pradesh, 15 from Madhya Pradesh and six from Bihar and one each from Maharashtra and Gujarat.
Post mortem of 27 identified bodies has been done and they were being handed over to the families. Ambulance facilities were also being provided to the families of the victims to transport the bodies, officials said.
An army man Prabhu Narayan Singh, Anil Kishore of BSF from Rohtas, Bihar, and UP police constable Lakhan Singh from Jhansi were among the dead.
76 passengers were seriously injured in the derailment, IG (Kanpur range) Zaki Ahmad said. 150 other passengers received minor injuries in the mishap.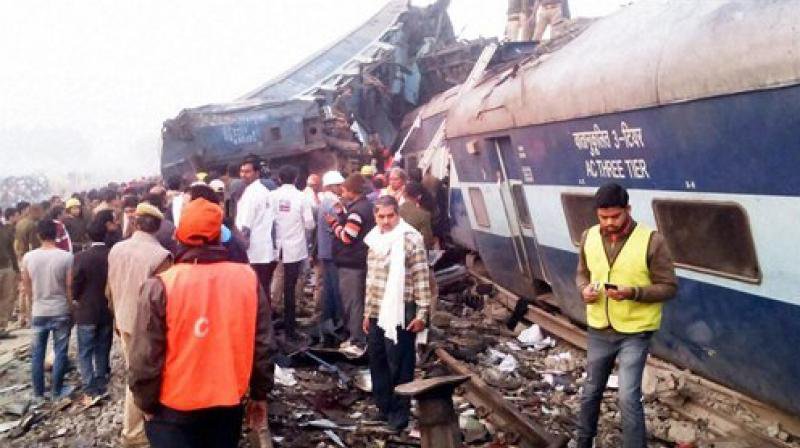 "Over 150 injured people have been rushed to nearby hospitals in the area. All hospitals have been asked to be alert. More than 30 ambulances have been pressed into service," he said.
Officials said that prima facie the cause of the accident could be due to track fracture. Minister of State for Railways Manoj Sinha told reporters at the spot that it seems the cause of the accident is rail fracture.
Member (Engineering) of the Railway Board will find out the cause of the mishap and action will be taken against those responsible, he said.
With several passengers feared trapped, rescue personnel employed cold cutters to break open the compartments as gas cutters produced excessive heat and suffocation hampering their efforts.
A number of trapped passengers were rescued.
Teams of army doctors, railway officials and personnel of NDRF, state PAC and other policemen were involved in carrying out rescue and relief operation.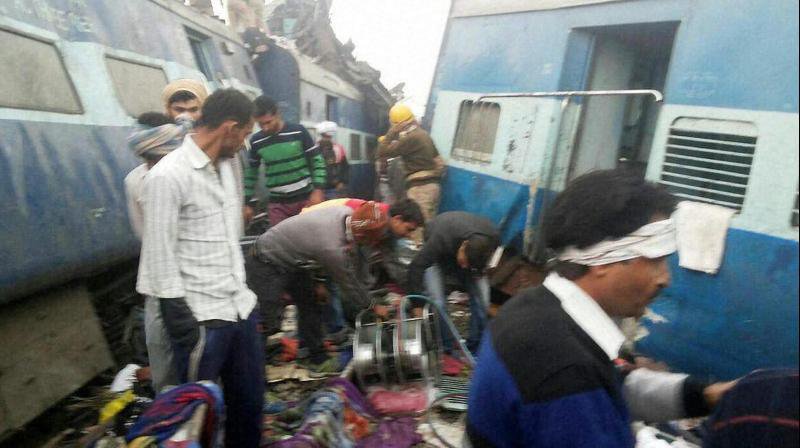 President Pranab Mukherjee, Prime Minister Narendra Modi, Railway Minister Suresh Prabhu, UP Chief Minister Akhilesh Yadav and a host of other leaders condoled the loss of lives in the train tragedy.
While Yadav announced compensation of Rs 5 lakh for the kin of each of the dead in the accident, Modi sanctioned Rs 2 lakh. On his part, the Railway Minister enhanced the ex-gratia grant from Rs 2 lakh to Rs 3.5 lakh to the families of the dead.
The UP government will give Rs 50,000 to those seriously injured and Rs 25,000 for those with simple injuries.
Madhya Pradesh Chief Minister Shivraj Singh Chouhan, who visited the injured in hospitals in Kanpur Urban, announced Rs 2 lakh for kin of each of the deceased and Rs 50,000 for the injured.