Jayalalithaa's niece Deepa was at the centre of a drama that unfolded at the late chief minister's Poes Garden residence as she alleged that she was manhandled by the security guards there and prevented from entering the premises.
Claiming she visited the house at the invitation of her brother Deepak, she accused him of "colluding" with AIADMK (Amma) chief V K Sasikala and her deputy TTV Dhinakaran in "orchestrating today's incident".
Tension gripped the posh area following the developments, prompting police to beef up security.
"Deepak himself made me come by repeatedly making calls. I had no plans to come here today but he asked me to come to garland the portrait (of Jayalalithaa)," Deepa said.
She also alleged that Deepak had "connived" with Sasikala to "plot" Jayalalithaa's death.
AIADMK Amma camp sources, who were present at the residence, denied that Deepa was attacked.
They said she made an unscheduled visit and wanted to garland a portrait of her late aunt kept in the front porch of the sprawling house.
Initially, Deepa was allowed to garland the portrait after which she wanted to enter the house, which was not permitted, they said.
"Suddenly, she wanted to enter the house to which we said we don't have the authority to allow. We also pointed to her that the house was locked and asked her to leave the premises," the sources added.
Just spoke to Deepak. OK nephew. He refutes Deepa's version. Says they went inside

— Dhanya Rajendran (@dhanyarajendran) June 11, 2017
Deepa claimed she could identify the persons who "manhandled" her.
Speaking to reporters, she said a TV camera crew which was present at the residence was also attacked by the guards.
She repeatedly slammed Deepak for today's episode and said she would file a police complaint against him and Sasikala.
Deepa was also seen entering into a heated argument with her brother on why he had asked her to come Poes Garden today.
Her husband Madhavan was by her side. Deepak was present when she has arrived.
She said she has sought an appointment with Prime Minister Narendra Modi to apprise him of the situation.
Deepak could not be reached for his response on the charges made by his sister.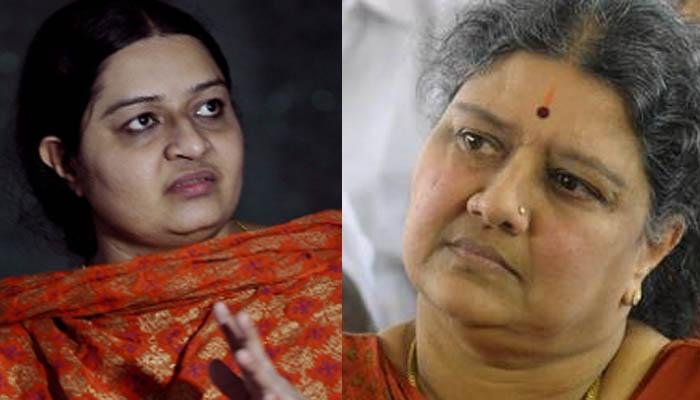 Deepak denies all charges against him
Deepak has been for long claiming that he and his sibling are the "legal heirs" for Jayalalithaa's 'Veda Nilayam' residence, located in the posh Poes Garden locality.
Deepak had, along with Sasikala, performed the last rites of Jayalalithaa, who died on December 5 last year.
Earlier, a section of reporters alleged they were stopped from covering Deepa's visit.
The Poes Garden house was occupied by AIADMK general secretary V K Sasikala, a close aide of Jayalalithaa, till she surrendered in a Bengaluru court in February to serve her term in the Rs 66.66 crore disproportionate assets case.
There have been demands from the AIADMK's O Panneerselvam camp that the house be converted into a memorial.
The front portion of the house where Jayalalithaa used to receive her supporters was thrown open to the public for some time in the aftermath of her demise.