The findings of a new study conducted by Centre for Media Studies (CMS) about corruption in New Delhi has led to scathing attack by Delhi Chief Minister Arvind Kejriwal on Prime Minister Narendra Modi and Lieutenant Governor Najeeb Jung after the study revealed Delhi police was perceived by Delhites to be the most corrupt among all public services in the national capital.
Asking Modi to "stop being stubborn" the findings has evoked demands from Kejriwal of handing over Anti-Corruption Bureau (ACB) and Delhi Police to Aam Aadmi Party government.
Kejriwal made these comments in a series of Tweets on Tuesday, October 20, a day after a report aimed at measuring perceptions and experiences with regard to public services in Delhi was released in Delhi.
Shocking findings CMS survey 2day-Del police (under Modiji n his LG) most corrupt- scathing attack on Modiji's capbilities n intentions(1/3)

— Arvind Kejriwal (@ArvindKejriwal) October 20, 2015
Second finding- corruption has come down in delhi govt -it proves AAP govt's neeyat n admn capability(2/3)

— Arvind Kejriwal (@ArvindKejriwal) October 20, 2015
मोदीजी, अब ज़िद छोड़िये, हमारे साथ मिलकर काम कीजिये। ACB और पुलिस दिल्ली सरकार को दीजिये। हम आपको एक साल में ठीक करके दिखाएंगे(3/3)

— Arvind Kejriwal (@ArvindKejriwal) October 20, 2015
One of the findings Kejriwal latched on to attack central government is that 45 percent of the respondents in the study said corruption had reduced in the departments of state government of Delhi as compared to 39 percent respondents saying so about central government governed public services for Delhi residents. The situation is much worse in the case of BJP led Municipal Corporations, where 45 percent of Delhiites found no change in the level of corruption, the study says.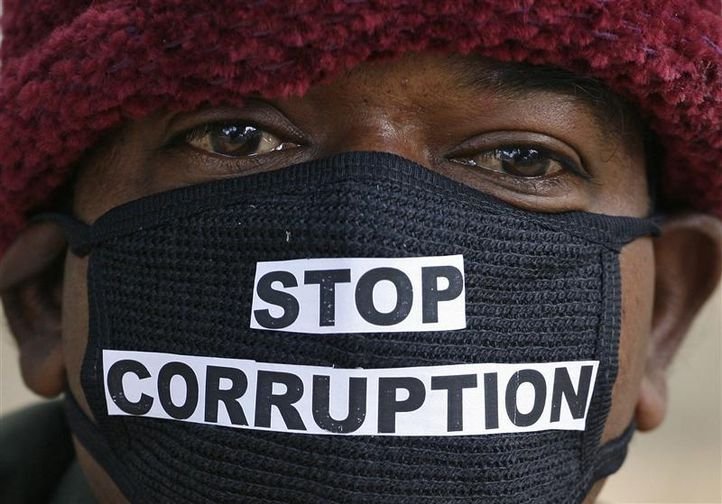 Kejriwal claimed the survey findings raised questions on Modi's "capabilities and intentions" while they had shown that corruption has come down in Delhi government, which "proved" AAP government's intentions and administration capability.
The Study
Conducted during the third week of July and first week of August 2015, the study 'The Corruption Study 2015 on Perception and Experience with Public Services in Delhi' covered a sample of 1501 households distributed across different socio-economic strata (SE) in 160 localities spread over nine districts of Delhi.
The Findings
— On an average a household in Delhi had to pay a bribe amount of 2486 during last one year. It is estimated that the total amount paid by such households across 15 public services as bribe is around INR 239.26 crore.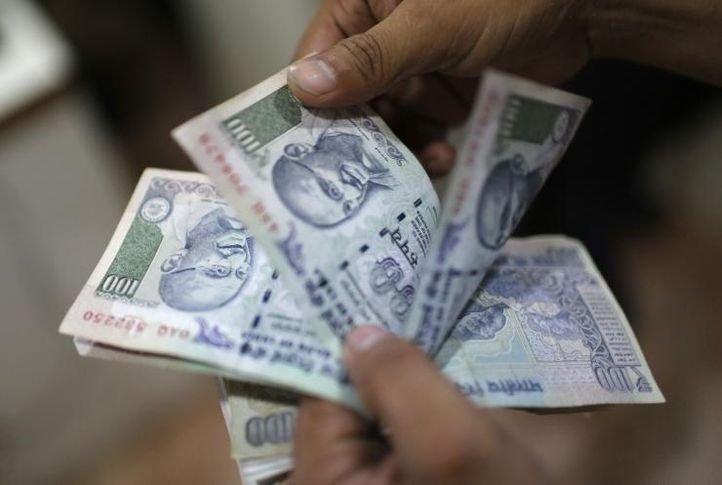 Source: Reuters
— According to the study, performance score (lesser the score, lower the corruption) based on perception and experience with public services under the control of three different governments i.e. Central, State and Municipal Corporations, public services under state government of Delhi is rated as least corrupt (15.6) followed by those under Municipal Corporations (15.7). Public services under Central government in Delhi (16.6) are rated as worst among the three government agencies as far as level of corruption in Delhi is concerned.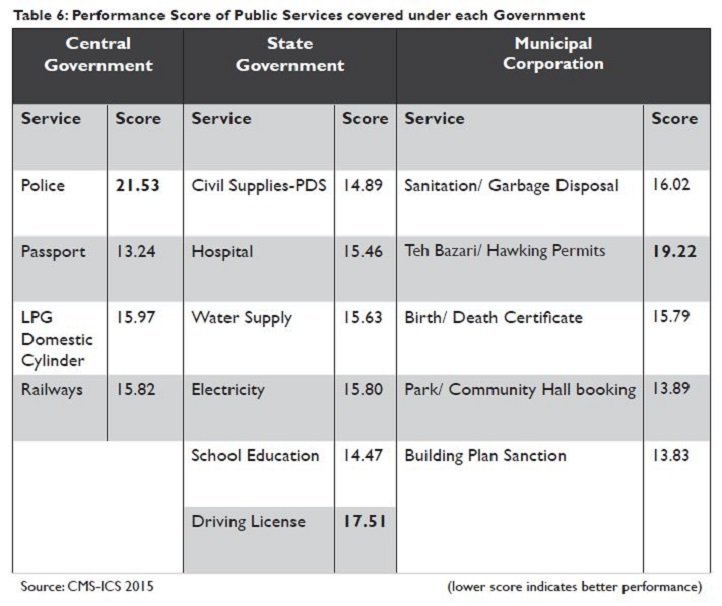 — Around 20 percent of Delhi households feel that the level of corruption in public services has increased during the last one year while around 39 percent feel that there is no change i.e. level of corruption has remained same.
— While as average number of public services interacted by a household during the last one year was six out of 15, most interacted services included Electricity (82%) followed by LPG (81%) and Public health/Hospital Services (75%).
— "Perception" about corruption in a particular public service was highest in Police Service.
— Around 8 percent of Delhi residents seeking driving license were denied services because they did not (or could not) pay a bribe; 6 percent reported so in case of Building Plan Sanction and 5 percent of those seeking services from Delhi Police were denied services because they could not pay bribe.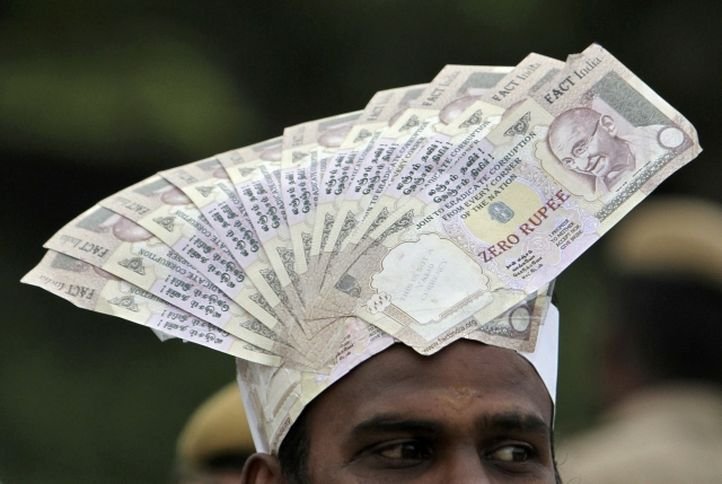 Source: Reuters
Dr Alok Srivastava, Director CMS Social told The Indian Express that worrying trend was refusal of services to citizens who do not pay bribes.
While the study has certainly provided a glimpse of the extent of corruption malice in the national capital, the small sample size, income-levels, location, political inclinations and many other factors might vary the findings of the study with that of actual scenario.
It had been a long journey from the figures of 2002, when, based on the Corruption Perception Index system developed by Centre for Media Studies, Delhi was rated as the most corrupt city in the country.
In 2010, Delhi's Anti-Corruption Branch (ACB) had the most number of corruption cases against Delhi police and the Municipal Corporation of Delhi filed by over the period of 2007-2010.
While politics over corruption continues, is anybody serious about eradicating it?
Feature image source: Reuters