New Delhi: Delhi Police has indicted JNU students Umar Khalid and Anirban Bhattacharya for the February 9 event last year where anti-India slogans were allegedly raised, says the draft chargesheet prepared by the police and accessed by Times of India.   
While the chargesheet has failed to prove sedition charges against former JNU students' union president Kanhaiya Kumar, the chargesheet has also identified nine "outsiders", all from Kashmir, for allegedly raising anti-India slogans at the university event.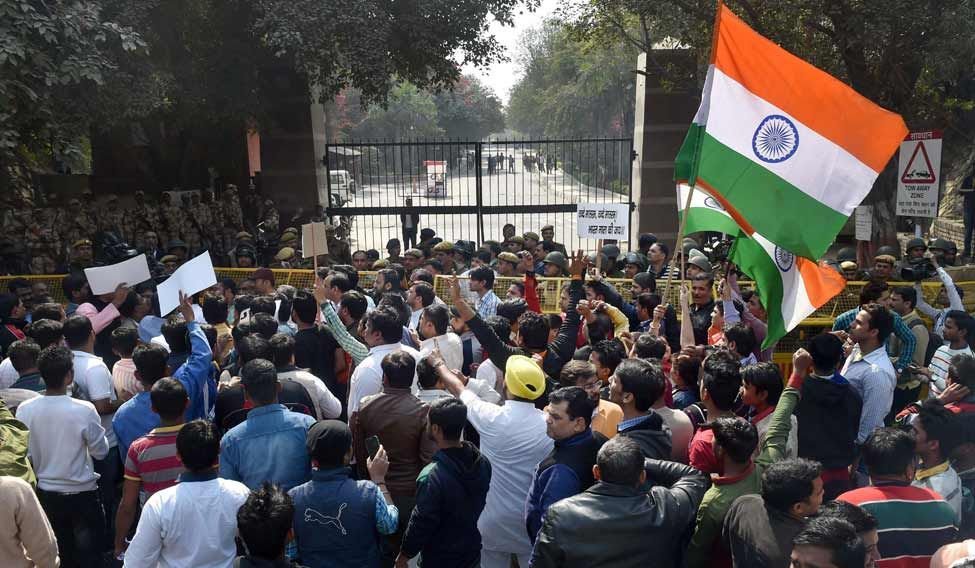 The findings of Delhi Police are based on forensic analysis around 40 video clips which show anti-India slogans were raised at JNU on February 9 last year. According to the chargesheet, there were around 140 protesters in the event however only nine were identified. 
During the investigation, Delhi Police questioned witnesses from JNU administration, JNU students affiliated with ABVP and other outfits, security guards and some organizers of the February 9 event. 
On Wednesday, Delhi Police said the case is "sensitive and under investigation." 
Quoting sources, the TOI report said, that PhD Scholar Khalid prepared anti-India posters for the event "to show solidarity" with Parliament attack convict Afzal Guru. In case of Kanhaiya, the chargesheet says while he did nothing to stop the event, Kanhaiya didn't raise anti-India slogans. 
The TOI report further said the chargesheet in the sedition case hasn't  been filed yet and is awaiting a nod from Delhi Police Commissioner. 
Giving further details about the nine Kashmiris identified as "outsiders", the report said some of  them belong to various other universities of Delhi while a few are working professionals. 
Feature image source: PTI