Just as the Durga Puja idols were immersed on September 30 and the revelry of the five-day festival was winding up, a controversy brewed in a Chattisgarh village. Lokesh Sori, an Adivasi leader was picked up by the police for allegedly "hurting religious sentiments", through a WhatsApp message, of the Hindu community celebrating Durga Puja in Pakhanjor village of Kanker district.
Sori, the district Vice-President of SC/ST Morcha, had allegedly sent a WhatsApp message, where he called the goddess a prostitute. The recipient of this text, a local Durga Puja committee member filed an FIR against Sori, who was swiftly put behind bars on Sunday.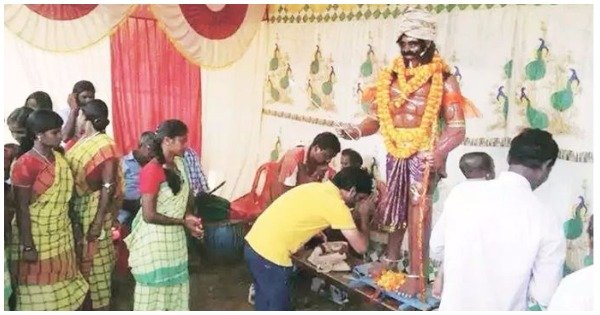 Deendayal Uikey of the Pakhanjor police station tells ScoopWhoop News, "Sori had sent a WhatsApp message to Vikas Kaal – a member of the Durga Utsav Samiti – in which he insulted goddess Durga, calling her a prostitute. On September 26, Kaal registered a complaint against him, following which we arrested him after a week."
Adivasis are easy targets
Sources close to Sori say that an FIR had also been registered against Durga Puja committee members on September 27, but no action was taken because adivasis are easy targets. Now, district authorities claim that police are on the lookout for the absconding members of the Durga Puja committee. "Sori may have been the only one arrested, but there are multiple cases where locals are threatened with dire consequences if they voice their displeasure against the killing of Mahishasur (demon king who is slayed by Durga) or burning of Ravan (king of Lanka from the epic 'Ramayan') effigies," the source said. Sori is now lodged in Kanker jail.
Protesting against his arrest, hundreds of members of the Korku and Madia tribes refused to move from the entrance of the police station where Sori was held. They demanded Sori's immediate release and rallied against the authorities' casual practice of targeting adivasis and arresting them.
The adivasis refuse to play along with the glorification of celebrating Durga Puja while they are too afraid to worship their own god Mahishasur, who is supposed to be a warrior.
This is not the first time that tribals in Chattisgarh have protested against Mahishashur vadh, but this is definitely the first time they have presented a united front while protesting as they demand action from the authorities. Adivasi communities from Raigarh, Mohla-Manpur in Rajnandgaon district and Sukma district had refused to take part in this year's Durga Puja and submitted memorandums to the police.
What the Adivasis believe
The version of the indigenous community that Ravan and Mahishashur are Rakshaks (saviours) goes against the mainstream belief that they are Rakshasas (demons). Hindus believe that Ravan is synonymous with evil, which has become the largely accepted version for celebrating Durga Puja for centuries. However, the tribals in Chattisgarh, Maharashtra, Jharkhand and Madhya Pradesh, among other areas have a different narrative to offer. They claim to be the descendants of Mahishasur and observe a nine-day mourning period, mostly staying indoors and remaining inactive.
Pakhanjhor Superintendent of Police K.N. Dhruw claims not everyone's voice can be heard. "The entire country celebrates Durga Puja as one big community. It is not possible for us to listen to one group's grievances against it and make the majority of the population stop celebrating Durga Puja."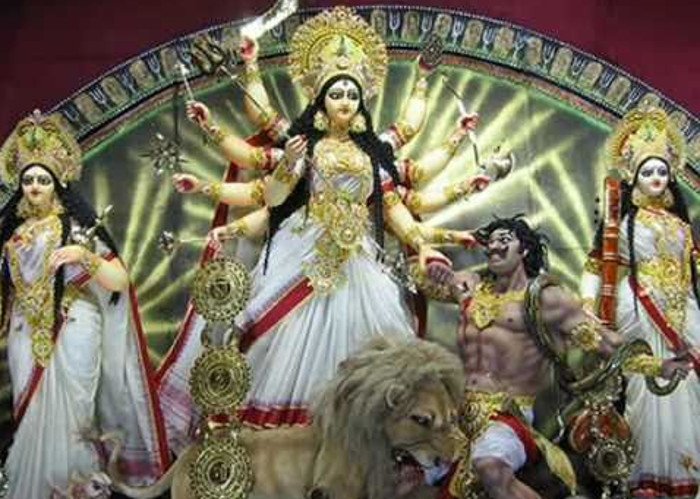 Similar protests in other parts of the country
These protests are not isolated to Chattisgarh as adivasis from Madhya Pradesh and Gadchiroli, Maharashtra have also vociferously advocated against burning Ravan effigies on Dussehra. While these protests have mostly been stewing under the surface, this time there seems to have been a concerted uprising among the tribals.
The Hindu quoted Mahesh Raut, an activist from Gadchiroli, as saying, "Ravan was a great king of Gond tribals. But the people, who practised Brahmanic culture based on hegemony, vilified the history of Ravan to show themselves as great warriors."
Also Read: 'This Is Why I Believe Lord Ram Should Be Prosecuted'