Kerala government has ordered an inquiry into photographs circulating on social media, purportedly showing some women in the Sabarimala Lord Ayyappa Temple despite a ban on their entry.
It is to be noted that the Kerala government that has been repeatedly changing its stance on the issue, had last supported the entry of women in the temple. 
Devaswom Minister Kadakampally Surendran directed the Devaswom Vigilance to initiate a probe and find out the veracity of the photographs.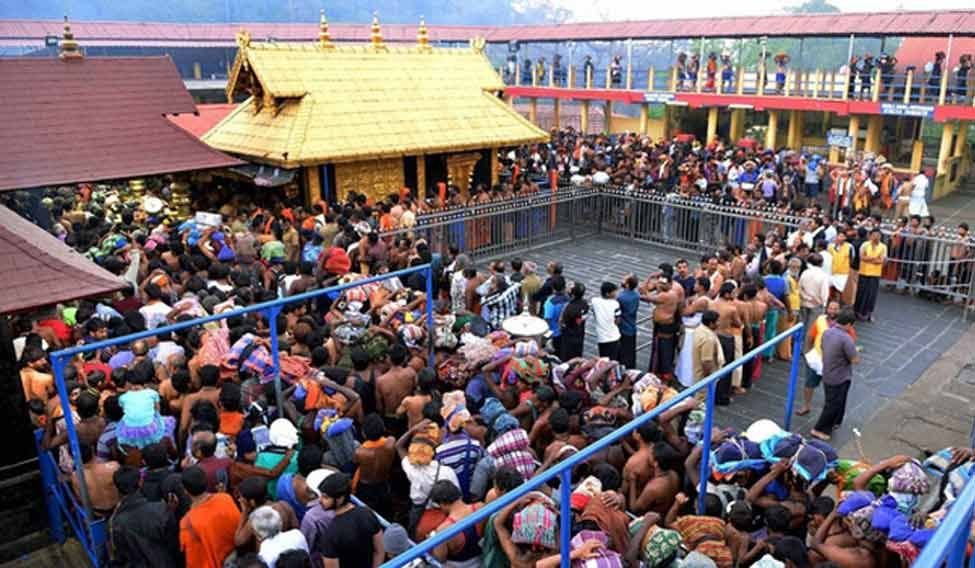 Why are the photos causing an outrage?
There are restrictions on the entry of women between 10-50 years of age in the hillock shrine, where the presiding deity, Lord Ayyappa is considered as a 'naishtika brahmachari' (perennial celibate) by devotees.
The temple came into the limelight last year after the Bombay high court lifted restrictions imposed on women at the Haji Ali Dargah in Mumbai. A petition challenging the temple customs is before the Supreme Court now.
Social media is abuzz with the photos
On April 12, right-wing activist TG Mohandas tweeted a photo of women reportedly praying at the sanctum sanctoram of the Sri Ayappa temple in Sabarimala.
In his subsequent tweets, Mohandas pointed out that this has been 'clandestinely' happening at Sabarimala for many years, while saying that he is not against women entering the shrine and has been soliciting for it since 2004.
Many reacted to the tweet saying that the picture was photoshopped and belongs to a different temple.
A few days later, writer and activist Rahul Easwar tweeted photos, apparently of the same women, saying that the photo posted by Mohandas wasn't fake but the women in it are all above the age of 50. 
What govt says
Kadakampally Surendran said he had received a complaint that a Kollam-based businessman had got special privileges for conducting 'darshan' at the shrine, located in Pathanamthitta district.
"As per the complaint, some women of the banned age group had allegedly visited the shrine along with him. There are no restrictions for women to offer worship at Sabarimala, adhering to the tradition of age limit," Surendran said.
It is illegal if anyone has tried to gain any favours in the name of VIP darshan, he said, adding that action would be taken to stop such practices.
(With inputs from PTI)
(Feature image source: Twitter)