Away from the Olympics, India clinched another title, this time thanks to Dipika Pallikal and Saurav Ghosal. The duo won a silver medal in the mixed doubles event of the world doubles squash championship after going down to New Zealand's Joelle King and Paul Coll in the final today.
Dipika and Ghosal went down 8-11, 8-11 to Joelle and Paul in the final to miss the gold medal.
Notwithstanding the loss, this championship has been historic for India with three medals won for the first time in the history of the Championship.
Besides Dipika and Saurav winning the silver, the other mixed pair of Joshna Chinappa and Harinder Pal Sandhu as also the doubles pair of Joshna and Dipika won a bronze medal each for being the losing semi-finalists.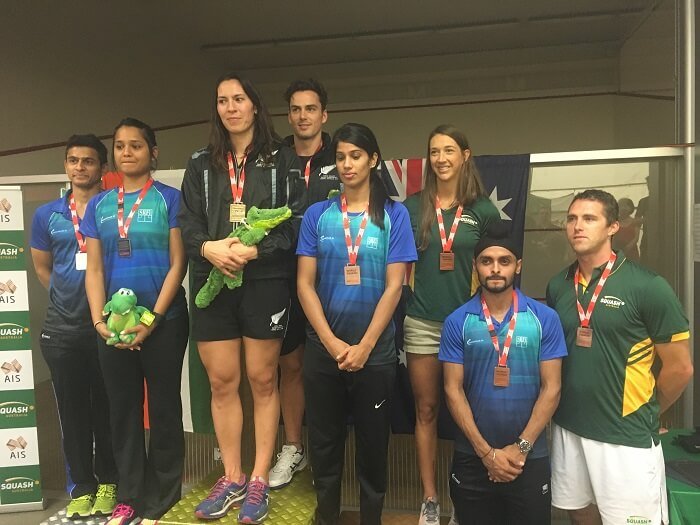 In addition the men's doubles pair of Harinder and Ramit Tandon went on to finish a creditable fifth at the end of the play offs.
"Which ever way one viewed it, this has been a fabulous show overall by the Indians. Returning with three medals is something to be proud of and the players surely need a pat on their backs for this," said national coach Cyrus Poncha, who had accompanied the Indian squad.
It was an unexpected end for Dipika and Saurav as the duo had beaten the New Zealand pair in the league just a day earlier. The Indian pair played well but failed to create the same magic.
The New Zealanders played to a plan, never allowing either Saurav or Dipika to settle to any strategy. Returns were quick and varied to create hectic activity on the court.
While the Indians were under pressure, they still matched point for point. Where they missed out was in not able to come up with right variations.
Let there be no doubt that @DipikaPallikal & I are both very sad because today was a failure for us. Gold is what we work for 👊

— Saurav Ghosal (@SauravGhosal) August 18, 2016
Rallies were few but Paul in particular and Joelle showed the touch to get the drops going well and also hitting the ball through the middle to leave the Indians stranded at times. Indians lacked that finesse though an occasional Dipika floater did raise optimism.
The contest was more evenly poised in the second game but where the New Zealanders drew comfort was in not conceding any lead at any stage. It was a case of slow and steady progress to eventual success, all in 34 minutes.
(Feature image source: PTI)