India may be a signatory to the global plan to reduce greenhouse gases emissions. It may have big plans for renewable energy projects in the country. But, if this Australian cartoonist's view is anything to go by Indians are investing in solar energy just so they can try eating solar panels.
In what is perhaps the most racist cartoon in a publication about India in a long time, veteran Australian cartoonist Bill Leak had this to say in Rupert Murdoch-owned publication The Australian :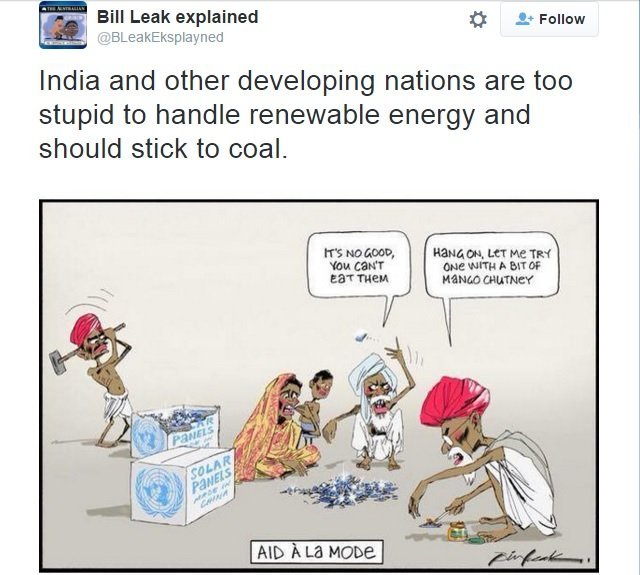 Now the cartoonist is apparently no stranger to controversy. Even those commenting on his tweet have noted that the cartoon is blatantly racist and is among the worst examples of his cartoons. So there were reactions like:
@BLeakEksplayned 2. India's 20115 Paris summit renewables target is 30% Bill Leak, you are ignorant fool as well playing the race card

— James McDonald (@J1mMcD0nald) December 14, 2015
@BLeakEksplayned We sent a spaceship to Mars for less than you spent making "Gravity".

— kavitharao (@kavitharao) December 14, 2015
@BLeakEksplayned Solar promises cheaper power for India. May be more money in pockets for food. https://t.co/7kuv3HCBu9 Educate yourself.

— Substandard & Poor (@s64AnthonyP) December 14, 2015
As one professor observed in this Guardian piece , it is a cartoon that might not have been run in most newspapers in the UK and US, due to its obviously racist content. The editor of the publication refused to comment on the cartoon to the newspaper and so did the cartoonist.
Many of the commentators to the tweet pointed out, quite rightly, that while the cartoonist is completely entitled to his view despite its obvious racism, he perhaps shouldn't have the luxury of not being called out.
So here are some facts on India's renewable energy plans:
India plans to generate 100 GW of solar power by 2022
India plans to set up 25 solar parks and Ultra Mega Solar Power Projects to generate 20 GW of power.
The Indian government has said that the solar parks that are being planned are on a scale like nowhere else in the world
Apart from power plants, solar power is being used to power cookers, lights and solar pumps that are being set up across the country
India's solar installations could grow over four times by 2017, according to government statistics.
There's little doubt that solar energy is a major part of India's energy plans for the future, irrespective of whether Leak acknowledges it or not.
The cartoonist may have intended to show the futility of solar power projects in India when there is poverty that needs to be tackled. There is widespread poverty and hunger in the country and that also has to be tackled. But it doesn't mean the Indian state has the luxury of not providing people with electricity, especially if it can be cheaply provided through solar power.