Netizens in India are mostly quick in reacting to ongoings in the country. Be it supporting 'Death to rapists' or calls for revoking the recent porn-ban, almost every public issue gets its due coverage of opinion, mock, criticism, abuse etc on social media platforms like Twitter and Facebook.
While an online meaningful dialogue between the governed and the governing is an attribute of a healthy society, it often happens that an issue of whatever importance (it depends upon you to decide), often without a properly contextualized background, starts trending and ultimately lands on the teleprompters of glitzy news channels.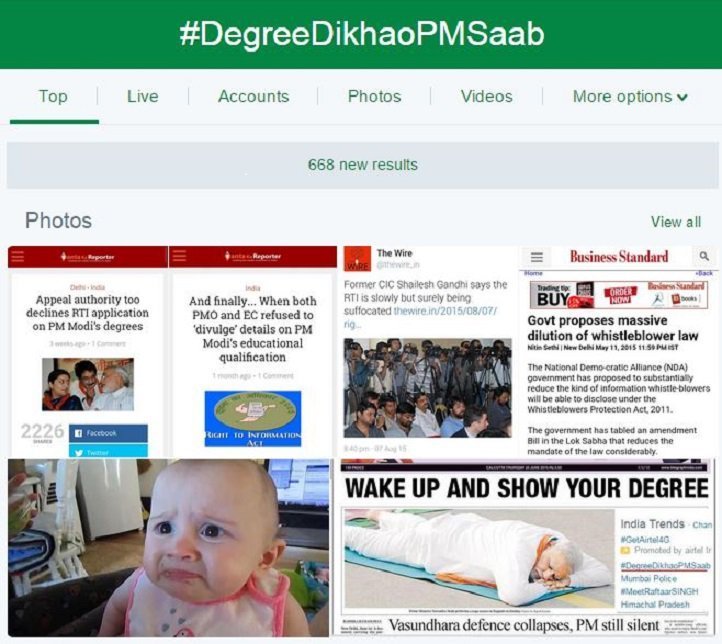 A recent Twitter frenzy #DegreeDikhaoPMSaab which topped the Twitter trends on Saturday, August 8, illustrates the above point.
#DegreeDikhaoPMSaab is actually a demand from Indian netizens asking Prime Minister Narendra Modi to show degree certificates of his educational qualifications. At a time when ministers of ruling governments have been found and arrested for faking educational qualifications, PM must come clear on the issue of his own education as well.
After all, public has the right to know the truth. Not the half truth only.
According to Article 84 of the Constitution of India, which sets the principal qualifications for members of Parliament, a prime minister must:
— be a member of the Lok Sabha or the Rajya Sabha. If the person chosen as the prime minister is neither a member of the Lok Sabha nor the Rajya Sabha at the time of selection, he or she must become a member of either of the houses within six months.
— be above 25 years of age if he or she is a member of Lok Sabha or above 30 years of age if he is a member of the Rajya Sabha.
— not hold any office of profit under the Government of India or the Government of any State or under any local or other authority subject to the control of any of the said Governments.
— If however a candidate is elected as the prime minister he/she must vacate their post from any private or government company/ sector and may take up the post only on completion of his /her term.
Did you see education there?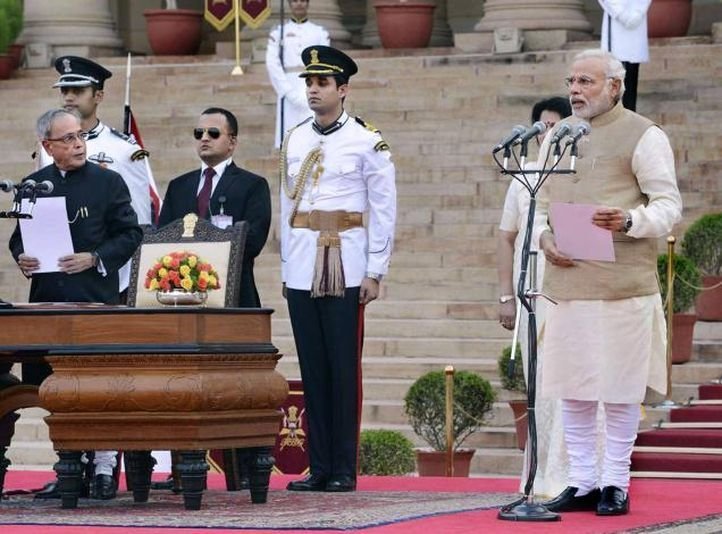 As evident from the law, whether a person is educated or not, does not restrict him/her from becoming the prime minister of our country.
But wait, this is not a Modi-Bhakt typing this article for you. It's just to provide some logic to the public conscience.
And the same logic applies to Mr. Modi also. While his profile on Wikipedia says he " received a degree in political science after a distance-education course from Delhi University and a Master of Arts degree in political science from Gujarat University five years later, " it would be nicer for him to bring those certificates open in the public and save some public energy, most of which is spent on Twitter these days.
Is that easy? The media reports don't seem so encouraging on that front.
Prime Minister's Office (PMO) is among the top public authorities that rejected the maximum number of RTI applications received during the year 2013-14.
The top spot on the list was taken by Ministry of Corporate Affairs which rejected 28.85 per cent RTI applications received during 2013-14 followed by the PMO (20.49 per cent) and Ministry of Finance (19.16 per cent).
In fact, there are news reports claiming PMO and Election Commission refused to divulge any details about the educational qualifications of Narendra Modi sought by an RTI. Not only this, it is also being said that since BJP government took over, efforts to dilute RTI Act are underway.
It also refused an RTI application seeking the amount of money spent on foreign visits made by Prime Minister Narendra Modi since he assumed office on May 26 last year by saying "information sought is too vague and wide."
While it is imperative for public to keep in check who rule them, it should also check and verify the grounds of criticism which it mounts on someone.
Similarly, in order to show off your 'worth' to public by claiming holders of this and that degree (which is not even required in this case), lying to public has no justification.
If that is the case with Mr. Modi, law must take care of it .