So the Prime Minister's speech at the Wembley in London wasn't exactly his best. He had his moments, like the one where he pointed out a watch could tell the time in India and Britain simultaneously. But here's a list of the biggest things he said: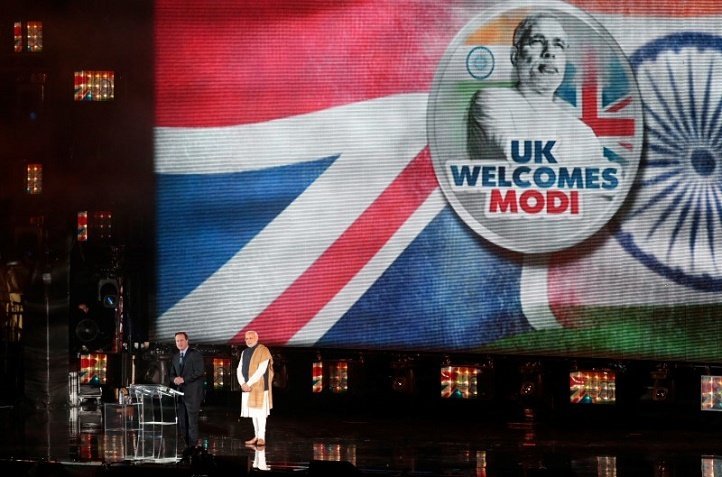 Don't believe the media about India, Modi tells NRIs
There's perhaps no better way to take on your critics than when you're in front a crowd of hundreds of enthusiastic supporters. The Prime Minister has been facing a lot of flak in the past few months over what his critics say is rising intolerance in the country and he went all out to counter it in front of the Indian diaspora in the UK. Early in his speech, he started by talking of the importance of diversity of the nation.
"Diversity is our uniqueness. It is our pride. It is our strength," Modi said.
Later in his speech, the Prime Minister spoke of how the country's ranking in a Ease of Doing Business index had risen and said that corruption had also reduced in the country under his watch. "But my fellow countrymen, we should never make the mistake of believing that what we see about India is the real truth about the country. "India is not like the headlines of newspapers. It is much bigger. It is an exceptional India," he said.
This isn't the first time that the Prime Minister has been critical of the media for their criticism. But then this time, the UK press had cut deeper than he would have liked.
As an illustration of just how exceptional India was, the Prime Minister spoke of the case of teacher Imran Khan from Alwar in Rajasthan who had developed 50 apps for students that he had given away for free.
'My India is in that Imran Khan from Alwar," he said.
He then went on to list the success of the selfie with daughter campaign and spoke of people working with tribals in remote parts of the nation.
"It is thanks to them that I say that India is going to progress greatly. It will achieve new heights," he said.
Flight diplomacy used to take a jibe at Congress
In San Francisco, he announced that there would be a direct flight from New Delhi to the city. In Wembley it was the announcement of a direct flight from Ahmedabad to London.
"From December 15 there will be a direct flight from London to Ahmedabad," he announced to cheers.
He spoke of how he had recommended a similar flight in 2003 when he was Gujarat Chief Minister and it had been implemented by the then Prime Minister Atal Bihari Vajpayee. And he then took a moment to take a jibe at the Congress for discontinuing the service. "You know what happened later. I don't want to say who did it. Now what is the need for Maa-Beta?" he said with a smile that got cheers from the audience. Expect a press conference from an upset Congress on Saturday.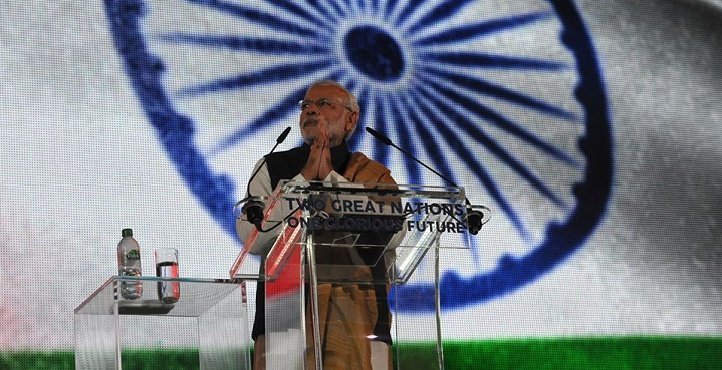 Source: Narendra Modi's Facebook page
Coming soon: A Suryaputras Alliance
The Indian Prime Minister seems to have a very clear idea for how India will combat global warming. He said that they wanted to form an alliance of nations that receive the most sunlight in the world in order to tackle generate more solar energy.
"There are 102 such nations in the world, they are Suryaputras . There is OPEC, G7, Asean but there is no association of Suryaputras and we have taken up the responsibility of forming such a body," he told the audience to cheers. He said that these countries could jointly research on how best to utilise solar energy in the future and said that he hoped India would become a leader in this area.
The first meeting of the 'Suryaputras' will take place at the end of the month, Modi said, adding that he would talk to world leaders there about the path forward. Whether they'll agree to being called Suryaputras is another matter entirely.
Seeking a relationship of barabari with the world and blood relations with NRIs
Drawing on the nationalistic sentiment of NRIs the Prime Minister said that India wanted a relationship of barabari (equality) with other nations. "We don't want charity from the world. If there is something we want, it is equality. And I can say from 18 months experience that anyone who speaks to India speaks to it as an equal," he said.
"I see this as a sign of the better times to come," Modi said. He also said that Mahatma Gandhi's teachings could provide solutions to the two biggest problems the world is facing: Terrorism and global warming.
The Prime Minister also said that the ties of blood bound the Indian diaspora to the nation. "I want to promise all Indians across the world that no matter the colour of your passport, the relation between you and me is bound by the colour of our blood and will remain that way. Your identity won't be decided by the colour of your passport. You are all our own. You have as much right over India as Narendra Modi does," he said.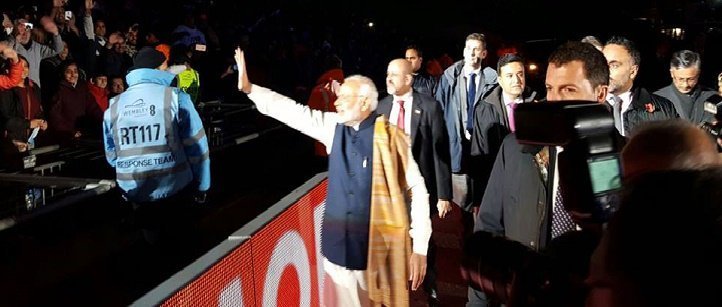 Modi interacts with the crowd at Wembley. Source: Facebook
The Modi cure for curbing Islamist terror: More Sufism
It was a random aside, but the Prime Minister brought up the issue of how poets like Kabir and Rahim had been hugely inspirational to Indians. And then he brought up the issue of terrorism, but had a pretty unexpected cure for how to prevent it.
" In Islam, if Sufi philopsphy had a greater role to play then no one would ever think of taking up a gun," he said. He unfortunately, didn't elaborate more on this insight.
The new awesome threesome James Bond, Brooke Bond, Rupee Bond
The Prime Minister perhaps gave Brooke Bond tea and the latest James Bond film Spectre the best promotion they'll ever get among the Indian community in the UK any time soon. How? Because he chose to hardsell Indian Railways' latest fund raising scheme.
"For the first time Indian Railways has come to the London Stock Exchange with rupee bonds. When we think of bonds, the first one we think of is James Bond. We are familiar with James Bond and beyond that we associate bond with Brooke Bond tea," he said. "But now we have to walk the path of progress and that's why we have: James Bond, Brooke Bond, Rupee Bond," he said. After Hugh Jackman, the possibility is now rather high that Daniel Craig may soon be the Indian Prime Minister's new good friend.