A relatively dry spell in Chennai and its neighbourhood brought relief to the flood-affected residents and rescue agencies as hopes of water fast receding went up.Mobile phone services, which had taken a severe beating following the heavy downpour on Tuesday, were partially restored even as other services such as ATMs continued to remain shut.
After a day-long dry spell on Thursday, some areas in and around the city including Kodambakkam, T Nagar and Tambaram received showers in the night but Friday morning saw some bright skies with people out on the streets.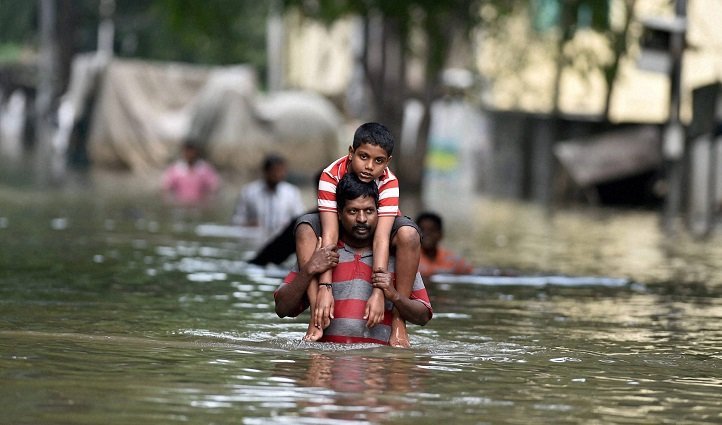 People carry children on their shoulders as they wade through flood waters in rain-hit Chennai on Thursday | Source: PTI Photo
The break in rains resulted in a sharp fall in the discharge of waters from Chembarapakkam, Pondi and Puzhal lakes leading to reduction in the water levels of the two rivers that criss-cross the city.
Though the water was receding in many parts of the city the misery of citizens showed little let up as power remained suspended in many areas as a precautionary measure, officials said.
Safe drinking water continued to remain a luxury for many. Milk and newspaper supplies were erratic and many citizens complained that vegetables were still being sold at high rates.
Transport services were also showing signs of picking up. Limited commercial flight operations have started this morning from the Rajali naval air station in Arakkonam near Chennai.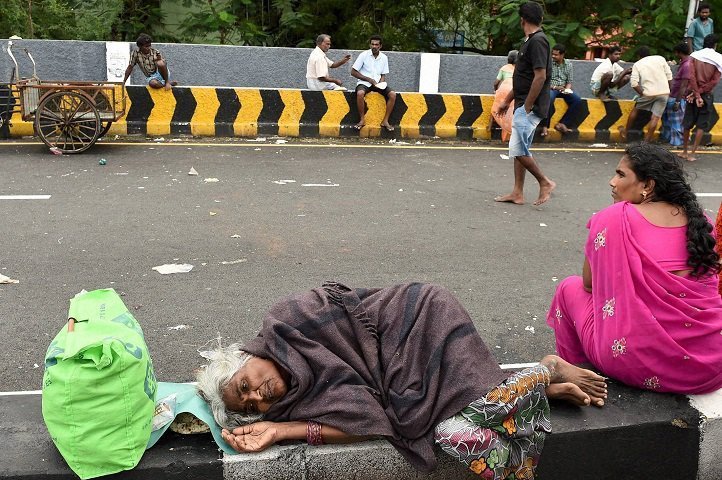 An old woman after she was rescued from a flooded locality in rain-hit Chennai on Thursday | Source: PTI Photo
Train services on the suburban Chennai Arakonnam stretch were partially restored. Southern Railway officials said they were yet to take a call on restoration of services on the other busy Tambaram-Chennai beach route which covers both business and residential areas.
The Chennai Metro line continued to witness enhanced patronage in the wake of suspension of bus and rail transport. With a focus on intensifying relief and rescue operations to provide aid to rain-hit people of Chennai and adjoining areas, the NDRF has bolstered its strength by adding ten more teams for the job and has rescued 9,000 people till now.
Director General of the force, OP Singh, said his teams are expected to rescue and reach out to more number of people on Friday as water has receded in some places.
"We have rescued about 9,000 people till now. Ten more teams from Pune and Patna have been mobilised to Tamil Nadu. We expect to have better results today as things have improved and communication is enhanced," he said.
Five teams arrived early this morning for the task at Chennai, an official NDRF spokesperson said. The force already has 30 teams, with 40 personnel in each, working in the areas of the Tamil Nadu capital and adjoining Puducherry.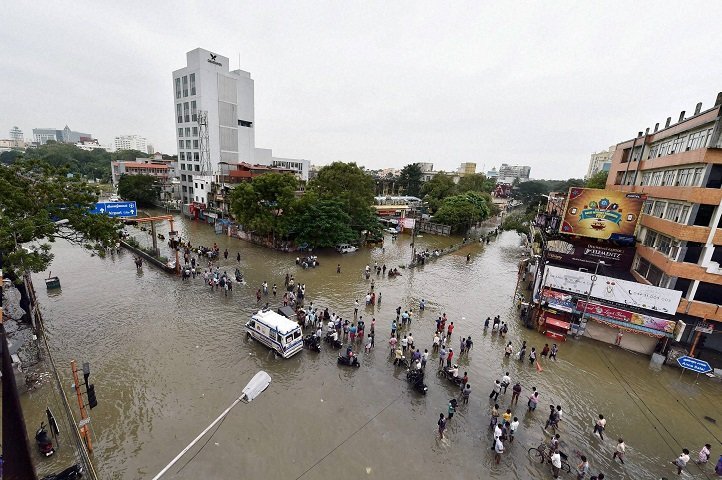 People wade through waterlogged road following heavy rains at Porur in Chennai on Wednesday | Source: PTI Photo
The NDRF has also pressed in about 110 inflatable and other kinds of boats and numerous sets of buoys and life jackets with the rescue and relief teams so that the needy and the marooned get help. The force has also activated helpline number at its control room - 011-24363260, 09711077372.
Tamil Nadu Chief Minister J Jayalalithaa and Prime Minister Narendra Modi had on Thursday conducted separate aerial surveys of the areas battered by the unprecedented rains that have killed 269 people till now.
After their separate aerial surveys, Jayalalithaa had yesterday met the Prime Minister and urged for an immediate relief of Rs 5,000 crore, to which he responded by announcing Rs 1000 crore more for relief work in Tamil Nadu. This will be in addition to the Rs 940 crore already announced by the Centre.
A meeting of the Crisis Management Group (CMG) is also scheduled to be held under the Chairmanship of Union Home Secretary Rajiv Mehrishi to review the preparedness of the agencies along with officials of Ministries of Defence, Food, Railways, Agriculture, Health, Department of Telecommunications, and National Disaster Management Authority.
Feature image source: PTI