An assistant professor of Delhi University's Dyal Singh College has been booked after he posted a derogatory Facebook status against Hindu goddess Durga on September 22, reported The Times Of India.
Kedar Kumar Mandal, an assistant professor of Hindi, wrote on his Facebook, "Durga is the very much sexy prostitute in the Indian mythology."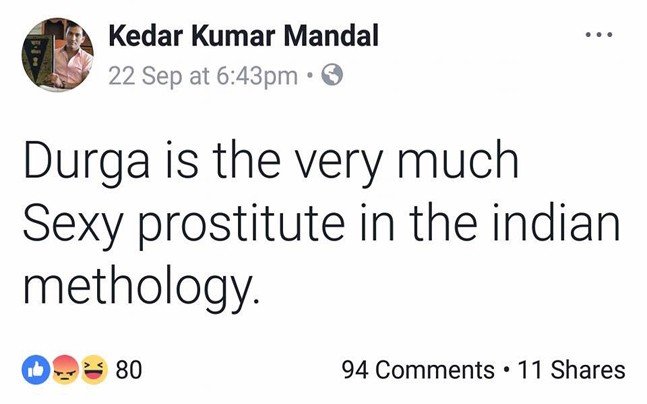 Following the post, Akhil Bharatiya Vidyarthi Parishad (ABVP) accused him of hurting religious sentiments and demanded his "immediate suspension".
Members of National Democratic Teachers Front also submitted their complaint against him at Lodhi Road police station on September 23 after which an FIR was registered late in the night, reported The Hindu.
"This is a disgusting attempt at cheap publicity especially at a time when everyone is revelling in the festivities of Navratri", TOI quoted one of the complainants VS Negi, the general secretary of NDTF, as saying.
The post has been removed, but Mandal has been booked under section 153A (promoting enmity between different groups on grounds of religion, etc.) and 295A (deliberate and malicious acts intended to outrage religious feelings of any class by insulting religious beliefs).