On Tuesday, Delhi University professor GN Saibaba was sentenced to life by a Gadchiroli session court under Unlawful Activities prevention Act (UAPA).
The government has charged Saibaba under sections 13, 18, 20, 38 of the Unlawful Activities Prevention Act (UAPA). The primary charge is: "The applicant who is an intellectual has used his intelligentsia [sic] for anti-national activities".
Along with the wheelchair-bound Professor of English, Jawahar Lal Nehru University student Hemant Mishra, former journalist Prashant Rahi and three others have also been convicted for having Maoist links by the court.
What is the case?
In August 2013, JNU student Hemant Mishra along with four others were arrested for waging war against the country and supporting the ideology of banned organisation CPI (Maoist).
In police custody, Mishra said that he was acting as a courier between DU professor GN Saibaba and Maoists holed up in Abujmad forests in Chhattisgarh. 
Who is GN Saibaba?
Born in 1967, Saibaba is a native of Andhra's Amalapuram. After topping his university at SKBR College, Saibaba left his hometown and joined the All India People's Resistance Forum (AIPRF). He travelled over 200,000 km to speak in support of liberation movements in Kashmir and the North East as well as Dalit and adivasi rights.
In 2003, he started teaching at Delhi University's Ram Lal Anand College. In 2005, AIPRF became the Revolutionary Democratic Front (RDF) and was accused of being a Maoist front.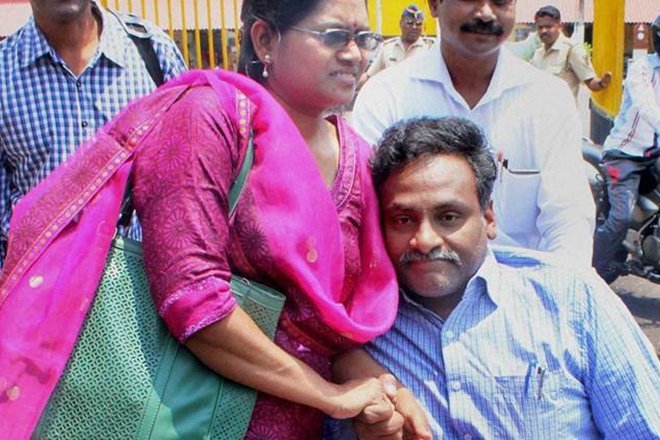 In September 2013, Saibaba was raided by a joint team of the Delhi and the Maharashtra police after citing him as "an urban contact" for Maoists. The police reportedly claimed to have recovered documents, pen drives and hard disks which pointed towards his link with the banned outfit.
'Alleged' links?
On 9 May 2014, he was arrested in New Delhi by the Maharashtra Police for his alleged links with Maoists. The arrest took place on charges of him allegedly being a member of a banned terrorist organisation (CPI-Maoist), providing logistics and helping in recruitment for the group, reported India Today.
He was then taken to Nagpur Central Jail, where he was imprisoned till 3 June 2015 until he was granted bail. This was later rejected by a Nagpur bench on 25 August 2015. In April 2016, he was granted bail on medical grounds.
Here's how Twitter reacted to today's verdict: