Left to compete within an hour of reaching here from China, promising sprinter Dutee Chand won the gold in women's 100m sprint event in the Taiwan Open Athletics Championships on Thursday.
Dutee competed the 100m heats within an hour of reaching Taiwan from Beijing and five hours later ran the finals which she won in 11.50secs to bag the gold.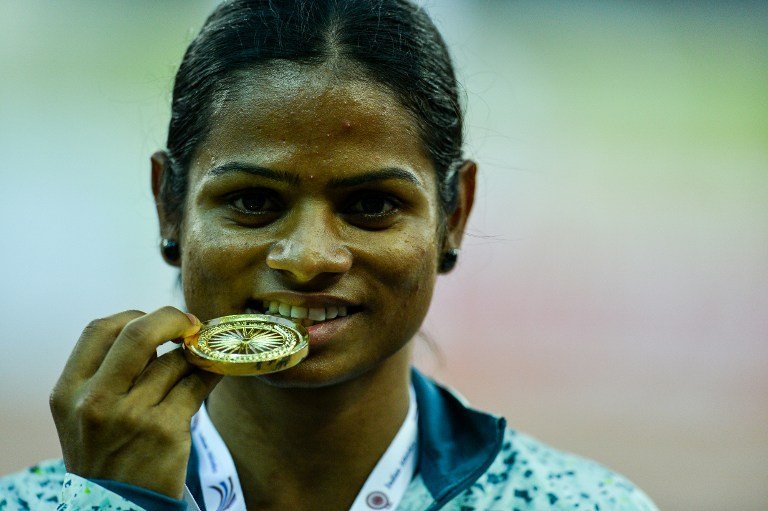 Her timing was far below the Olympics qualification standard of 11.32 secs.
Meanwhile, Long jumper Ankit Sharma leapt 7.67m on his last attempt to also seal a gold medal.
Dutee was part of the national record breaking women's 4x100m relay quartet which finished fourth in the IAAF World Challenge event in Beijing on Wednesday and she few from the Chinese capital to Taiwan where she reached two hours before the start of her event.
Dutee's coach N Ramesh told PTI from the Taiwan:
Dutee will also run in the women's 4x100m relay finals on Friday. 
Ramesh also said that his ward was disappointed as she could not compete in the individual 100m sprint event in Beijing as she was told to withdraw at the last minute despite her name being in the start list.
"She was about to compete in the 100m event and she had started her warm up at the tracks and the race was about to start. But she was told that she cannot compete and another runner ran in her place," he said.
It's learnt that the organisers kept Dutee as a reserve runner on the condition that she would compete in case another athlete withdraws from the race.
Dutee had gone to Beijing with a big hope that she will be able to qualify for Rio Olympics by competing with stronger rivals. She had missed the Rio qualifying standards by one-hundredth of a second in the Federation Cup National Athletics Championships in New Delhi last month with a timing of 11.33secs.
"The field in Beijing was very strong. We were hopeful that she would qualify there for Rio by running in a strong field. But she could not compete there and naturally she is disappointed," Ramesh said.
Dutee will have two more events to try and qualify for the Olympics — one each in Kazakhstan and Kyrgyzstan — next month, besides the National Inter-State Championships in Hyderabad also next month.
Featured image: AFP