The earthquake in Nepal is a continuing nightmare for many. As the death toll mounts in the region, anxiety increases for those still in search of their loved ones.
So why do earthquakes occur? This video tells you that they are indeed a daily occurrence all over the globe. Watch it to understand why we feel some earthquakes, and why we don't feel others.
High intensity earthquakes are a very real threat in the Indian subcontinent. However, there are clear zones marked, differentiating the extent of threat. These zones are known as 'seismic zones'.
"The Geological Survey of India (GSI) first published the seismic zoning map of the country in the year 1935. With numerous modifications made afterwards, this map was initially based on the amount of damage suffered by the different regions of India because of earthquakes," Hindustan Times notes.
Ranging from off-white, pink, red to a dark brown, there are four zones marked out on the map of India, that differentiate the extent of threat from earthquakes within the country. Are you at risk? Find out.
Zone – II: Least amount of threat
Zone – III: Moderate threat
Zone – V: Extreme threat of earthquake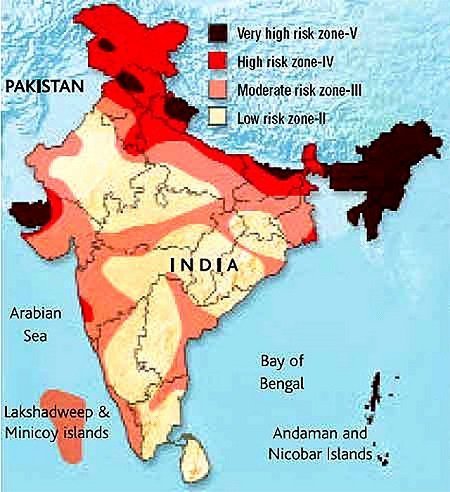 The earthquake that occurred on Saturday, April 25, measured 7.9 magnitude. The biggest aftershock that followed on Sunday, April 26 measured 6.7 magnitude. If you wondered how intense the latter was, here's how the calculation of magnitude works.
"Based on their magnitude, quakes are assigned to a class. An increase in one number, say from 5.5 to 6.5, means that a quake's magnitude is 10 times as great," the HT report states.
The earthquake that has taken thousands of lives in Nepal, fell under the 'major' bracket of earthquake magnitudes.
A 'great' magnitude is greater than or equal to 8.0, 'major' ranges from 7.0 to 7.9, 'strong' is between 6.0 and 6.9, 'moderate' is 5.0-5.9, 'light' is 4.0-4.9, 'minor' is 3.0-3.9, 'micro' measures 2.5-3.0. Even a 'moderate' earthquake can cause considerable damage.
What's troubling is that the aftershocks of this quake have ranged from moderate to strong.
As terrifying as it sounds, many more aftershocks are expected in and around the region, and this includes India.
Stay safe.
Will provide water, electricity and whatever required,aftershocks do come,people should not panic and be patient: Nitish Kumar #earthquake

— ANI (@ANI_news) April 26, 2015