The series of devastating earthquakes that ravaged Nepal and took thousands of lives in the month of April 2015 has left behind a story of death, fear and agony.
The tremors were felt for several days not only in Nepal but also in India. Months after the destruction a sense of fear has again triggered among people with the latest tremors felt in parts of Afghanistan, Pakistan and India on Monday, August 10.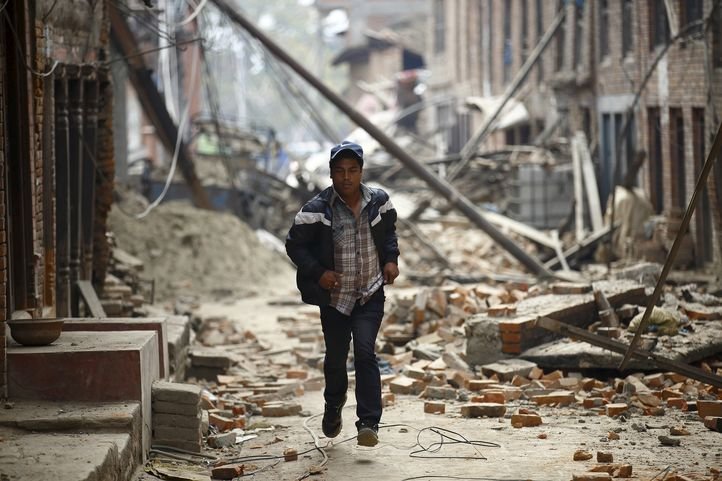 Here are the major earthquakes that occurred in the last 15 years:
August 10, 2015: magnitude 6, earthquake epicentred in Afghanistan felt across Pakistan and India.
April 25 , 2015: magnitude 7.9, Nepal , 8000 dead. March 30, 2015: magnitude 7.7, Papua New Guinea coast, no casualties Aug 4, 2014: 6.1 magnitude, southwest China's mountainous Yunnan province, 367 people killed and 1,881 people injured Nov 15, 2014: 7.1 magnitude, eastern Indonesia, no casualties. Nov 23, 2014: 6.7 magnitude, Nagano City and Hakuba village in Japan, 39 injured, 10 homes damaged
Nov 23, 2014: 6.3 magnitude, Sichuan Province, China, 80,000 affected. Nov 7, 2012: 7.4 magnitude in Guatemala and Mexico; 139 dead Aug 11, 2012: 6.4 magnitude quake hit East Azerbaijan and Iran; 306 dead Oct 23, 2011: 7.2 magnitude in Van, Turkey; 604 dead March 11, 2011: 9.0 magnitude quake triggers devastating Tsunami off-NE Japan; 19,000 dead or missing
Feb 22, 2011: 6.3 magnitude hit Christchurch, New Zealand; 185 dead April 14, 2010: 6.9 magnitude in Qinghai province in China; more than 400 dead Feb 27, 2010: 8.8 magnitude in Chile; more than 450 dead Jan 12, 2010: 7.0 magnitude in Port-au-Prince, Haiti; about 230,000 dead Sept 29, 2009: 7.9 magnitude quake hit Sumatra, Indonesia; 1,000 dead April 6, 2009: 6.3 magnitude in La'Aquila, Italy; 300 dead Oct 29, 2008: 6.4 magnitude; Quetta, Pakistan; 300 dead May 12, 2008: 8.0 magnitude; Sichuan province in China; 87,000 dead or missing
Aug 15, 2007: Lima, Peru; 519 dead May 27, 2006: 6.2 magnitude; Java, Indonesia; more than 5,700 dead Oct 8, 2005: 7.6 magnitude; Pakistan occupied Kashmir (PoK); 73,000 dead Dec 26, 2004: 9.2 magnitude quake in Indian Ocean unleashes Tsunami; 220,000 dead Dec 26, 2003: Bam, Iran; more than 26,000 dead Jan 26, 2001: 7.9 magnitude; Bhuj, Gujarat; about 20,000 dead
Read more: