The death toll from Ecuador's biggest earthquake in decades soared to 262 on Sunday as rescuers using tractors and bare hands hunted desperately for survivors in shattered coastal towns.
The 7.8 magnitude quake struck off the Pacific coast on Saturday and was felt around the Andean nation of 16 million people, causing panic as far away as the highland capital Quito and destroying buildings, bridges and roads.
President Rafael Correa rushed home from a trip to Italy to supervise the emergency. "The immediate priority is to rescue people in the rubble," he said on Twitter.
"Everything can be rebuilt but lives cannot be recovered and that's what hurts the most," Correa told state radio.
The government said 262 people were killed and more than 2,500 injured, according to the latest tallies on Sunday evening.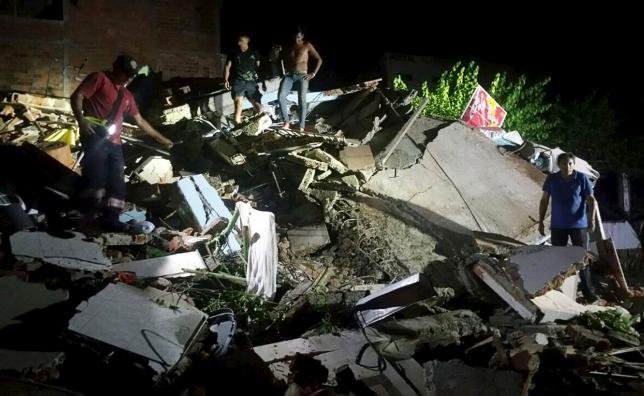 Coastal areas nearest the epicenter were hit hardest, especially Pedernales, a rustic tourist spot with beaches and palm trees now laden with debris from pastel-colored houses.
Authorities said there were more than 160 aftershocks, mainly in the Pedernales area. About 91 people died in Pedernales and some 60 percent of houses were destroyed, according to Police Chief General Milton Zarate. A state of emergency was declared in six provinces.
About 13,500 security force personnel were mobilized to keep order around Ecuador, and $600 million in credit from multilateral lenders was immediately activated for the emergency, the government said.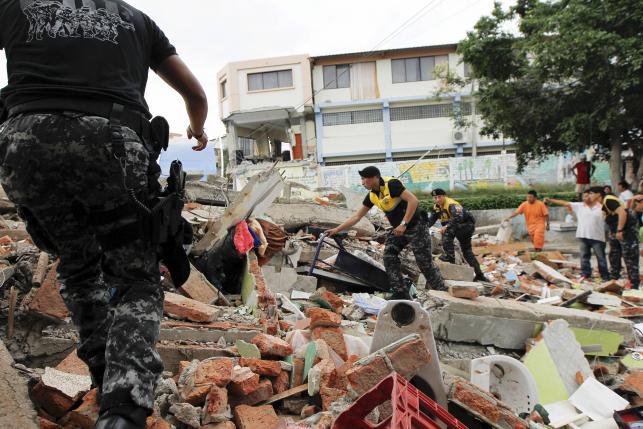 The government called it the worst quake in the country since 1979. In that disaster, 600 people were killed and 20,000 injured, according to the US Geological Survey.
The Ecuadorean Red Cross mobilized more than 800 volunteers and staff and medical charity Medecins Sans Frontieres said it was sending a team from Colombia.
Although tsunami warnings were lifted, coastal residents were still urged to seek higher ground in case tides rise.
Residents on the Galapagos islands far off Ecuador's coast, home to numerous rare species, said they had not been affected by the quake.
The Ecuadorean quake followed two large and deadly quakes that struck Japan since Thursday. Both countries are located on the seismically active "Ring of Fire" that circles the Pacific, but according to the US. Geological Survey large quakes separated by such distances would probably not be related.
(Feature image source: Reuters)