Delhi's AQI has been hazardous for four days now, and people having been raising concerns on Twitter to the point that India's top three trends are, #DelhiAirEmergency, #DelhiPollution, and #DelhiBachao. 
And, in such a situation, Prakash Javadekar, Minister of Environment, Forest & Climate Change, had this tweet to share.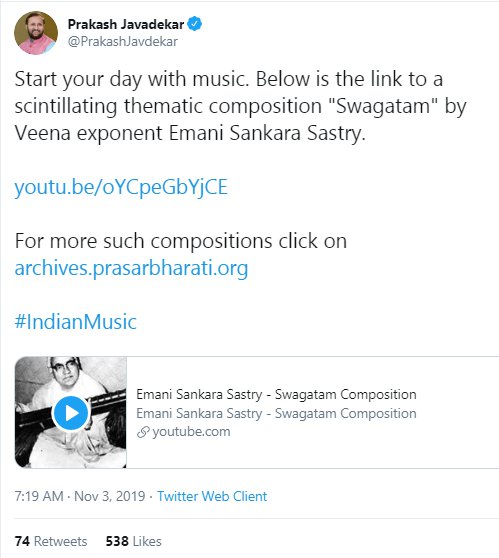 Twitterati took no time in trolling him for his response, while also reminding him what is more important in the current situation. 
Here is our environment minister. Capital has become gas chamber. People are expecting he would come with some action plans but he is suggesting songs.

— Minnat Ali مینت علی (@Minnatali10) November 3, 2019
Arey bhai. Koi responsibility naam ki cheez hai ?

— Meenakshi Raina 🇮🇳 (@mystic_meera) November 3, 2019
What a solution given by the minister of environment, in a health emergency time. Wonderful.

— Prasenjit Chakraborty (@PrasenjiTweets) November 3, 2019
Just stop all this and work to solve the problem of air pollution.

— Sanskaari Baalak (@SanskariBaalak) November 3, 2019
. Wah wah… The City reels under smoke, Uncle ji listens to songs

— Joshua Ben (@mjoshuaben) November 3, 2019
Koi Gaajar khila raha hai, koi sangeet suna raha hai. Yahan saans lena doobhar ho raha hai aur poori sarkaar alag hi tangent par hai. #DiversionaryPolitics

— Ankur Tandon (@tweet_me_80) November 3, 2019
Music is magical, but even music can't solve breathing problems!