On October 12, Essel group chairman and Zee owner Dr Subhash Chandra put out this strange tweet: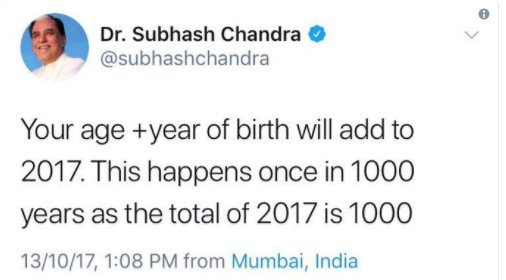 In his tweet, he says, that addition of our current age and the year of our birth will always equal 2,017. As per him, it's a miracle which happens once in thousand years. He further said that this has especially happened in 2017 because the sum total of 2017 is 1000.
The twitter took no time in exploding with funny reactions.
He got trolled left, right and centre
Thats enough of maths for you,try teaching us something thats above our common sense !

— Rishika (@aadiivaasii) October 13, 2017
Sir, Mathematics ka Noble already de diya… Ab kya fayda

— Punkuzz (@askthepunkuzz) October 13, 2017
I'm nominating you for the Fields Medal, the highest honour one can receive in mathematics.

— Avinash Gavai (@Rantaramic) October 13, 2017
While others tried to explain true logic 
Dr Saab:) even last yr yr age + year of birth was same as last yr ie 2016:

this happens EACH year as u grow old by 1 yr as next yr comes""— Akaash🇮🇳 (@akaash111) October 13, 2017
Age = Current Year – Year of Birth, so if you'll add Age & Year of Birth it would be always equal to the Current Year.

— Siddhant (@IamSiddhant0701) October 13, 2017
Others simply made fun of him
Multiply ur age or date of birth with zero and we get the exact figure of ur IQ as well. Now that's profound isn't it ?

— Vinay Kumar Dokania (@vinaydokania) October 13, 2017
Ok serious question, should Gen V K Singh try out this formula, with his first or second date of birth ?

— thakursahab (@65thakursahab) October 13, 2017
😄 wo bhi ek time tha jab Rajya Sabha members ko kitne izzat ke sath dekha jata tha or ek aaj Hai…

— Prashant (@imPR10) October 13, 2017
Ye whi aadmi hai na jiska channel aliens or bhoot dikhata rhta hai😂😅bhai ghr mein alien h ise bhi pkd k dikhao prime time pe😂😅

— Educated Majdur (@Desi_IngiNear) October 13, 2017
After the incessant trolling, Chandra deleted his tweet, but well, the damage was done!