Olympic marathon silver medallist Feyisa Lilesa failed to return to Ethiopia Monday night despite assurances he would not be punished for his Rio protest over political repression in his country.
An AFP journalist at the airport in Addis Ababa said Lilesa was not onboard the plane that landed on Monday night carrying Ethiopia's Olympics team.
Ethiopian sports officials congratulated team members but made no mention of Lilesa's silver medal achievement — one of only eight medals won by Ethiopia — and refused to answer any questions about the athlete.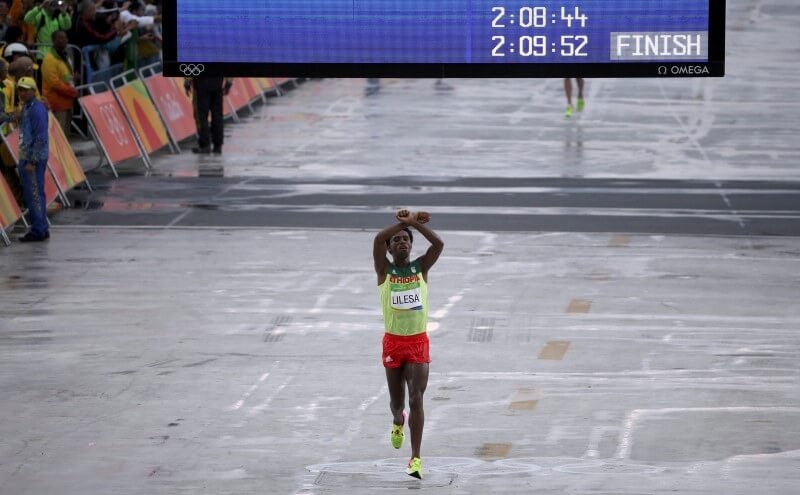 On Sunday, Lilesa, who came second to Kenyan favourite Eliud Kipchoge in Rio, crossed his arms as he finished the marathon in a symbolic protest against the repressive Ethiopian regime.
The 26-year-old repeated the gesture during the race's medal ceremony, telling reporters later that he was afraid to go back to his homeland.
Reports have suggested that the runner may seek political asylum in the United States, but a spokesperson for the US State Department refused to talk specifically about the case.
"We would encourage all governments to respect the rights of individuals to peacefully express their opinions," said the spokesperson.
Lilesa's agent Federico Rosa had earlier told AFP that the runner would not be returning home after staging his protest, despite Ethiopian government assurances Lilesa would not face any issued if he went back.
"I don't think that there is any way that he will (go back to Ethiopia)," Rosa told AFP earlier on Monday. "There are many people who say that it would not be good for him to go back."
Rosa, who is based in Italy and has been the athlete's agent for three years, said he did not know exactly what his client was planning to do next, having stayed on in Rio at the end of the games.
"I cannot say for sure because I have not spoken to him since just after the race, when we had a very short conversation," Rosa said.
Feature image source: Reuters