Even as the toxic Delhi air has left people cooped-up indoors, struggling to breathe, PM Modi is inviting the world, or specifically Thailand, to visit India because 'it's the best time to do so'. 
PM in Bangkok: This is the best time to be in India. Many things are rising while others are falling. Ease of doing business, ease of living, FDI, forest cover, patents, productivity, infrastructure are rising. While taxes, tax rates, red tapism, corruption,cronyism are falling. pic.twitter.com/YAFYgDRxSj

— ANI (@ANI) November 3, 2019
However, an invitation to India may not be what the world is looking for currently. Because the situation has become dire that it has even attracted the attention of global media. And here's what they have to say about the 'Delhi Air Emergency': 
New York Times

The Washinton Post

BBC News


Fox News

The Independent

The Guardian

ALJAZEERA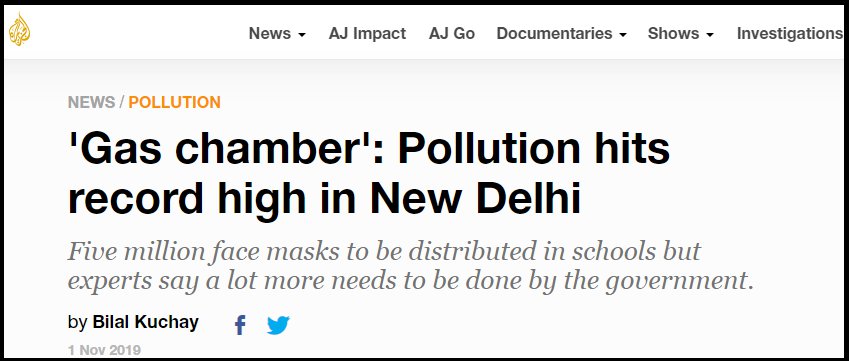 People also took to Twitter to comment on PM Modi's invite to Thailand: 
Delhi – NCR has been declared Heath emergency by the Delhi govt till Tuesday. Absolutely ridiculous situation there. And modi over there in Thailand saying, this is the best time to travel to India. Unbelievable!

— Prasenjit Chakraborty (@PrasenjiTweets) November 3, 2019
I appeal ppl of Thailand to visit Delhi and it's surrounding state as my pm hd said it is best time to be in India .

— Rbwrites (@Rbwrites47) November 3, 2019
Half of North India is choking on poisonous air.

All of India is reeling from economic recession.

Majority of the youth are struggling to find employment.

But for PM #Modi (who incidentally is in Bangkok), this is the best time to be in India! https://t.co/s2ms87a4Vk

— Shama Mohamed (@drshamamohd) November 3, 2019
Yes with the entire North India a gas chamber, economy in shambles, religious and communal divide at its peak, highest unemployment, Kashmir and northeast a bottomless pit… It is indeed the best time to be in India. 👏👏 https://t.co/PtGV9VKyHy

— Ashima Sharda (@ShardaAshima) November 3, 2019
I don't know about who wants to visit India, but I'd definitely not mind being invited to Thailand.