Prime Minister Narendra Modi's Facebook page is a source of pride for him given that he is one of the top followed leaders in the world. The PM, who's even made sure that his entire team of Cabinet ministers got onto Facebook and Twitter, has over 27 million likes on his page on Facebook.
It appears that people have found a clever way to pretend to be PM Modi on Facebook. Get this, a screenshot shared by user Sam Vargheese of photo shared on the Unofficial Subramaniam Swamy page appeared to have a comment from the Prime Minister.
The comment which read: "You are misguiding PTs, I will see you" has since been deleted. If you hover over the user for the comment, it appears to be linking to PM Modi's official page, which makes it look all the more authentic.
Check out the screenshot below: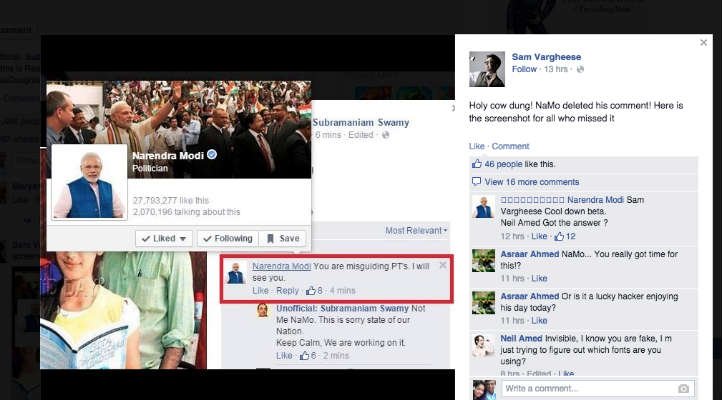 Naturally users were shocked that PM Modi was himself commenting on the page. One user commented on how the PM could have time to post on the page.
But then as other users cleverly pointed out it was a case of some clever technology trickery.
If you notice Vargheese's post on Facebook has another comment from another so-called Narendra Modi page, which uses the same picture as the official page. This page has only one like. This appears to be some sort of a community page with no official link, which has used an invisible character/font in the name and has gone with PM Modi's official DP and then simply tagged the PM Modi page in the comment.
What it did is that it gave the illusion that the PM was posting. However if you click on the display picture, you'll see that it takes you to the fake page and it's evident that the PM or his team are not involved.
In this case, some users assumed it was the PM himself and thus it definitely falls under a kind of cheating. We're pretty sure fooling people into thinking that you're the PM won't be taken lightly.
Featured image source: Facebook