A couple of weeks ago, we told you about some things are surprisingly more expensive than they should be. However, that is not always the case. Sometimes, things you believe are expensive turn out to be surprisingly cheap. Here'a list of 8 such companies, that were sold for less than what you'll have to pay for most dinners. 
1. Reader's Digest
Reader's Digest, the popular English magazine was bought by venture capitalist Mike Luckwell in 2014 for just £1. Yes, you heard that right. One Pound. Luckwell, who had previously invested in the company that created Bob the Builder, bought Reader's Digest from Better Capital, who decided to do away with the struggling business after more than 20 million pounds of investments into it reaped no benefits.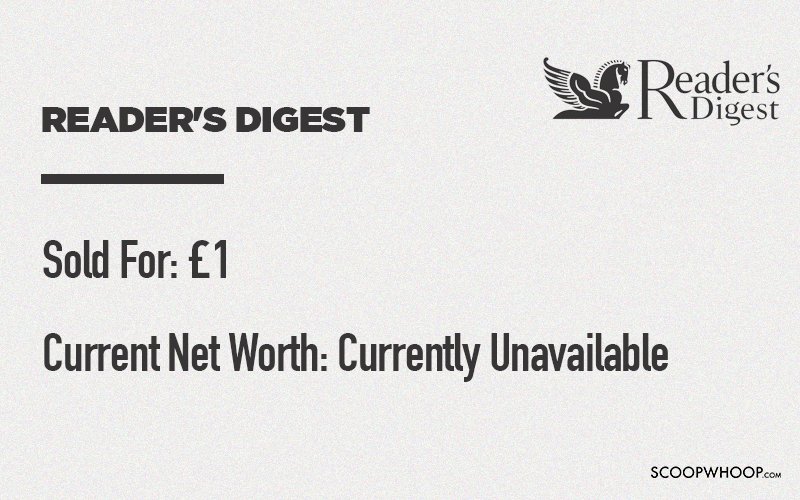 2. Chelsea Football Club
Chelsea is now owned by one of the richest people in Europe, and is worth almost £1.12 billion. However, things were not always looking so good for the club. In 1982, the blues were £1.5 million in debt and were almost certain to be evicted from Stamford Bridge, when hotelier Ken Bates stepped in and bought the club for some loose change, £1 to be exact. He took on the debts, and successfully sold the company to Roman Abrahamovich in 2003 for £140 million. Now, that's called making a profit.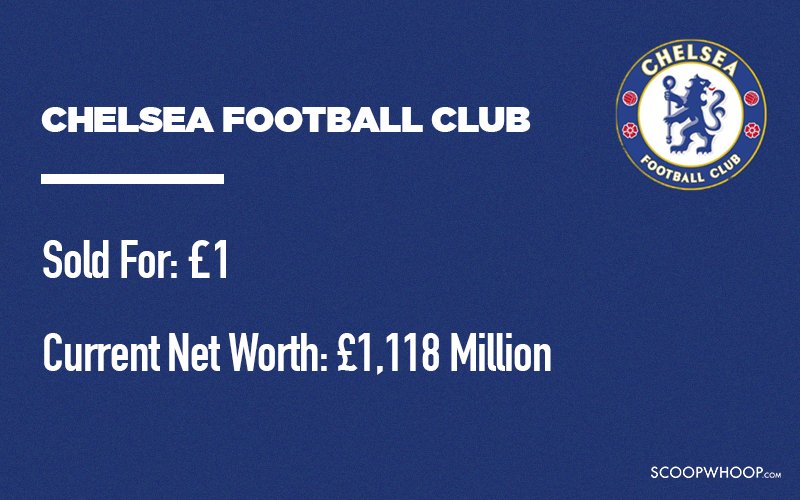 3. Rover Group
The MG Rover Group was initially owned by BMW. However, in 2000, the business was running in terrible losses and looked set for a big collapse. That is when the British company Phoenix consortium, owned by John Towers, rescued it by buying it for £10, safeguarding jobs for about 50,000 people in West Midlands. MG Rover, worth £335 million now, changed hands many times and is currently owned by Tata Motors, who bought it in 2008.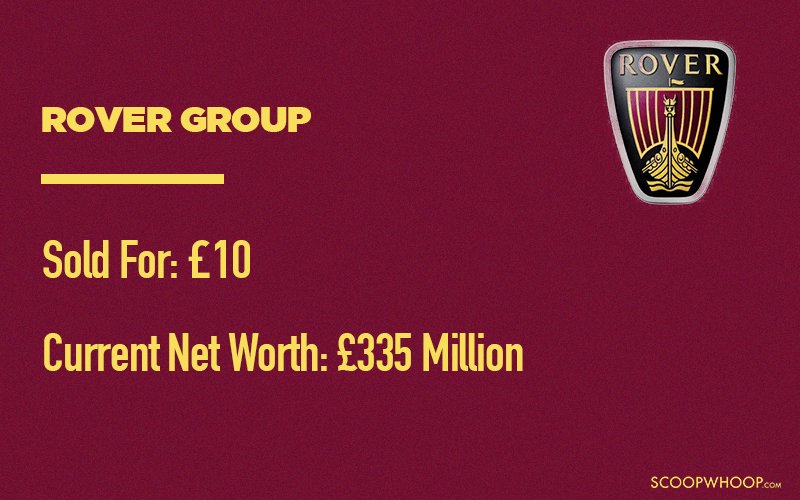 4. Wolverhampton Wanderers FC
In 2007, Sir Jack Hayward decided to "gift" Wolverhampton Wanderers to businessman Steve Morgan for £10. Hayward, who bought the club for £2 million in 1990, wanted to hand over the club to someone who could breathe new life into it, and he believed Morgan had the resources to do it. And he was right as the current net worth of the club is about £50 million. Don't you wish you had friends who gave you gifts like these?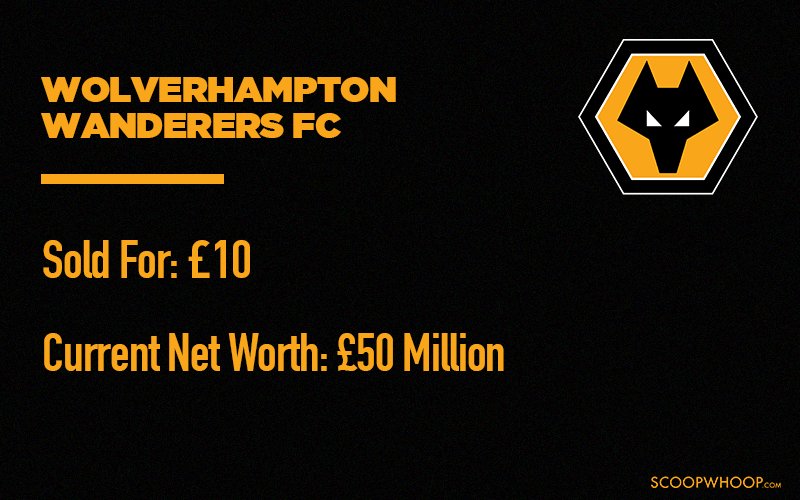 5. Rangers Football Club
Sir David Murray sold his 85.3% stake in Scottish football club Rangers to Craig Whyte for a mere £1. And now, the club is worth £18.7 million. Whyte was initially supposed to pay £5 million for the deal, but when a £2.8 million tax liability appeared in the club's account, he went back to the negotiation table. And came out with the majority stake in the club, for £1. From 5-million to 1 pound. Those are some god-like negotiation skills.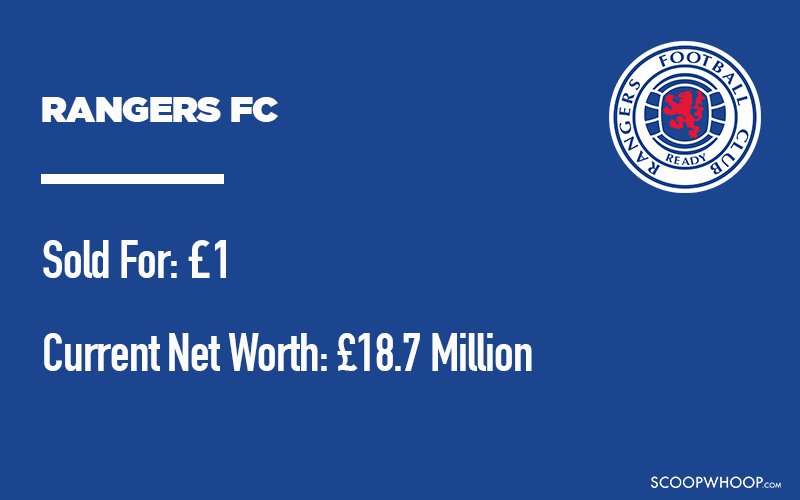 6.  Lotus Cars
Football clubs aren't the only sports entities that are sometimes sold off cheaply. Renault bought 90 percent stake in Lotus Formula 1 team for just £1. Grigny, a subsidiary of Renault purchased 6,744,444 shares from Whiterock Alliance Ltd to have a majority share in Lotus, which Renault had owned in the past too. The company is now worth £79.2 million.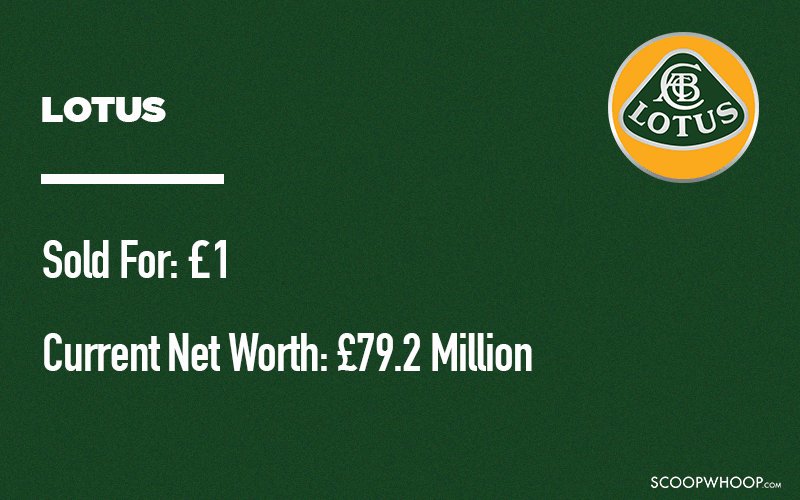 7. Tata Steel Long Products Europe
Tata Steel's Long Products Europe division was making losses. To reduce exposure to the battered metal industry, Tata Steel decided to sell it to the Private Equity firm Greybull capital for £1 in May this year. Greybull is known in the industry as a turnaround specialist, and their purchase of the Scunthorpe-based business means around 5000 people will get to keep their jobs.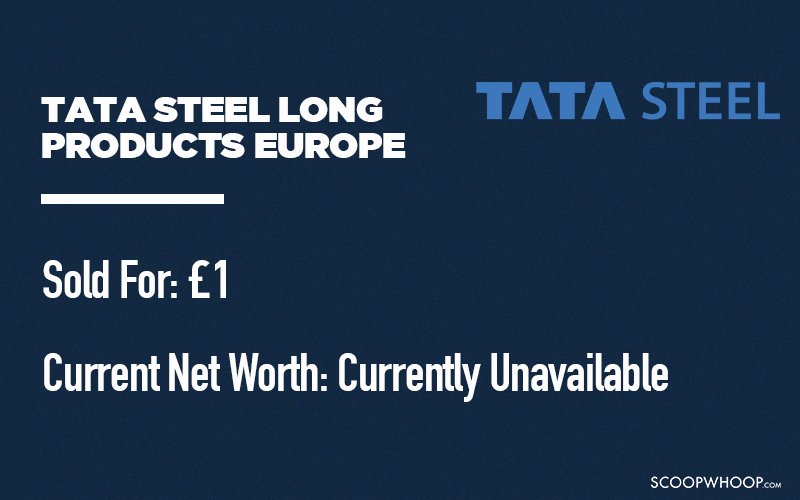 8. Lehman Brothers Europe Division
Lehman Brothers was one the largest investment banks in the world. In fact, it was so large that its filing for bankruptcy in 2008 was considered to have played a major role in the economic crisis of 2008. Taking advantage of its financial instability, Nomura holdings of Japan was able to acquire Lehman Brothers' European equity and advisory businesses for a paltry $2, saving about 2500 jobs in London.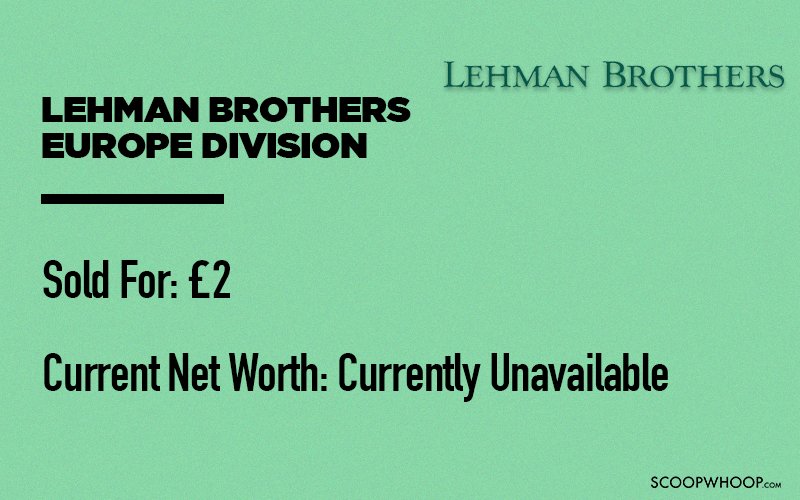 So now you know the deal. Look for a big business that is making a loss, offer to buy them for whatever you have in your pocket, and more often than not, that company will be yours. 
Design Credits: Lakshya Vij