Delhi Police have registered an FIR against Arindam Chaudhuri, founder of Indian Institute of Planning and Management (IIPM), on the basis of a complaint by the University Grants Commission (UGC) of "misleading, cheating and fooling" its students as its courses were not recognised by any authority.
"We have registered an FIR under Section 420 of IPC against IIPM Dean Arindam Chaudhuri and his father Malayendra Kisor Chaudhuri, who is a Director, based on the UGC complaint. We are probing the matter," Joint CP (Crime) Ravindra Yadav said.
A notice has been sent to both of them to join the investigation, police said.
IIPM, however, has questioned the UGC complaint and said the institute was not cheating its students.
The UGC, in its complaint, has said that despite the fact its courses are not authorised, the institute was "fooling" the students by charging a hefty fee from them.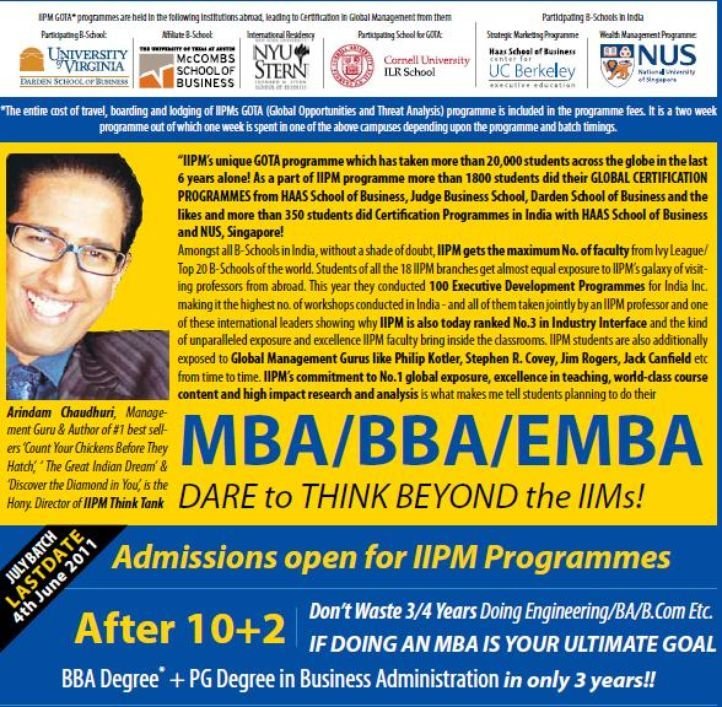 Chaudhari said in a statement that it was sad that some sections of the media have decided to pick up a case that was 6 months old and wondered how this could amount to cheating.
"UGC and AICTE keep themselves in news by targeting IIPM with their lies because we have stayed consciously out of their purview and accused them of massive corruption", he said.
"We have never claimed that the institute is recognised by any statutory body nor have we claimed we give degrees."
They give certificates and write clearly everywhere that "students interested in de jure recognition of IIPM's programmes need not apply to IIPM! Its [sic] written clearly since 1970s in our prospectus and in our websites since it came into effect," the IIPM dean also said.
"We have been cooperating with the police ever since the first notice came and will continue to do so as law abiding citizens," he added.
Last year, Delhi High Court restrained IIPM from calling itself a management school, business school or B-school. The court also asked the institute to not use terms such as MBA, BBA or management courses for the courses it offers.
On Monday, May 11, a full page newspaper advertisement announced the launch of his 'new and revamped' institute titled IIPM 2.0 .
Read more: