Three persons, including a soldier and a militant, were killed and two people were injured today as ultras targeted an army patrol and a franchise of BSNL at two places in Kashmir, police said. Militants opened fire at an army patrol at Kanjikulla in Yaripora area of south Kashmir's Kulgam district, about 80 kms from here, a police officer said.
Sepoy Dharam Ram was injured in the firing and succumbed later, the officer said. Security forces immediately cordoned off the area and tracked down a militant to an orchard where he was killed in a brief gunfight, the police officer said.
Locals said that militants appeared at Noorbagh locality in the town and started firing indiscriminately on the office of Iqra Telecommunication that left the owner of the company, an employee and a customer injured, The Indian Express reports.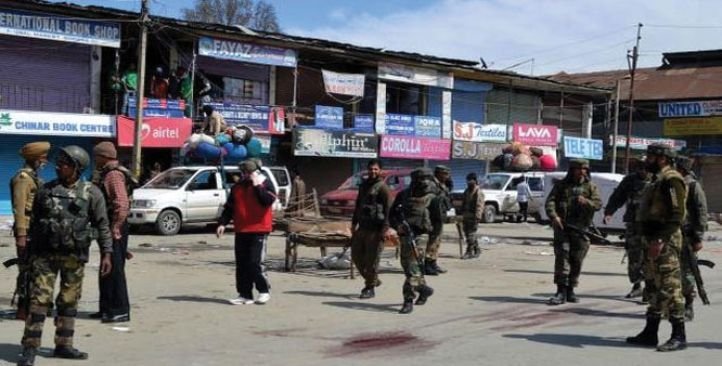 One among the injured, Mohammad Rafiq (26), a resident of Handwara area of Kupwara district, succumbed to his injuries at the Srinagar hospital. The two injured, Ghulam Mohammad Bhat (40) and Imtiyaz Ahmad Lone (30), both residents of Sopore township, were being treated, the officer said. This was the second terror attack in Sopore in less than 48 hours. Earlier during the intervening night of May 23 and 24, suspected ultras had hurled a grenade at a residential compound where a mobile transmission tower was installed.
The firing on the mobile service provider outlet has come weeks after militant groups issued warnings to telecom operators to close down their business in Sopore town and its adjacent areas or face the consequences. While the police had attributed the threats to some lesser-known militant group 'Lashkar-e-Islam' and its 'Over Ground Workers (OGWs)', the warnings had created panic among the telecom operators in the town.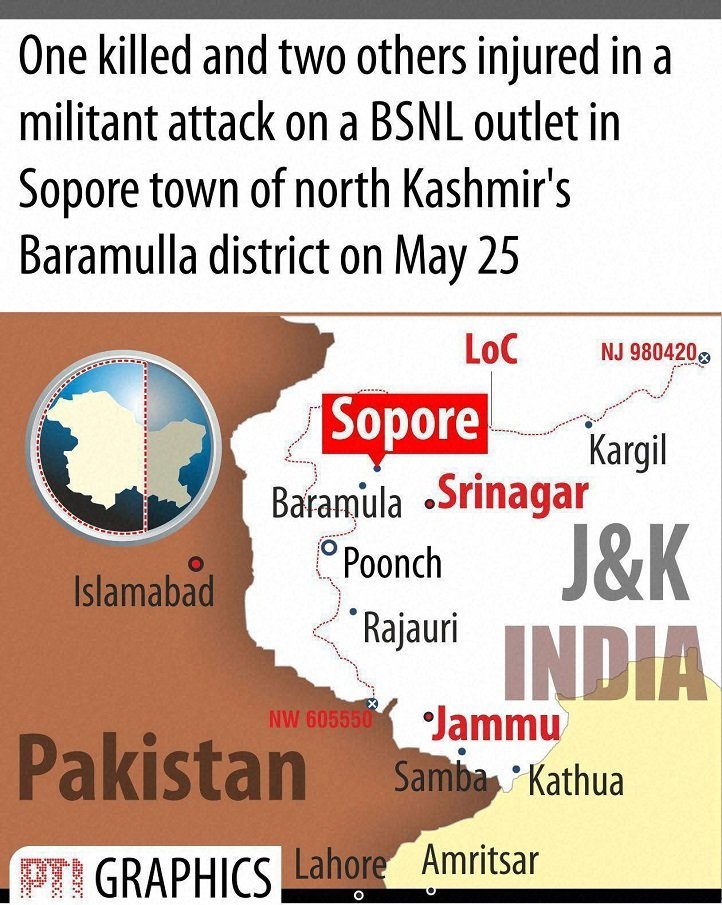 Although officials were tight-lipped as to why the militants were targeting telecom installations, sources said the ultras were upset about "theft" of their communication equipment from mobile transmission towers in Sopore and surrounding areas earlier this month. The militants had allegedly installed communication equipment atop the towers of private and PSU companiesFearing the warnings, many private Telecom companies had already closed down their outlets in the militant stronghold of Sopore, leaving mobile subscribers handicapped of availing the services of the company.A police official while confirming the firing incident said the police has started the investigations, the Indian Express report adds.
Militants had lobbed two grenades targeting a mobile tower in the Sopore town on Sunday night. While one grenade had exploded in the air, another grenade was defused on Sunday by the bomb disposal squad. However, there were no reports of any casualty and damage.
Meanwhile, a militant was killed in an encounter in south Kashmir's Kulgam area. Earlier, militants opened fire on an Army patrol team in Kulgam area of south Kashmir, resulting in injuries to one soldier. The patrolling vehicle of Rashtriya Rifles was attacked by the militants at Kanjikulla in Yaripora area of Kulgam, police said.