There has been a positive new development in the case of Zeeshan Ali Khan, an MBA graduate who was denied a job by Hare Krishna Exports because of his religion. The Hindu friends of Khan, Omkar Bansode and Mukund Pandey, who sent an application to Hare Krishna Exports on the same day as Zeeshan, have refused to join the firm and decided to apply elsewhere.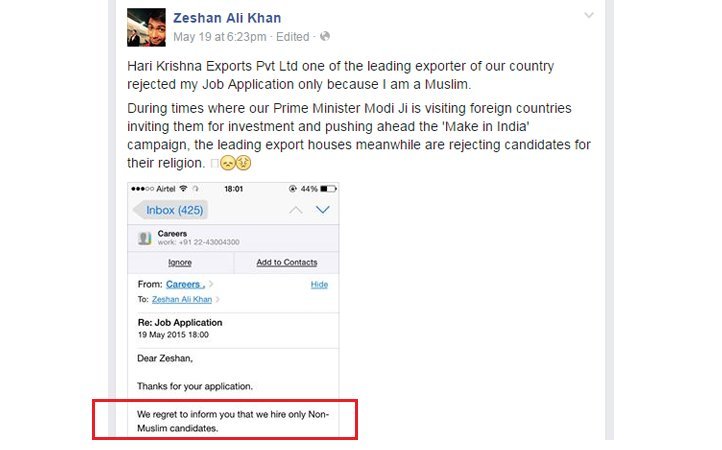 Pandey has cleared both rounds of interviews and Bansode has only one round to go. But, when they heard of the shocking response sent to Zeeshan just fifteen minutes after his application, they were not ready to work in a firm which discriminates on religious grounds. Both have completed their MBA from D. Y. Patil institute of management in Navi Mumbai alongside Khan, and are very close friends with him.
While Pandey and Bansode both agreed that discrimination against Zeeshan was their primary reason to pull back, Bansode also pointed out some seemingly absurd rules and regulations of the company which include a ban on non-vegetarian food in the office and not being allowed to leave the office in working hours. In addition to this all employees are required to wear t-shirts bearing the company logo which Bansode stated is 'something store employees are supposed to do.'
In its defense, the company stated that a new employee of the HR department had sent the mail by mistake and had apologized for it. They also stated that the company had 71 Muslims among 1100 employees in Mumbai, but a former employee mentioned that no Muslims were on executive posts during his tenure and the company didn't seem positive about hiring Muslims.
While the move by Zeeshan's friends came as a ray of hope for religious harmony, there is another shocking account of similar discrimination which has been reported from Mumbai.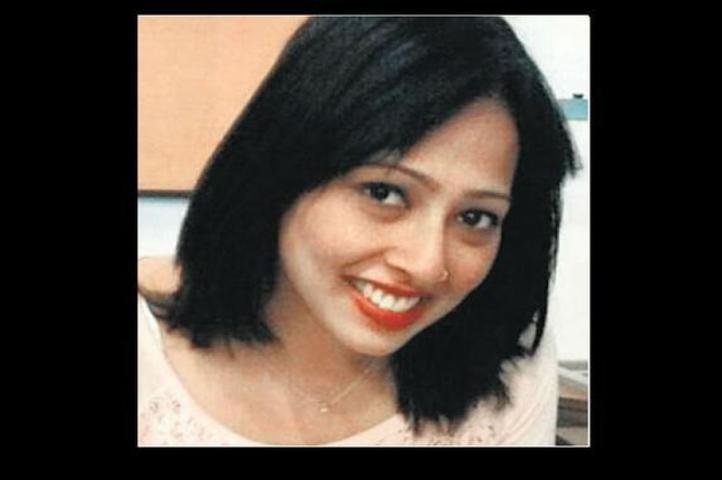 Misbah Quadri, a Muslim woman who decided to move to Mumbai from Gujarat faced discrimination because of her religious identity when she decided to find accommodation. For Misbah it was difficult to live in Gujarat in the aftermath of the 2002 riots, due to an atmosphere of religious prejudice and forced ghettoisation. Eventually, Misbah decided to move to Mumbai, hoping to find acceptance in a city known for its cosmopolitan culture. Her flat-mates, two Hindu working women in their twenties, contacted her on facebook and she was set to move in with them in a tidy accommodation in Wadala's Sanghvi heights.
But the trouble started just when she was to move in. The broker asked her to sign an NOC saying that if she faced harassment from neighbors because of her religion, the broker, builder, or owner won't be responsible. She was also told to give her resume. Despite disagreement with the terms, Misbah moved into the flat because of the notice period at her previous flat coming to an end and the support she got from her flat-mates. Within a week she received a call from the agent threatening to call the police and evict her forcefully. On approaching the builder she was told that the company had a policy against granting accommodation to Muslims and was served an ultimatum. Following the constant pressure she was forced to leave the flat, followed by her flat-mates who had to vacate the flat unwillingly as a penalty for sheltering a Muslim.
While Mumbai has the image of a cosmopolitan city which is above such petty differences, there have been a lot of incidents when accommodation has been denied to people based on their religious identity. In a city where finding a place to stay is a difficult task, being denied accommodation for religious reasons can be both shocking and frustrating. Not long ago even a bollywood celebrity alleged a society of denying him residence on similar grounds.
While the constitution allows people to move freely and reside anywhere in the country, irrespective of their cast, creed or religion, can such openly alienating policies of residential societies be justified?