On the morning of February 9, when Kashmiri artist Mir Suhail Qadri uploaded his daily newspaper cartoon on his Facebook page, he was trying to strike a popular sentiment. It was the third anniversary of 2001 Parliament attack convict Afzal Guru's hanging and Kashmir shut down.
Suhail's cartoon focussed on two distant trees, one at Afzal's grave in Tihar jail and another in Kashmir, whose roots extended so long under the ground that they interspersed with each other.
Moments later when Suhail checked his Facebook page, the cartoon had disappeared. Suhail was prevented by Facebook from either replying or posting anything on his page for hours afterwards.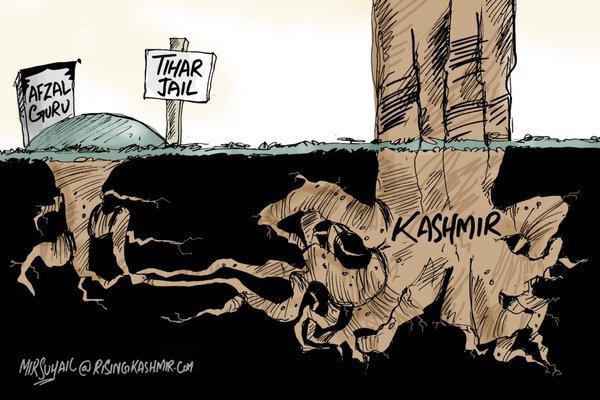 "Artists reflect the situation they live in," Suhail told ScoopWhoop after his removed cartoon was widely shared by other netizens.
"By this act," Suhail said, "Facebook exposed its double standards towards freedom of expression." Suhail was referring to commemoration of Afzal Guru's martyrdom.
In Indian parlance, Afzal Guru is a terrorist who was convicted for his role in attacking Parliament in 2001. However, the final judgement of the Supreme Court that sentenced him to death said that he was merely going to be hanged till death "to satisfy the collective conscience of the Indian society".
For Kashmiris, apart from the allegation that Afzal didn't get a fair trial, the hanging was just another way of repressing those who dared to challenge India's control over the disputed region. That even his dead body was not handed over to his family, or his family wasn't allowed to meet him last time, is a festering wound, unlikely to be forgotten.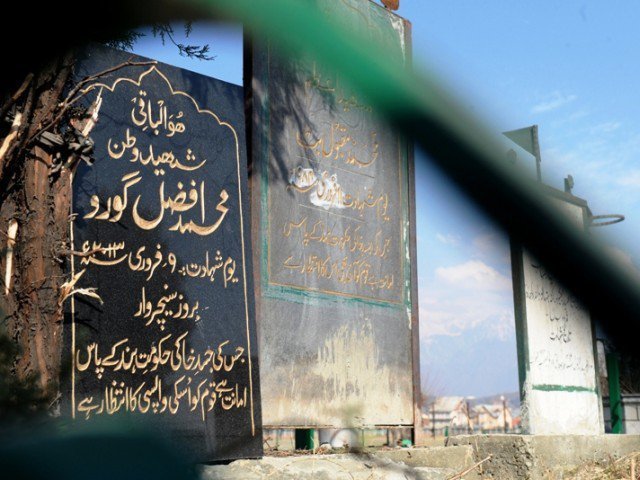 But why is Afzal Guru a martyr for Kashmiris? 
1. Because he was a Kashmiri and, like many Kashmiris, he believed in the idea of Aazadi (Freedom)
In Kashmir, there's a resounding feeling that Afzal Guru was made a scapegoat for bringing a sense of closure to the Indian public by using its judicial machinery to take a life of a common Kashmiri.
"Afzal Guru represents Kashmir," believes the young Kashmiri human rights activist Essar Batool.
"His execution brings forth the ugly face of the Indian occupation, where either people are killed for 'national interest' or to satisfy the 'collective conscience' of people," Essar, who has co-authored a book on 1991 alleged mass rape of Kunan-Poshpora by Indian soldiers, told ScoopWhoop through mail.
"The execution was a glaring evidence of how India uses its so called democratic institutions to suppress and kill Kashmiris without even making the least effort of allowing them a defence, as was the case with Guru," she added.
A journalism graduate and independent researcher Nayeem Mohammad from Central Kashmir's Budgam district explained to ScoopWhoop what makes Afzal Guru a martyr for Kashmiris.
"There are two things: firstly and the important qualification, Afzal was a Kashmiri who was systematically denied justice by India and murdered; secondly, Afzal is a grand example of injustice meted out to Kashmiris at the hands of India. He became Shaheed (martyr) because he is witness to the injustice done to Kashmiris by the state, symbolically," he said.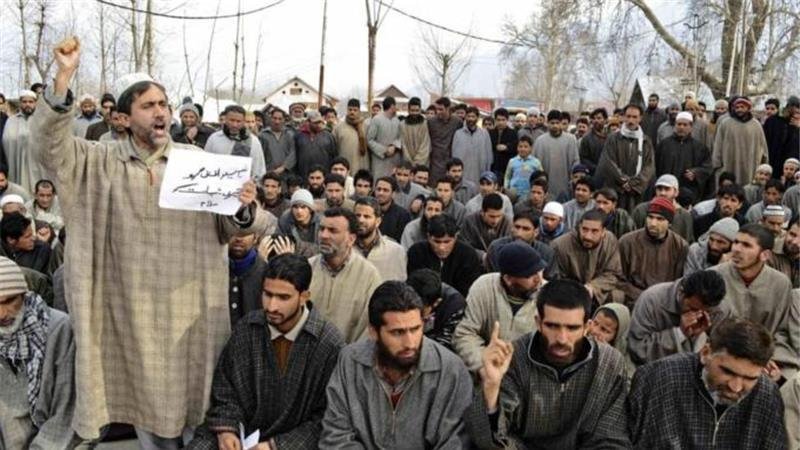 Nayeem also said what happened to Afzal is a collective experience and reality for Kashmiris when it comes to Indian state. 
A Kashmiri student, currently studying in Delhi, who recently attended one of the events held in India's capital to commemorate Guru's hanging spoke to ScoopWhoop on the condition of anonymity.
He explains the Indian state's incapability of delivering justice to Kashmiris.
"The Indian State is not capable of delivering justice to Kashmiris because we are fighting against it for our freedom and whosoever dies in its way is a martyr for us," the student told ScoopWhoop.
2. Because his hanging was to satisfy India's collective conscience
According to Arif Ayaz Parrey, there was no evidence against Afzal Guru in the Indian Parliament attack.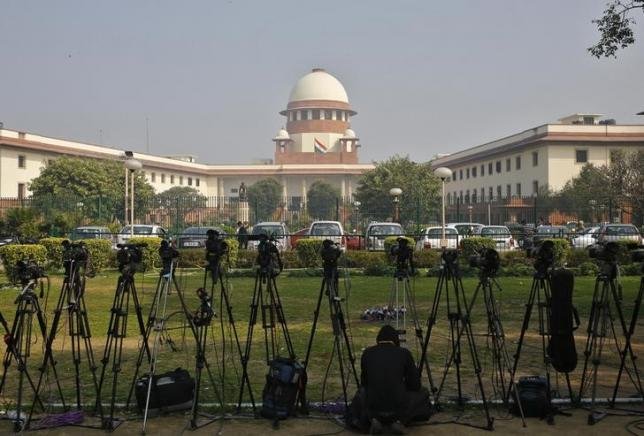 "The Supreme Court of India itself said so, adding that he had to be hanged 'to satisfy the collective conscience of the people of India'. He was, therefore, killed not for any act of violence he committed but for his belief that Kashmir should be free from India—a belief shared by most Kashmiris. This is gross injustice. In his death, he bore witness to the fact that India was incapable of doing justice to Kashmir. Hence, he is a martyr," Arif, a trained lawyer and writer from South Kashmir's Islamabad district told ScoopWhoop.
Thoughts like these were also duly expressed and substantiated by a section of prominent Indian intellectuals and lawyers, who expressed their outrage on what they termed as 'miscarriage' of justice. 
3. Because he was a victim of circumstances, an unlikely terrorist 
On factual lines, many questions about Afzal's trial remained unanswered. For example, no investigative agency tried to trace the role of J&K police's Special Operations Group in Afzal's case.  
In a letter Afzal wrote to his lawyer Sushil Kumar in 2004 while he was lodged in Ward no 6 (High Security Ward) Jail number 1 of Tihar, he had explained how a high ranking police officer "DSP Davinder Singh" had asked him to "take Mohammad", a co-accused in the Parliament attack case, "to Delhi, rent a flat for his stay and purchase a car for him."
That to carry out a daring attack on Indian parliament by a person like Afzal Guru, who was constantly tortured and under police surveillance in Kashmir years before the attack, is an unacceptable version of things Kashmiris will hardly ever believe. 
Yes, Afzal confessed to his role in the attack but it was India's own Supreme Court which nullified any confession citing "lapses" and "violations of procedural safeguards." People remember Afzal's confession, not the Supreme Court's rejection of it.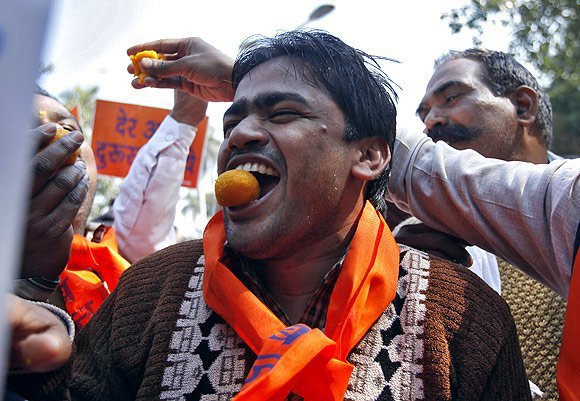 4. Because he was demonized by Indian media
Acclaimed Kashmiri novelist Shahnaz Bashir believes Indian media was effectively used to mobilise opinion against Afzal Guru among the Indian public.
"Each oppressive state's powerful mainstream media is effortlessly capable of repeatedly circulating its own narrative about things and 'successful' in mobilising its own people to believe what it wants them to believe. Oppressed Kashmiris not only know that Guru was a martyr but above everything they believe in his martyrdom," Shahnaz, the author of The Half Mother told ScoopWhoop over mail.
"For them Indian state denies Afzal's martyrdom logically in the same manner as British authorities denied the martyrdom of all those Indians who fought for freedom of India from the British, or at least harboured a feeling of resistance against the British state and were killed in the consequence," he added. 
5. Because he was not the first Kashmiri to be hanged by India
Nearly 1 lakh people, mostly civilians, have died in Jammu and Kashmir since the armed struggle against Indian rule started in 1989. However, the history of 'martyrs' in Kashmir didn't start from that year. In 1984, Indian government hanged the founder of Jammu and Kashmir Liberation Front (JKLF) Mohammad Maqbool Bhat for his alleged role in killing of an Indian diplomat in UK. 
Five years later, Maqbool's group JKLF was the first to pick up guns and fight the Indian state. His death anniversary brings Kashmir to a standstill, every year.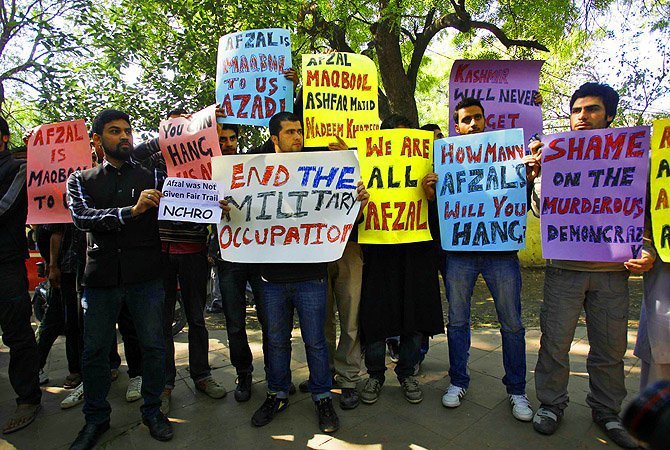 "Afzal is a symbol of collective brutalization of Kashmiri's at the hands of India.  The way he was treated, like being a scapegoat of Hindu and secular nationalism of India is true about Kashmir also.The way Afzal was denied justice for collective conscience of India is the same as Kashmir is denied plebiscite for the sake of Indian unity and nationalism," Nayeem said. 
Feature image source: AFP/File