Sorry Manchester United fans. Sorry Chelsea fans. Sorry (some) Arsenal fans. Pep Guardiola is not going to be your next manager. He's going to Manchester City, to combine his tactical brilliance with the abundant millions that the club's owners have. He's going to win them the Premier League and the FA Cup and maybe even the Champions League. He's going to annoy the hell out of you, making his team play a ridiculous number of passes and if it doesn't work, he'll come up with some new tweak that most teams won't be able to cope with.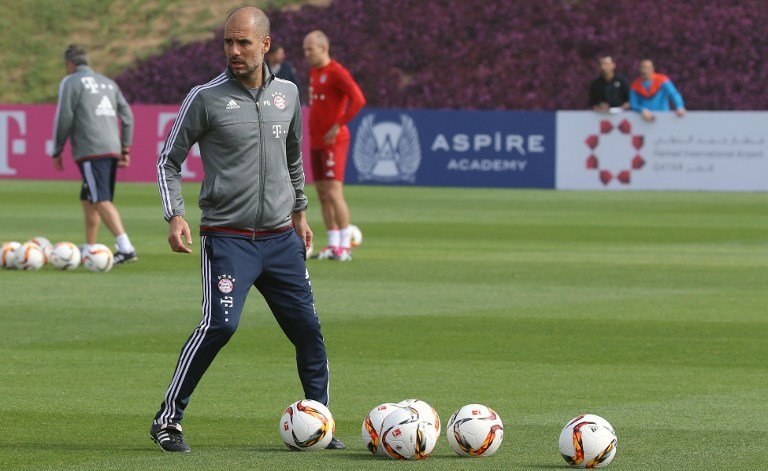 It's on. Guardiola is coming to the Premier League and he's not going to leave without making Manchester City the best club in Europe. Here's why:
The sheer ability to win: Guardiola has won 19 trophies in less than eight years of management. Since 2008, there is not a single trophy in club football that the Spaniard hasn't lifted. He's a serial winner and brings with him an aura that immediately convinces his own players and more importantly his opponents that his teams cannot lose. His win ratio is an astonishing 74.5 percent. Out of the remaining 25.5 percent, he draws 10.4 percent. The rest are losses — almost negligent. In comparison, City's departing manager Manuel Pellegrini has a win percentage of 52.6. So it's a huge upgrade.
Tiki-taka: It's not an understatement to say that Guardiola's tactical plans can alter the way teams play football. His possession based tiki-taka system was one which led to Barcelona's dominance in Europe and was used as a template — both to replicate and to beat. When he moved to Bayern Munich, he applied the same rules there along with a counter-attacking tweak. Guardiola is coming to a country where possession is not as important as the speed, physicality and intensity.
Guardiola will inherit a team which is technically sound — with players like David Silva, Kevin de Bruyne and Sergio Aguero already in the side. City's style is expansive but they've found it hard to break down teams. Guardiola's team will dictate possession which will create a lot of space in turn. Also expect the full-backs to play a vital role. With Pablo Zabaleta, Aleksandr Kolarov and Gael Clichy already in the side, the side is well loaded.
Check out this video of Guardiola training his team in possession — quite insane.
Pressing: Another hallmark of Guardiola's teams is winning the ball back within six seconds. It's not just about keeping the ball — Guardiola's Barcelona team were excellent at pouncing on their opponents and getting back possession within six seconds (as shown in the video below).
This is where City will really benefit. In the Premier League, winning the ball back is probably of mightier importance than keeping it and it's a guarantee that Guardiola will make the rich kids of City work hard.
Champions League pedigree: Guardiola has led his team to six semifinals in a row in the Champions League — a tournament which many top players have said is harder to win than the World Cup. He hasn't won it with Bayern Munich yet but the way his sides dismantled Manchester United twice (2008-09 and 2010-11) in the final prompted Sir Alex Ferguson to call the Blaugrana a 'carousel'. If all goes well (and it usually does with Guardiola in charge), expect City to claim the ultimate trophy in club football.
Attracting top players: Guardiola's name is not just a magnet for points, but also for the biggest names in world football. Everyone wants to play under him — this is a man who has coached Lionel Messi, Xavi and Andres Iniesta. Buying the likes of Paul Pogba just got easier for City. Not only do they have the money now, they also have (probably) the world's best manager.